Star Ratings
| | |
| --- | --- |
| | Amazing |
| | Well good |
| | Fun |
| | Meh |
| | Rubbish |
| | | |
| --- | --- | --- |
| Never Let Me Go | | |
Written by Ivan Radford
Tuesday, 08 February 2011 13:43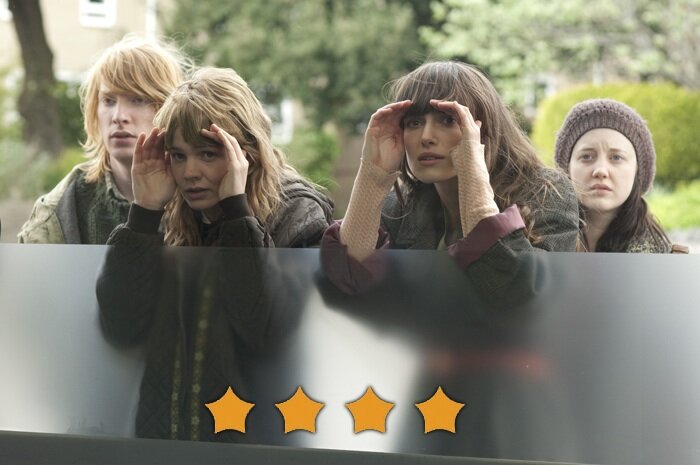 Director: Mark Romanek
Cast: Carey Mulligan, Andrew Garfield, Keira Knightley
Certificate: 15
You wouldn't know to look at it that Never Let Me Go is part science fiction. Adapted from Kazuo Ishiguro's softly spoken tale of mortality, it's full of gentle words like "carer" and "donor". Google "Star Wars Episode II" and you get an idea of what's going on. The basic assumption sets events in an alternate world but this is essentially a story of doomed romance. And we all love a bit of doomed romance.
Students at Hailsham School are special. Not thick special, more factory-farmed special. They're raised in a controlled environment, which represses everything human about them. But when a new teacher (the excellent Sally Hawkins) lets the kids in on their secret purpose, their perfect existence starts to peel away.
We see the transformation through the eyes of empathetic carer Kathy H (Mulligan), who has long harboured feelings for socially awkward classmate Tommy (Garfield). But Ruth (Knightley), her manipulative best friend, claims Tommy for her own, keeping the two apart as they leave Hailsham and head into the wide, alien world – otherwise known as the 70s. There's a wonderful moment where they try to be normal and order egg and chips in a small seaside café, but can only end up copying an older student, Rodney (Domhnall Gleeson, aka Bill Weasley from Harry Potter).

Bleeping in and out of every building they enter, they wear ID tags on their wrists – aware of their future, but too carefully reared to fight against it. Tackling life and death within this nuanced frame, Alex Garland's script has a sound appreciation of character. No one rebels and blows up the boarding school, a la Michael Bay's The Island. Instead, the donors grow up and reach "completion", hidden in hospital back rooms. There are rumours of "deferrals", but Mark Romanek laces the ambiguous terms with a blunt inevitability; things are as bleak as Adam Kimmel's beautiful, grey cinematography. Washed up boats on abandoned shores are the order of the day, and the visuals match up perfectly with Rachel Portman's score.
Never Let Me Go's strength is summed up by its central cast; Mulligan is understated, Garfield honest, and Knightley capricious but surprisingly sympathetic. Crucially, the younger actors also nail the trio's naïve vulnerability despite the minimal dialogue on offer. Throughout, they strive to prove their inner artistic talents, something that defines them beyond their function; intimate and yet somehow detached, Romanek captures everything with a creepy air that makes the mood far more affecting. There is no sudden revelation of reality or hope – only a dawning acceptance of decay.
VERDICT
A delicate tragedy tinged with sci-fi, Never Let Me Go is captivating, awards-worthy cinema. Plus you get to see Bill Weasley order breakfast. Haunting stuff.
Your rating
( 2 Votes )
Tags:
adam kimmel
andrew garfield
atonement
carey mulligan
domhnall gleeson
kazuo ishiguro
keira knightley
mark romanek
rachel portman