Star Ratings
| | |
| --- | --- |
| | Amazing |
| | Well good |
| | Fun |
| | Meh |
| | Rubbish |
| | | |
| --- | --- | --- |
| Barney's Version | | |
Written by Ivan Radford
Thursday, 27 January 2011 08:37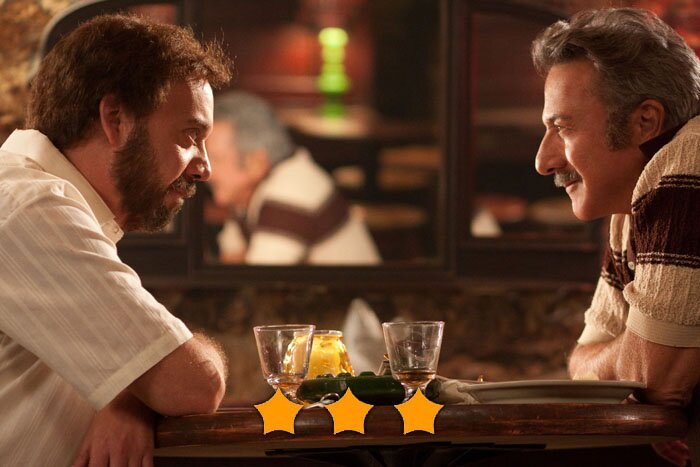 Director: Richard J Lewis
Cast: Paul Giamatti, Minnie Driver, Rachelle Lefevre, Dustin Hoffman, Rosamund Pike, Scott Speedman
Certificate: 15
Man meets woman. Man marries woman. Man ruins marriage and moves on to next woman. Barney has a selfish life cycle, which makes him hard to like. But there's one thing in his favour: he's played by Paul Giamatti. Paul Giamatti is easy to like. It's lucky, then, that Richard J. Lewis is directing Barney's Version of his muddled past. If not, you'd hate him by the end of the first act.

Spanning four decades and a whole lot of heartbreak, Barney's Version is one of those films that loves its actors. Awards, in turn, love them. Giamatti's leading role got him a Golden Globe in the Comedy or Musical category – strangely, though, there's not much comedy here. Despite the wonky music and the dialogue's occasional dark humour, there are as many laughs as Blue Valentine. And the same amount of pain.

It's more a straight character drama, which gives Giamatti the chance to shuffle through the years with make-up and costume changes galore. In '60s Rome, Barney Panofsky weds knocked-up Clara (Rachelle Lefevre), more concerned with drugs and his drunken friend Boogie (Scott Speedman) than who the father might be.

In Montreal, he's matched with the second Mrs. P (Minnie Driver). She has a Masters degree. And very rich parents. Barney's boisterous dad (Dustin Hoffman) likes both of these things - but not as much as he likes her breasts. Then, as soon as he shacks up with spouse number two, Barney's off to woo Miranda (Rosamund Pike), a New Yorker too smart to get caught up with the bearded schlub. Until they get married a few years later.

Along the way, Barney smokes, drinks, and gets accused of homicide. He's a TV executive of Totally Unnecessary Productions, but doesn't really care about his job. And yet even with his horrible ways, Giamatti's understated performance makes this all work; he rarely shouts, but his presence screams of talent.

Inevitably, his story is supported by a great cast, from the amusingly goofy Minnie to the fragile and frosty Pike. Ranging from vulnerable to angry, Barney's women are taken for granted in our protagonist's unreliable memory, but each actress avoids being relegated to the sidelines. Throughout it all, of course, Dustin Hoffman wears his moustache with a knowing smile.

At over two hours, though, Barney's Version is a long-winded account of events. Michael Konyves' screenplay is all too conventional in its episodic structure and up-down emotional tone. Without any peaks of laugh-out-loud hilarity, you can count the seconds until the next quiet, serious conversation. You'll be moved, perhaps, but you'll come out knowing exactly what you did when you went in: Paul Giamatti's a great actor. And he doesn't need 132 minutes to prove it.

VERDICT

Barney's Version is a great showcase for Paul Giamatti but not a great film. Still, at least it's better than Benjamin Button.
Your rating
( 2 Votes )
(Originally published here at Cine-Vue)
Tags:
dustin hoffman
golden globes
minnie driver
paul giamatti
rachelle lefevre
richard j lewis
rosamund pike
scott speedman