Star Ratings
| | |
| --- | --- |
| | Amazing |
| | Well good |
| | Fun |
| | Meh |
| | Rubbish |
| | | |
| --- | --- | --- |
| 127 Hours | | |
Written by Ivan Radford
Wednesday, 05 January 2011 09:13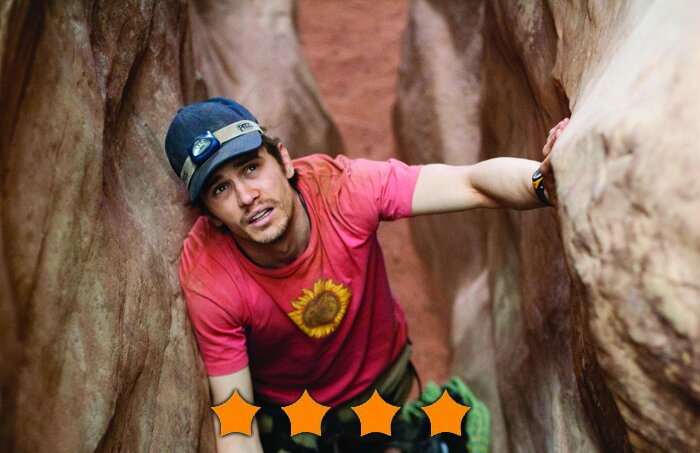 Director: Danny Boyle
Cast: James Franco
Certificate: 15
How do you follow up an Oscar for Best Film? Chop James Franco's arm off is how. 127 Hours is the true story of climber Aron Ralston (Franco), who enjoyed hopping around Utah canyons in 2003 until he found himself the wrong side of a massive rock.

But Danny Boyle doesn't start things there. Before the infamous joining of boulder and limb, we get a burst of movement as Aron bounds from his apartment into the great outdoors.

Accompanied by A.R Rahman's trademark cacophony of drums, the screen jumps around with chaotic rhythm. And Boyle doesn't miss a beat as he hammers out the exposition in the only way he knows how: with an addictive shot of split-screen energy.

Then we meet two lost ladies, whom Aron races to help. After some watery frolicking, they leave, he goes back to his lone wolf lifestyle, and promptly gets pinned to a wall. That's when the title pops up - a cheeky hint of the humour that Simon Beaufoy's script (co-written with Boyle) has in store.

Yes, there are laughs to be had, mostly thanks to Franco's phenomenal performance. Leaving video messages to his mum and dad, he does desperate, determined and delirious, all the while breaking into terrified sweat. Unlike Buried, we know where this story's headed, but Franco's acting keeps things compelling; as a tense location, coffin beats rock, but as an actor, Franco beats Reynolds every time.

When the crucial arm-cutting comes around, it's a painful watch. More tasteful than mere torture porn, the flash of red keeps Ralston's bittersweet freedom from becoming too sugary. Failing that, there's Boyle's range of camera shots. It's over-edited, as you might expect, but the pans and zooms give 127 Hours its own identity in a crowd of claustrophobic thrillers. Boyle even shoves a camera inside the arm itself. For that alone, you've got to give him a hand. 

VERDICT

94 minutes long, 127 Hours feels fast and brief. As a follow-up to Slumdog, it's a solid effort. As a story of survival, it's incredible.
Your rating
( 1 Vote )
Tags:
a r rahman
amputation
aron ralston
buried
danny boyle
james franco
oscar
rock climber
simon beaufoy
slumdog millionaire