Star Ratings
| | |
| --- | --- |
| | Amazing |
| | Well good |
| | Fun |
| | Meh |
| | Rubbish |
| | | |
| --- | --- | --- |
| The Chronicles of Narnia: The Voyage of the Dawn Treader | | |
Written by Ivan Radford
Tuesday, 07 December 2010 19:50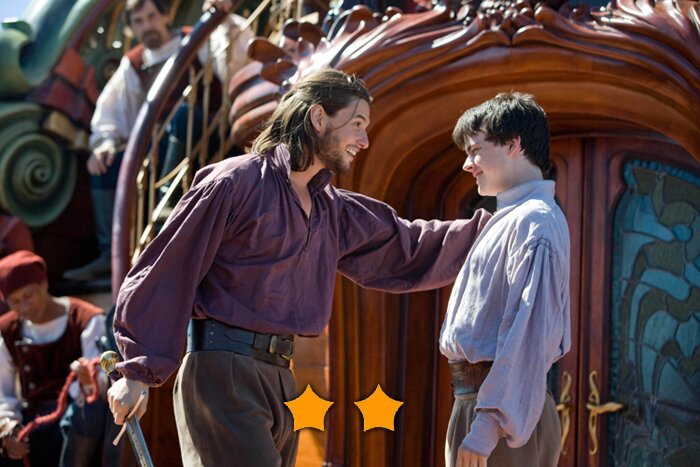 Director: Michael Apted
Cast: Georgie Henley, Skandar Keynes, Ben Barnes, Will Poulter, Simon Pegg, Liam Neeson, Tilda Swinton
Certificate: PG
Trailer
Ever since Liam Neeson went postal on a bunch of Europeans, the world has been dying for a return trip to Asland. Lucky for Walden Media, C.S. Lewis wrote enough books to make several more blockbusters. Judging by Voyage of the Dawn Treader, though, it might be best if they don't do the remaining four. Or at least skip The Horse and His Boy.

Lucy (Henley) and Edmund (Keynes) - Queen Lucy and King Edmund if you believe the voices in their heads - are staying with their snooty cousin Eustace (Poulter). He's such a rotter that it's no surprise they want to run away Narnia again. And so they climb into a painting of the titular boat, just like in the book. There they reunite with old friends Caspian (Barnes) and Reepicheep (Pegg), just like in the book. Then they go on a quest to plonk some special swords on a magic table to defeat the evil threat of the big, mean Dark Island. Just like in the - wait a minute.

Straying too far from Lewis' novel to make a logical narrative, the rewritten script is a mess of ideas. There are invisible houses, dragons, and The White Witch (Swinton) gets shoe-horned in for no reason at all. In the rush to keep things moving, we never quite take in the details. Instead, we spend most of the time sailing between The Island of Death and other movie cliches.

It falls to Michael Apted to bring Dawn Treader together. He gives events a cinematic flourish, overseeing some impressive effects given the funding problems faced when Disney jumped ship. But when your plot steals from Stardust to fill out the finale, there's not much you can do at the ship's helm. Especially when you're surrounded by stupid green gas all the time.

Following their promising turns in the previous franchise entries, the kids are all generally naff. Ben Barnes has longer hair, if that does it for you. The stand-out actor is Will Poulter, who builds on his turn in Son of Rambow, despite Eustace's limited character. 

In all honesty, though, the cast never stand much of a chance. The dialogue grates like barbed cheddar - mostly thanks to the clunking religious overtones, which have lost all subtlety. During one sequence where Caspian and Edmund fight each other over gold, Lucy actually turns to them and squeals "Stop! Don't you see? You're being tempted!" Then Aslan turns up and talks about "getting to know him by his other name" in the real world. Thank God David Arnold's score keeps things from getting too self-righteous.

VERDICT

Too much crap sinks the script. The Voyage of the Dawn Treader stays afloat just long enough to deliver one last sermon. Shame it's not an apology from one of the writers.
Your rating
( 1 Vote )
Tags:
aslan
ben barnes
chronicles of narnia
cs lewis
disney
georgie henley
liam neeson
michael apted
narnia
price caspian
simon pegg
skandar keynes