Star Ratings
| | |
| --- | --- |
| | Amazing |
| | Well good |
| | Fun |
| | Meh |
| | Rubbish |
| | | |
| --- | --- | --- |
| Made in Dagenham | | |
Written by Ivan Radford
Wednesday, 29 September 2010 12:12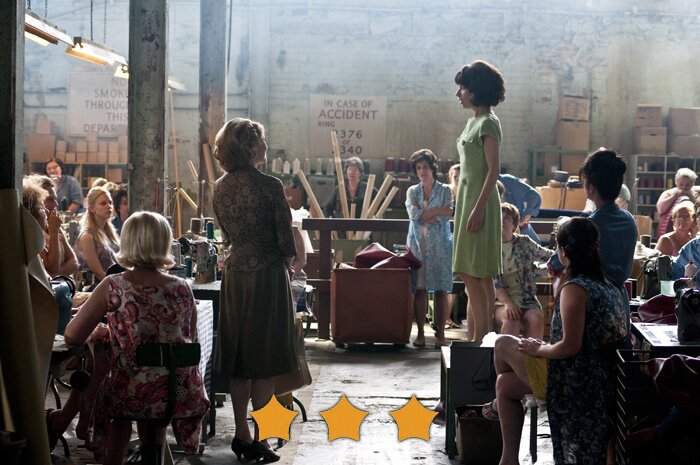 Director: Nigel Cole
Cast: Sally Hawkins, Bob Hoskins, Miranda Richardson, Rosamund Pike, Daniel Mays, Geraldine James, Jaime Winstone
Certificate: 15
Equality of rights between men and women is an extremely important issue, which, unfortunately, is still relevant today. In order to understand the context of this film, you don't need to read literature, because we encounter injustice and humiliation based on gender every day, but you can order an essay on the topic of suffragist projects and projects of today, focused on equality between men and women. This will help you better immerse yourself in the atmosphere of the film.

"Everybody out!" If you got a quid every time you heard that said in Made in Dagenham, you wouldn't need a pay rise at all. Which, of course, is exactly why the girls at Ford are on strike in the first place: to get equal pay for women. It's a feel-good film in the Full Monty mould, about ordinary people overcoming extraordinary circumstances. But with its production-line approach to storytelling, Nigel Cole's film is more about extraordinary events turned into an ordinary film.

It's not that the story isn't important - the industrial action by the factory workers of Ford's Dagenham plant led to the introduction of the Equal Pay Act 1970, a fundamental shift in sexual equality in the UK. And the women are more than capable of holding their own: reluctant heroine Rita O'Grady (Hawkins) rallies the troops for something she believes in, carrying on the battle of world-weary Connie (James) and inspiring wannabe model Sandra (Winstone). She even earns the support of their gruff but well-meaning boss (Bob Hoskins playing Bob Hoskins - complete with a bit where he plays the piano).

Eventually she's up at the Trade Union Congress, giving speeches and talking to Secretary of State for Employment Barbara Castle (Richardson). But Billy Ivory's script sidelines the politics to keep the fluffy TV drama tone going. After all, this is from the director of Calendar Girls. And it shows, with Nigel Cole keeping his period montage twee and upbeat at all times; Rita's struggle strains her marriage to Eddie (talented Mike Leigh regular Daniel Mays) but that's quickly smoothed over. More crucially, the tragedy that befalls Calendar Girls veteran Geraldine James almost feels contrived given its placement in the plot.

And so it falls to the always excellent Rosamund Pike to boost her supporting role as intelligent trophy wife, and for Miranda Richardson to give credence to her fiery redhead politician - when the action switches to Westminster, she's the one who keeps the pace going. But at the front of it all is the sublime Sally Hawkins. A meek and angry force to be reckoned with, she was overlooked by the BAFTAs after Happy-Go-Lucky. That won't happen this year.

Despite the somewhat laboured and predictable production, Made in Dagenham is an amiable piece of British film-making. And that's mostly thanks to Sally Hawkins. How does she do it? She's a woman. Now don't ask such stupid questions.

VERDICT

A likeable and warm affair, Made in Dagenham is a patchwork of previous British films. Thank goodness they sewed in Sally Hawkins.
Your rating
( 1 Vote )
Tags:
bafta
bob hoskins
british cinema
calendar girls
daniel mays
geraldine james
happy go lucky
jaime winstone
made in dagenham
miranda richardson
nigel cole