Star Ratings
| | |
| --- | --- |
| | Amazing |
| | Well good |
| | Fun |
| | Meh |
| | Rubbish |
| | | |
| --- | --- | --- |
| Buried | | |
Written by Ivan Radford
Tuesday, 28 September 2010 10:12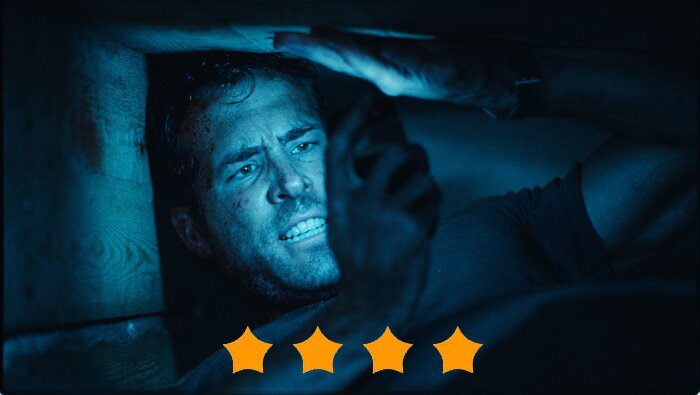 Director: Rodrigo Cortés
Cast: Ryan Reynolds
Certificate: 15
Trailer
Ryan Reynolds in a box. You don't get more high concept than that. And that's as complicated as this setup gets: Rodrigo Cortés has put the Van Wilder star in a box underground for 95 minutes. And it's a very satisfying watch.

Paul Conroy (Reynolds) is a truck driver in Iraq who wakes up to darkness and his own heavy breathing. After a full minute of black, a Zippo lights up, illuminating a scared face. It's a tense start to an intense hour and a half. Trapped in a coffin with little more than a dodgy torch, an Arabic phone, and a whole lot of body sweat, Conroy needs to think out of the box to escape from the earth alive.

Working through every play in the buried-alive textbook, Cortés keeps things claustrophobic - we don't see the outside of Conroy's coffin. Ever. He rings loved ones, gets put on hold, and exchanges short remarks with a shady official who claims to be his military contact. And every now and then an angry man with a beard calls to scream in his face about death and ransom demands.

It's a potent mix of plot and performance. Moving from tearful answer-phone messages to swearing at his mother-in-law, Reynolds covers all the emotions you'd expect from a man trapped in a tiny box; wooden doesn't come into it. When an animal turns up from nowhere, Reynolds' panicked delivery keeps everything feeling immediate. Even his breathing reminds us of his dwindling oxygen supply, as sand seeps in between the creaky boards (the sound design is immaculate). A particular standout moment is when he ends up discussing employment terms with an eerily calm man from his company. The only way the acting could be any better is if Sam Rockwell hopped in there as well.

The direction, too, adapts to its confined set, distorting Conroy's prison with an impressive array of pans, fades and sneaky edits. It's the old-school touches like the LCD lighting that bring the walls in that little bit closer. But the smartest thing about Buried is its runtime. Not ending a minute too soon, Chris Sparling's script stretches out the taut premise of that scene in Kill Bill 2 and lets it go just before snapping point. It's only 95 minutes, but it'll feel like far longer. Which is great, because it gives you more of a chance to relish watching the star of The Proposal suffer. An indie exercise in tension and technique, Buried deserves to be more than just an underground hit.

VERDICT

Ryan Reynolds trapped in a coffin. What's not to like? Buried is high-concept, low-budget, top-notch.
Your rating
( 2 Votes )
Tags:
buried
claustrophobic
csi
kill bill 2
quentin tarantino
rodrigo cortes
ryan reynolds