Star Ratings
| | |
| --- | --- |
| | Amazing |
| | Well good |
| | Fun |
| | Meh |
| | Rubbish |
| | | |
| --- | --- | --- |
| The Town | | |
Written by Ivan Radford
Friday, 24 September 2010 10:38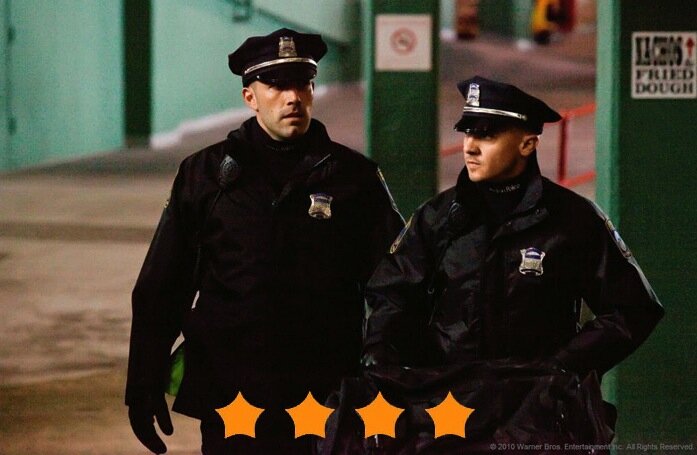 Director: Ben Affleck
Cast: Ben Affleck, Rebecca Hall, Jon Hamm, Jeremy Renner, Pete Postelthwaite
Certificate: 15
Trailer/Clips
With his second spot behind the camera, Ben Affleck is out to prove he can do Heat as good as Michael Mann. Boiling the tension on Boston streets, his success mostly comes from him being in his own backyard. He knows the town and gets how it works. So does Doug MacRay (Affleck). Charlestown is, the opening titles inform us, the hot spot for heists and robberies. And MacRay was born right in the middle of it.

The brains in charge of a small unit of thieves, MacRay follows in his father's footsteps to make his living. And he's doing pretty well in the criminal ranks. His balls aren't as big as Pete Postlethwate's, but someone needs to clip them. And FBI man Adam Frawley (Hamm) thinks he's the one to do it. He's desperate to lock up Doug and the boys, especially Doug's off-the-handle brother Jim (a wonderfully psychotic Jeremy Renner).

Things inevitably go awry when a woman enters the frame: bank manager Claire (Hall) gets taken hostage by Doug and set free unharmed, only to wind up living four blocks away. When a threatening check-up turns into a drink and a date, emotions start to get in the way, strengthening Doug's dream of leaving the neighbourhood where he grew up.

It's all textbook stuff on the surface, but Affleck's co-writers pack the screenplay full of substance. As things get messy, the world built on trust, guns and lies soon begins to fall apart. "Ask me anything you want," Doug begs Claire, trying to prove he can tell the truth. "I won't believe you," she replies. "Yes, you will." "Why?" "Because you'll fucking hate the answers."

Given weight by its actors (Affleck draws great performances from his cast), The Town is a quiet pressure cooker for the most part, sizzling with dynamic relationships. Jon Hamm swaps Don Draper's hat for a shotgun and relishes his longer speeches, helping Blake Lively's torn-apart squeeze to shine in her supporting role.

But the main meat belongs to the helmer himself, who hides his usual smug smile with a strong turn that at times reminds you of his brother Casey. The convincing conflict between Affleck and Renner is only outdone by the bond between Ben and his leading lady - Rebecca Hall not only matches the authentic accents, but manages to explode with shock without ever raising her voice. And it's that subtlety that helps keep The Town located firmly on the ground. 

The cameras stick close to the city, shooting with a sun-bleached grey that matches the mood. Despite an earnest voiceover to match the Shawshank ending, Affleck's got a better handle on tone here than in Gone Baby Gone. The shots sometimes linger too long on his abs while he does press-ups in slow motion (he also gives himself two sex scenes) but the direction from the Pearl Harbour star is undeniably impressive.

It's most evident when, in between the thoughtfully-paced character scenes, he slots in a serious corker of a car chase. The action is expertly edited, always tight and exhilarating. It's not up there with the Collateral creator's best, but when the bullets fly, they rattle as loud as John Woo's. Affleck even throws in a couple of pigeons at one point too. He's turning into a rather talented director.

VERDICT 

An accomplished and riveting crime thriller, The Town isn't as hot as Heat, but it's one hell of a scorcher.
Your rating
( 1 Vote )
Tags:
ben affleck
boston
car chase
charlestown
chuck hogan
collateral
crime
doug macray
heat
i-flicks
iflicks
jeremy renner