Star Ratings
| | |
| --- | --- |
| | Amazing |
| | Well good |
| | Fun |
| | Meh |
| | Rubbish |
| | | |
| --- | --- | --- |
| The Runaways | | |
Written by Selina Pearson
Friday, 10 September 2010 14:39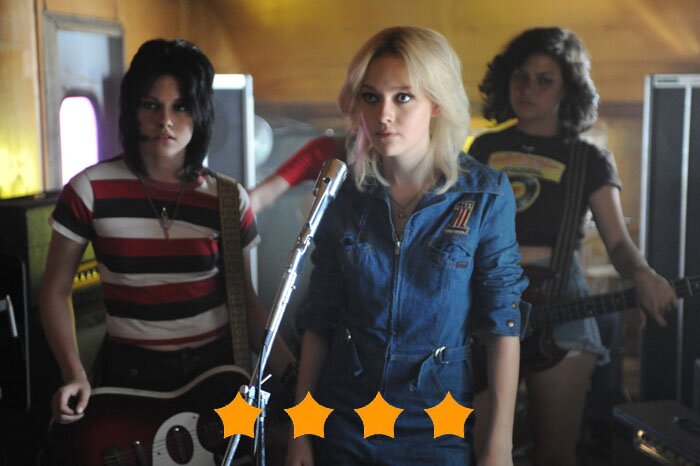 Director: Floria Sigismondi
Cast: Kristen Stewart, Dakota Fanning, Michael Shannon
Certificate: 15
"Girls don't play guitar," declares a male teacher as Joan Jett (Stewart) storms out of her music lesson. Maybe they didn't then, but they do now. Driven, ambitious Joan is going to be a rock star, and instead of writing poetry about dead cats and how nobody understands her on MySpace, she teaches herself to play before announcing to record producer Kim Fowley (Shannon) that she wants to form the first all-girl rock band. The otherwise cynical Shannon is hooked. He sees an idea he can sell: sex.

Meanwhile, Cherie Currie (Fanning) is lip-synching along to David Bowie at high school and entering her own awkward adolescence. Slowly, the band begins to form like a gawky teenage wannabe, and Fowley finds his lead singer in the naive Cherie. He moulds the group into a twisted novelty act of jail-bait sex objects, but the band soon become more than that, jumping from someone's living room up the charts and across the pond to Japan.

Floria Sigismondi's smart move is condensing The Runaways' brief career into the timeframe of one year (the band were actually together in this form for much longer). Keeping their short history short, it avoids that pitfall that plagues many biopics - constructing a coherent narrative from a vast number of disparate events. Of course, we've seen this all before in music films as wide ranging as Anvil: The Story of Anvil and Almost Famous. There are drugs, dodgy tours, sleazy managers, lesbian sex - but The Runaways is put together well enough to make the familiar formula very watchable.

That's mostly due to the young actresses, who acquit themselves well, although the three supporting band members are somewhat overshadowed by the leads. Arrested Development's Alia Shawkat draws the short straw in particular as The Runaways' anonymous fictionalised bassist - Jackie Fox refused to give her consent to be portrayed in the film. Dakota Fanning's Cherie is perfectly pitched as the innocent girl thrown into a world of sex, drugs and rock'n'roll. Corrupting her with a daunting confidence, Shannon shines as the manipulative Fowley; like the girls in his trailer, we know what he is, but can't help but fall under his charismatic infuence.

Out-rocking them all, though, is Kristen Stewart as Joan Jett. She brilliantly portrays the rocker as someone who knows what she wants and has the talent and drive to pull it off. Sporting a scarily accurate haircut, she truly is the soul of this film; where Fanning's Cherie is delicate, Stewart's Joan is hardworking and tough. It's easy to see the star rapidly shaking off her Twilight persona.

VERDICT

A run-of-the-mill rock biopic elevated by its quick script and great cast. Forget mopey Bella: Kristen Stewart rocks.
Your rating
( 3 Votes )