Star Ratings
| | |
| --- | --- |
| | Amazing |
| | Well good |
| | Fun |
| | Meh |
| | Rubbish |
| | | |
| --- | --- | --- |
| Cyrus | | |
Written by Ivan Radford
Friday, 10 September 2010 17:12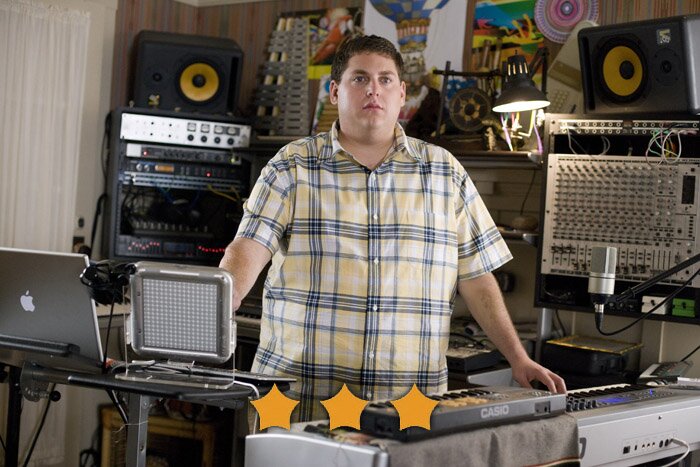 Directors: Jay Duplass, Mark Duplass
Cast: John C Reilly, Marisa Tomei, Jonah Hill, Catherine Keener, Matt Walsh
Certificate: 15
The Duplass brothers pick up some studio backing and star power with Cyrus, a rom-com which remains true to their indie traditions. And so we see John (Reilly), a middle-aged divorcee who mumbles a lot, get off at a party with Molly (Tomei), a beautiful woman who also likes to mumble a lot. But keeping their road to romance firmly in the rough is her clingy offspring Cyrus (Hill), a mummy's boy in the extreme. Together, the talented cast wander around and mumble a lot. It feels very natural, but not all that funny.

You shouldn't go into Cyrus expecting a sub-Judd Apatow gross-out comedy (the marketing for the film is way off) but you should be able to expect a comedy to deliver - there are some laughs from the subtle awkwardness, but there are also missed beats. The romance between John C Reilly and Marisa Tomei is great, with both performers bringing the realism, but the movie's tone never settles down.

It's not a problem with other comedy-dramas, even those heavy on the improv. Genre stalwart Catherine Keener (here playing John's ex-wife) was better served by Please Give, which successfully balanced character development with comic touches. Here, the characters are explored but never reach their full potential. Zooming in on their faces every 10 seconds doesn't change that.

As it is, Cyrus is a showcase for Jonah Hill: doe-eyed and soft-faced, his death stares are edgy without being over-the-top, showing a restraint and maturity that didn't belong in Superbad. Holding a knife, wearing his boxers, he's an unsettling antagonist to Reilly's likeable loser, but their dynamic never hits the rhythm this romance needs.

Fumbling the boundary between understated and underwhelming, Cyrus reminds you why Noah Baumbach is so good at observing the thorns in life. If it wasn't meant to be funny, Cyrus could be interesting as a straight psycho-sexual drama. As it is, it's as awkward as a son walking in on his parents; yes, that's the point, but it still misses the mark.
 
VERDICT 

Mumblecore meets mainstream without making a masterpiece. Painful and heartfelt but rarely funny, Cyrus is good but it's no Greenberg. 
Your rating
( 1 Vote )
Tags:
catherine keener
cyrus
duplass brothers
greenberg
jay duplass
john c reilly
jonah hill
marisa tomei
mark duplass
mumblecore
noah baumbach
please give