Star Ratings
| | |
| --- | --- |
| | Amazing |
| | Well good |
| | Fun |
| | Meh |
| | Rubbish |
| | | |
| --- | --- | --- |
| The Last Airbender | | |
Written by Ivan Radford
Friday, 13 August 2010 15:48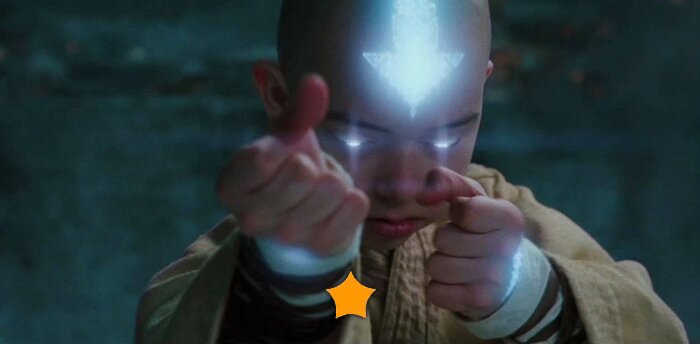 Director: M Night Shyamalan
Cast: Nicola Peltz, Jackson Rathbone, Dev Patel, Noah Ringer, Aasif Mandvi
Certificate: PG
"I knew from the first moment we discovered you were a bender that this day would come." In the mystical world of the spirits, life is guided by the four elements: earth, fire, water, and air. Those whose possess the power can control them. They are Benders. But after disappearing a hundred years ago, one man has the power and skill to control a fifth element: crap. M Night Shyamalan has returned.

Based on Nickolodeon's TV series, The Last Airbender deals in the mythology of "Bending". As the evil Fire Nation extend their destructive flame across the land (their plan - to "suppress all Bending"), the people turn to their only hope: the Avatar, the last Airbender, a boy with an arrow tattooed on his face, who can save them all.

He's discovered under the ice by Katara (Peltz) and Sokka (Rathbone), two Water People who have no parents left. It turns out the Avatar ran away because he was upset. Probably because of all the other kids calling him "Arrowhead", "Pointyface", "Special", or just "Bender". Luckily, his two moist companions (dressed in blue, naturally) agree to travel with him on his magic flying mammal, leading the uprising against the nasty Commander Zhao (Madvi). This is the point where Airbender falls down: any scene that requires acting.

Leading the way is Aasif Mandvi's villain. He frowns, stares and occasionally raises his voice when he talks - which probably means he's hungry. Bending his eyebrows (the secret sixth element) with brain-numbing prowess, the closest the film comes to characterisation is that his skin is darker than people from the other Nations. Dark being symbolic of evil and all.

Continuing the subtle racial theme, everyone's favourite Slumdog, Dev Patel, turns up as the exiled Fire Lord's son, Prince Zuko. How did he get to be in this film? It wasn't a. love or b. destiny, so I'm going for c. money. Prince Zuko wants to get his father's love back and rescue his dishonoured name. He also wants to rule the world. Aww bless. He's a good brown egg really.

Mashing all these conflicted emotions with constant CGI, Shyamalan takes on someone else's idea for the first time in his career. Unfortunately it wasn't the idea of retiring. Instead, he gives us wooden dialogue (tree-bending!) and terrible exposition, jumbled up with cod philosophy - literally, at one point, when Commander Zhao tries his hand at some fish-bending. And no, that doesn't look any better in post-converted 3D.

In between it all are lots of kids pulling silly poses, like some kind of Karate Kid-themed special of Britain's Got Talent. It wouldn't be a problem if it was fun. Instead, Shyamalan constantly strives to keep things serious. Boring monologues eclipse any impressive icy landscapes, and battles are lost in his dull quest for depth - of course, as everyone else knows, when you're making a film about magic glowing fish, you're way past the point of any meaning. The really serious part? There are three more books to come. Book Two: Earth will probably feature a talking Twiglet. I can't wait for someone to bend that.

VERDICT

With no life and no action, The Last Airbender should've been left as an anime series. As for Shyamalan's direction? Well, he lost that years ago.
Your rating
( 1 Vote )