Star Ratings
| | |
| --- | --- |
| | Amazing |
| | Well good |
| | Fun |
| | Meh |
| | Rubbish |
| | | |
| --- | --- | --- |
| The Secret in Their Eyes | | |
Written by Ivan Radford
Friday, 13 August 2010 10:20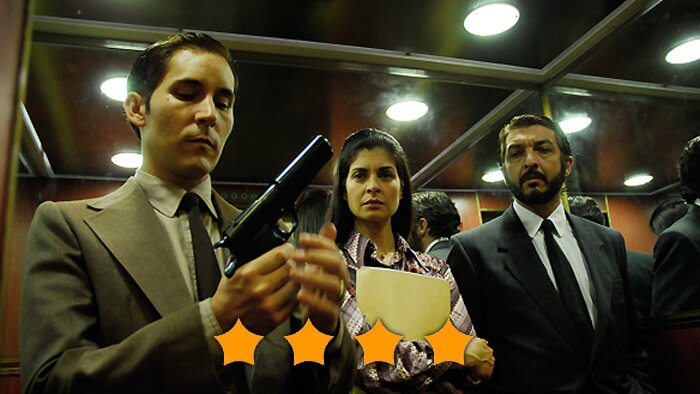 Director: Juan Jose Campanella
Cast: Ricardo Darin, Pablo Rago, Guillermo Francella, Soledad Villami, Javier Godino
Certificate: 18
The Secret in their Eyes is known (if at all) by those who expected The White Ribbon or Un Prophete to win this year's Oscar for Best Foreign Language Film. When Juan Jose Campanella's Argentinian detective story stole the gong from under their subtitles, the film world sat up and paid attention. They'll keep doing so throughout this intriguing thriller.

Benjamin Esposito (Darin) is a federal justice agent, who becomes fixated on the brutal rape and murder of a young woman. He vows to her husband, Ricardo Morales (Rago), that he will find the killer, working with his partner, Pablo (Francella). The investigation soon takes over Esposito's life.

His existence is further disrupted by the arrival of Irene (Villami), his beautiful and intelligent new boss. He swiftly falls in love with her, his devotion divided between the elusive culprit and the untouchable woman. Telling the story in flashback, Campanella shows the crime from the perspective of an older Irene and Benjamin, both sporting greying wigs and wrinkles. Taking things at a Zodiac pace, The Secret in their Eyes unfolds slowly, focussed on the gathering of evidence, the red tape of the law, and the relationships between its enforcers.

Acting their socks off both in prosthetics and out, Campanella's cast bring a realistic edge to events: Darin's dogged lead is suitably weary after years of thorough work; Villami adds genuine sex appeal to the class-divided romance; and Francella offers wry humour as Esposito's alcoholic colleague. Together, the men look much like Hans Gruber and Penfold, if the two were ever to cross paths in a Buenos Aires bar.

Their search climaxes with a standout set piece – a spectacular sweep over a football stadium, crossing the pitch mid-play and into the heaving stands of spectators. Fluidly edited by the director, the shot segues seamlessly into a close-up of Esposito and Pablo, looking for their target. It's a riveting spectacle, a set piece as tense as anything by Hitchcock. Then, just minutes later, the tension is topped by a masterful moment, where three people simply stand silently in a lift.

Campanella's camera-work is beautiful, foregrounding the surroundings with an elegant pulling of focus; from the objects in Esposito's flat, to an unseen man in the crowd, he adds insight and depth to the frame. Like Javier Godino's turn as the twisted villain or Rago's mourning Morales, it's a technique that's both subtle and effective.

The only letdown comes from the screenplay, which has a steady pace but a wobbly final act. But the unexpected anti-climax matches the theme of Eduardo Sacheri's source novel, which the author helped to adapt. An exploration of loss and grief, it's a nuanced conclusion, which offers closure for characters struggling to find retribution in a flawed justice system.

VERDICT

 For all its false hairpieces, The Secret in their Eyes is 11,650 feet of genuinely gripping celluloid. Long-winded, methodical, and completely absorbing.
Your rating
( 2 Votes )
Tags:
argentina
guillermo francella
hitchcock
javier godino
juan jose campanella
killer inside me
oscar
pablo rago
ricardo darin
secret in their eyes
soledad villami
thriller