Star Ratings
| | |
| --- | --- |
| | Amazing |
| | Well good |
| | Fun |
| | Meh |
| | Rubbish |
| | | |
| --- | --- | --- |
| Leaving | | |
Written by Ivan Radford
Friday, 09 July 2010 08:46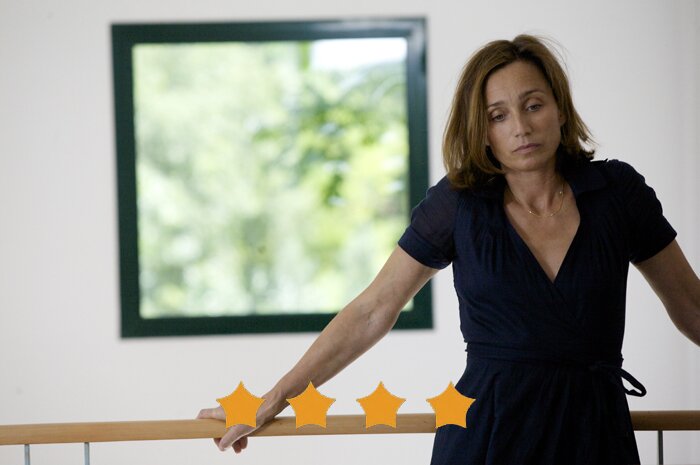 Director: Catherine Corsini
Cast: Kristin Scott Thomas, Yvan Attal, Sergi Lopez
Certificate: 15
Following last year's I've Loved You So Long, Kristin Scott Thomas continues to prove herself one of the best bi-lingual actresses around – when she's English she's very good, and when she's French she's faultless. Here she plays Suzanne, bored housewife to the well-off Samuel (Attal). He's a doctor. So naturally it's only a matter of time before Suzanne falls in love with someone else. And, as is often the case, the man's name is Ivan (Lopez).
A builder by trade, Ivan enters their lives as Suzanne seeks to restart her career as a physiotherapist. But one floorboard leads to another and soon she and the immigrant labourer are frantically making the beast with two hammers. Framed in flashback, their doomed romance doesn't quite make sense – the Spanish worker is clearly a class below the wealthy couple – but Lopez and Scott Thomas work well together to keep Corsini's script convincing.

They work together a lot. In her spacious house. In his tiny bedroom. Sometimes they work so hard they take their clothes off. Sensually shot by Corsini, the confined locations are a marked contrast to the lush, open landscapes of Nimes, filled with sunlight and greenery; away from their furnishings, the pair seem a more believable match.

It's not that Lopez isn't attractive – his workmanlike appearance is invested with a rugged smile – it's that he has to contend with Yvan Attal's defiant cuckold. As furious as he is possessive, Attal fills the screen with his fierce presence, demanding explanations from his smitten spouse. When she refuses, you start to side with his pain and anger. Even when he does cut off all her financial support.

Driven to desperation, Scott Thomas excels as the in-love Suzanne, prepared to run around a garage forecourt to get money for her designer watch. Her elegant façade slipping, she is fiery yet frozen in horror as she wilfully dismantles her married bourgeois life. Wandering around on cloud nine as Georges Delerue's ominous music jars in the background, Leaving reeks of Truffaut but remains Kristin's show. And it has to be – her emotions are what give the explosive end of the affair any meaning. She doesn't disappoint. Sitting on the edge of her husband's bed, staring into space, even her smallest facial movement is utterly engrossing. Scott Thomas' smouldering romance may defy all logic, but her pure conviction inspires belief.

VERDICT

Dubious but disarming, Corsini's Leaving is 85 minutes of explicit sex and subtle sorrow.
Your rating
( 1 Vote )


Posted from my iPhone using J Admin Mobile!
Tags:
affair
catherine corsini
doomed
georges delerue
kristin scott thomas
leaving
nimes
romance
sergi lopez
truffaut
yvan attal