Star Ratings
| | |
| --- | --- |
| | Amazing |
| | Well good |
| | Fun |
| | Meh |
| | Rubbish |
| | | |
| --- | --- | --- |
| Streetdance 3-D | | |
Written by Ivan Radford
Friday, 21 May 2010 13:27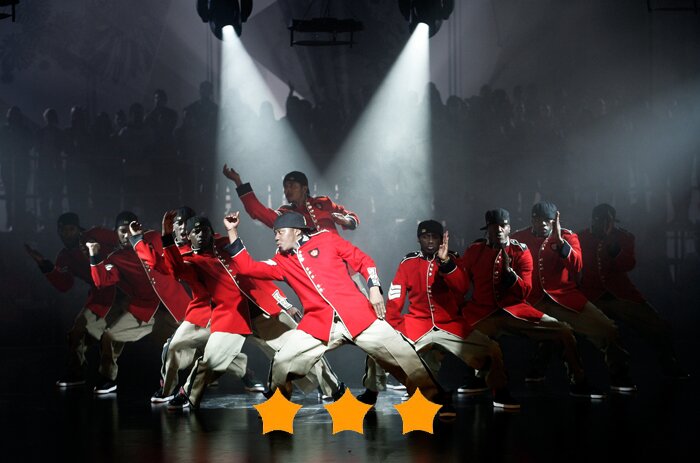 Directors: Max Giwa, Dania Pasquini
Cast: Nichola Burley, Richard Winsor, Flawless, Diversity, George Sampson
Certificate: 12A
Trailer
Hop in a helicopter and fly over London sometime around sunset and you won't believe your eyes. At least, that's if Streetdance 3-D is anything to go by. Never before has London looked so sexy or stylish: cranes, skyscrapers, the Thames; all of it bathed in a sumptuous orange glow. And lens flare. A lot of lens flare. For these shots alone, Max Giwa and Dania Pasquini deserve credit: Streetdance 3-D may not revolutionise cinema but it certainly makes our capital look hot.

But back to the dancing. After all, this is a dance film. Street-dancing, to be exact. Dance that comes from the streets. So when Carly's (Burley) crew have nowhere to rehearse - apparently the streets have all been booked up or something - things look bleak for their chances at the UK Streetdance Super Mega Final Wotsit. But along comes luck when a ballet teacher who looks an awful lot like Charlotte Rampling offers them space in her studios, on one condition: they include her ballet dancers in their act.

Cue lots of training montages - occasionally broken up by montages of people dancing in clubs - followed by montages of people getting ready for the next lot of dancing, which will no doubt take the form of a montage. Driven constantly forward by its thumping music, Streetdance 3-D is one long montage.

Sometimes, they have plot montages: an ex-boyfriend here, a cameo by George Sampson or Diversity there, and even a token romance between Carly and lead ballet hottie Tomas (Matthew Bourne's protege Richard Winsor). It's all pretty pointless. But where Streetdance comes alive is in its perfectly executed dance sequences, choreographed and edited to stunning effect. It's impressive to witness, that's undeniable, but the 3-D aspect does nothing; the only two shots that feel 3-D were of a double bed and a building.

The acting doesn't leap out at you either. Burley's attempts at being nice ("Don't worry, love!") or talking to other people in general sound like she's reading a McDonald's menu. The others, meanwhile, just ham it up constantly. But there is chemistry between her, Tomas, and the rest of the cast. Not emotional chemistry. Physical chemistry. The kind that burns, especially when DJ Ironik's remix of Tiny Dancer hits the soundtrack - it's a wonderful piece of cinema that shakes itself free of the generic cheese that clogs up the rest of it. Sure, Streetdance is conventional entertainment, but it's the kind of conventional entertainment that can do backflips with its eyes closed. And 3-D or no 3-D, that's pretty damn impressive.

VERDICT

For all its modern technological claims, Streetdance 3-D is traditional British fare: an acrobatic urban panto with the heart of a rom-com. Unavoidably fun.
Your rating 
( 4 Votes )