Star Ratings
| | |
| --- | --- |
| | Amazing |
| | Well good |
| | Fun |
| | Meh |
| | Rubbish |
| | | |
| --- | --- | --- |
| Centurion | | |
Written by Ivan Radford
Friday, 23 April 2010 13:12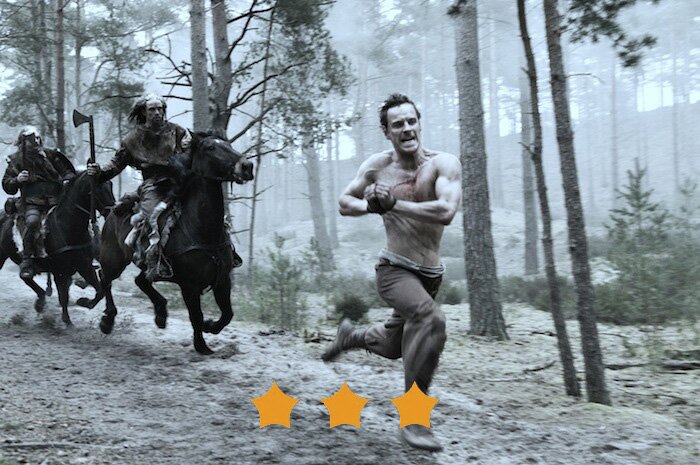 Director: Neil Marshall
Cast: Michael Fassbender, Dominic West, Olga Kurylenko, David Morrisey, Liam Cunningham, Noel Clarke, Riz Ahmed
Certificate: 15
Scotland's tourist board must love Neil Marshall. Eight years ago he butchered a group of men in the Highland woods with werewolves. Then a bunch of cave monsters tore some women to shreds in the Scottish mountains. And now, fascinated with Hadrian's Wall, he's back again in Scottish territory to butcher another group of men. But this time it's different: they're Romans.

Centurion focuses on the fate of the Ninth Legion - who, according to legend, disappeared without a trace in 117 AD. Filling the historical gap with blood, swords and more blood, Marshall's imaginings see Quintus Dias (Fassbender) survive a raid by a savage native tribe called the Picts. He then joins with the Ninth Legion to march north and wipe out the resistance. But as they travel through unfamiliar woods, the Picts wipe out the troops, taking General Virilius (West) as their prisoner. Quintus soon finds himself in a small band of survivors, determined to free the General and make it out from enemy lines alive.

With the silent and deadly tracker Etain (Kurylenko) on their heels, Centurion''s pretty much your standard chase film - there's barely a moment when people aren't running somewhere. Pausing briefly for an introductory fireside chat, Marshall's camera steamrolls through Scottish landscapes, throwing arrows, spears, axes and knives at his resilient bunch of macho warriors.

And the blokes acquit themselves well: the charismatic Dominic West is a boisterous contrast to Fassbender's steely hero, while the youngsters Clarke and Ahmed get enough screentime to claim as their own; Marshall veteran Liam Cunningham is a reliable grizzly presence; and it's a pleasure to see David Morrisey offered this kind of role for a change. What are the soldiers' names? You won't remember. But that's not really the point.

Staying fairly faithful to period weapons and clothing (woad is a must for their fictitious hunters), the production is packed full of old-school prosthetics, live-action stunts and low-budget scraps. With less money to play with, Marshall follows his mediocre Doomsday with grit and fervour. It's a 90 minute dash to the bloody finish, but it feels closer to an hour. 

It's clearly influenced by Gladiator and its successors, but this historical epic sticks to the small scale, happy to replace Roman sand with Scottish mud. And yet it's still not without spectacle - the Picts' early fiery ambush is a stunning little sequence. An attempt at a romantic subplot is a bum note, but the rest of Centurion is bum-clenchingly tense.

VERDICT

Sacrificing character for action, Centurion is a British B-Movie with balls. Shallow, speedy, exciting stuff.
Your rating
( 1 Vote )