Star Ratings
| | |
| --- | --- |
| | Amazing |
| | Well good |
| | Fun |
| | Meh |
| | Rubbish |
| | | |
| --- | --- | --- |
| Cemetery Junction | | |
Written by Ivan Radford
Thursday, 15 April 2010 17:28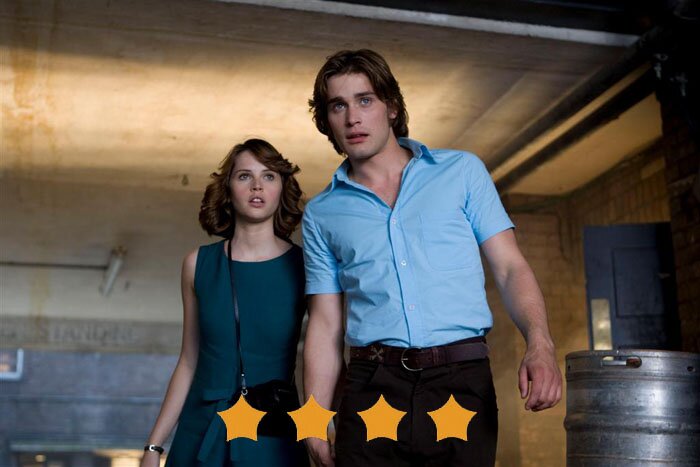 Directors: Ricky Gervais, Stephen Merchant
Cast: Christian Cooke, Matthew Goode, Tom Hughes, Jack Doolan, Felicity Jones, Ralph Fiennes, Emily Watson, Ricky Gervais
Certificate: 12A
Period coming of age movies are as widespread as acne. But a period coming of age movie made by Ricky Gervais and Stephen Merchant? That's a whole different level of pus-filled entertainment. This pus got class. And it oozes it with style.
Freddie (Cooke) is stuck. Stuck in a dead end life with dead end friends and a dead end family. They all live together in Cemetery Junction - a dead end town. While his father (Gervais) is happy to work and read the paper day in-day out, Freddy looks for a way out to something better. "I want to go to Paris," he declares at the breakfast table. "There's parts of Reading you haven't seen," comes the reply.

But Freddie's ambitions can't be curbed. Soon he's working for Vigilant Life Insurance, keen to emulate the shiny lifestyle of salesman Mike (Goode). The sad thing is, he also wants to get Mike's bird - his childhood sweetheart, Julie (Jones). Not that her father would ever let such a thing happen; he's Freddy's self-made tight-lipped boss (Fiennes, in a gloriously deadpan turn).

It's all a bit obvious, in a way. But to dismiss it as so is unfair for such a superb screenplay - deftly written by Gervais (and, crucially, Merchant) it's a poignant and subtle effort, full of nuance and dated pop music. Pausing for close-ups of Christian Cooke's glorious face, All the Young Dudes playing in the background, Cemetery Junction is content to soak up the details. Not details like oversized 70s wigs or flared trousers; details like insincere retirement speeches, broken homes, and parents who drink away their pain while their son brawls his way through it.

At the heart of it all is Christian Cooke's incredible performance. At once both charming and confused, his expressive face makes him a winning lead. His brooding childhood friend Bruce (Hughes) has more dramatic meat to chew than spotty comedy sidekick Snork (Doolan), but both put in strong supporting roles, filling out this portrait of youth angst, delicately echoed by Emily Watson's overlooked housewife. It's a strong cast, made all the stronger by Gervais's decision to keep to the sidelines. Leaving his usual shtick off screen, the result is a well tempered piece with an unobtrusive air.

Beautifully capturing Reading's sunlit streets and the hopes of frustrated twenty-somethings, Cemetery Junction is a film full of pathos. As heartbreaking as it is laugh-out-loud, it's a life-affirmingly good movie, the kind of mythologising that America has done for years. But far from American Graffiti or The Breakfast Club, this is a distinctly British project, marked out by the amount of screen time which is simply spent in silence. And that's where Cemetery Junction really succeeds; the belly laughs are plenty, but it's more drama than comedy, and it's all the better for it.

VERDICT

Gervais and Merchant couple their deprecating humour with a restraint that betrays true storytelling talent. Cemetery Junction is a mature, British debut. Pure class.
Your rating
( 2 Votes )