Star Ratings
| | |
| --- | --- |
| | Amazing |
| | Well good |
| | Fun |
| | Meh |
| | Rubbish |
| | | |
| --- | --- | --- |
| Clash of the Titans | | |
Written by Ivan Radford
Friday, 02 April 2010 08:02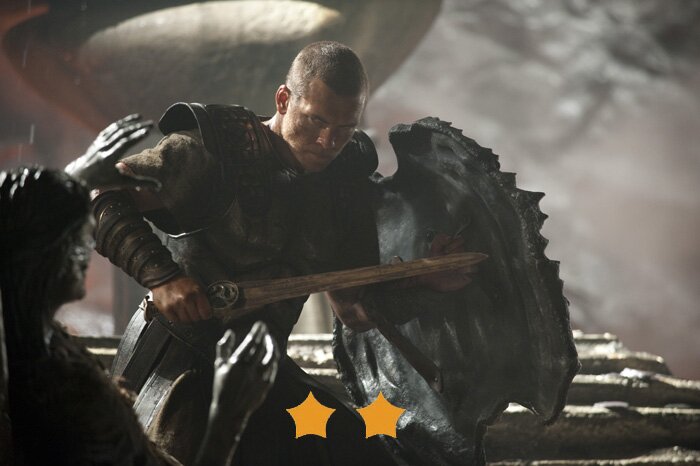 Director: Louis Leterrier
Cast: Sam Worthington, Liam Neeson, Ralph Fiennes, Gemma Arterton
Certificate: 12A
Trailer
We all wanted another hike up Mount Olympus, right? Well, we've got one, because hot on the heels of Percy Jackson comes Sam Worthington's Perseus - a demi-God with more than half a dodgy accent. Illegitimately fathered by Zeus (Neeson), Perseus is thrown to his death before being raised by a fisherman who looks a lot like Pete Postlethwaite. But when Hades (Fiennes) smites his foster family, hissing away like a Fiery Voldemort, Perseus realises his true destiny: to avenge Pete Postlethwaite and save the town of Argos, plus their princess Andromeda. He's a long way from Pandora.

But Louis Leterrier still puts in the hours, ramping up the CGI to Cameron levels to create an epic world of adventure and ancient beasties. A world that looks an awful lot like that film Clash of the Titans. You know, that movie from 1981. But here we get no Harryhausen stop-motion; these creatures are lumps of pixels without any character. The scale is right, but the charm's way off. It's a bit like taking Laurence Olivier and replacing him with Liam Neeson. Which is exactly what happens - Zeus here has a great big bushy beard and one hell of a sparkly costume (special thanks to Freddie Mercury) but his gravitas has gone walkies.

Along with the visuals, it was the hammy Olivier that made the original's camp fantasy so much fun. With Worthington's grizzly chops in a starring role, Leterrier's approach is far more serious. Some of the cast have enough grit to carry the grandeur along - Liam Cunningham and Mads Mikkelsen are serviceable Greek warriors. But with giant CGI scorpions and a CGI Medusa, they're let down by the over-digitised production. Why is this in 3-D? Heaven knows. And heaven ain't telling. When it comes to the climax, even the mighty Kraken looks a bit pants. It's far from Godzilla. It's not even Cloverfield.

And so it's down to Fiery Voldemort to bring the fear. And he does for the most part, making this brainless blockbuster almost enjoyable. But striving for pace, the script starves him of screen time. Instead we get clunky dialogue from Retardius, the God of Bad Writing. "Temper your storm," says monotonous wise chick Io (Arterton) to Perseus, placing her hand suggestively on his chest. If anyone knew what that meant, they'd be up on Mount Olympus too. Hopefully putting up a sign that says No Remakes Allowed.

VERDICT
An epic with a tiny brain, Clash of the Titans is a pointless remake. It's not as bad as it could've been, but at least it's under 2 hours - thank Zeus for small mercies.
Your rating 
( 2 Votes )