Star Ratings
| | |
| --- | --- |
| | Amazing |
| | Well good |
| | Fun |
| | Meh |
| | Rubbish |
| | | |
| --- | --- | --- |
| The Blind Side | | |
Written by Ivan Radford
Friday, 26 March 2010 16:46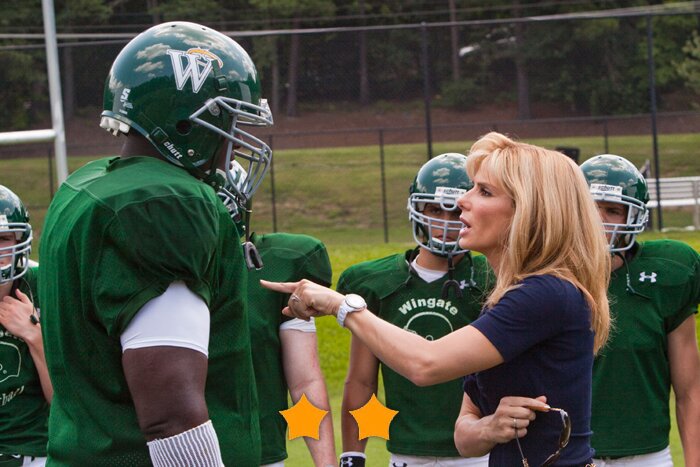 Director: John Lee Hancock
Cast: Sandra Bullock, Quinton Aaron
Certificate: 12A 
Americans love this kind of thing. The inspirational true story of a well-off family taking in a homeless young man and bringing him up as their own. At the heart of it? Everyone's favourite actress, Sandra Bullock. Here she plays Leigh Anne Tuohy, your typical well-bred Republican Christian. She loves white people, God and American football. And Oscars. She loves those too.
It all kicks off with a lengthy bit of football commentary straight from the blonde horse's mouth - you see, it's all about the left field tackle, whose job it is to protect the quarterback from what he can't see. To protect his blind side. Deep stuff. But John Lee Hancock's treatment of this tale remains stubbornly shallow. Was real life really as straight forward as this? The questions it does raise, it raises far too late for an ambiguous portrayal of anything approaching reality.

As it stands, Leigh Anne spots Michael Oher (Aaron) picking her kids up from school. He's wearing a t-shirt and shorts despite the cold, and carries his belongings in a plastic bag. Taking him into her home, she lets him stay with the privileged white folk, crashing on the couch before eventually getting his own room: "I've never had one of these before," mumbles Michael Oher in his annoyingly quiet way. "A room of your own?" asks Leigh Anne, definitely not referencing Virginia Woolf. "No, a bed," replies Michael. The film is full of such delicately weighted dialogue.

Raising him up in their own right-wing way, Michael soon finds himself in the familiar formula of struggling against the system: only if his grades improve can he reach the heights of professional football which the Tuohy's obviously feel he's capable of. Aaron's lead looks the part, frowning and mumbling his way through the role, but any achievement always seems to belong to his white surrogate family. Feeding him, tutoring him and clothing him like some kind of pet, this is a bizarre counterpart to Lee Daniel's Precious. If anything, it's closer to Beethoven.

From the outset, it's clear that Bullock's boisterous mother of three is the star of the show. And what there is to do, she does rather well. Talking it straight to coaches, teachers, parents - hell, the whole world - she takes no crap from anybody in her one woman crusade to Do The Right Thing. She even squares off against some drug dealers, who spend their time sitting around a TV movie's budget version of The Wire.

Does she have an ulterior motive in grooming a left field tackle for her old University? That's not really the issue for Hancock; he's too busy showing off her tight-fitting wardrobe and big mouth. Only on Michael's first night on the couch does her character get complex. She turns to face her perfect husband and whispers: "Do you think he'll steal something?" That whole debate gets brushed aside, though, in favour of cute pillow talk and honest to God family values. Don't even get me started on her annoying children.

VERDICT

The true life story of one rich white woman rescuing a poor black man, The Blind Side is the sort of movie awards were made for. Americans love this kind of thing. The rest of the world, not so much.
Your rating
( 3 Votes )