Star Ratings
| | |
| --- | --- |
| | Amazing |
| | Well good |
| | Fun |
| | Meh |
| | Rubbish |
| | | |
| --- | --- | --- |
| The Girl with the Dragon Tattoo | | |
Written by Ivan Radford
Friday, 12 March 2010 10:33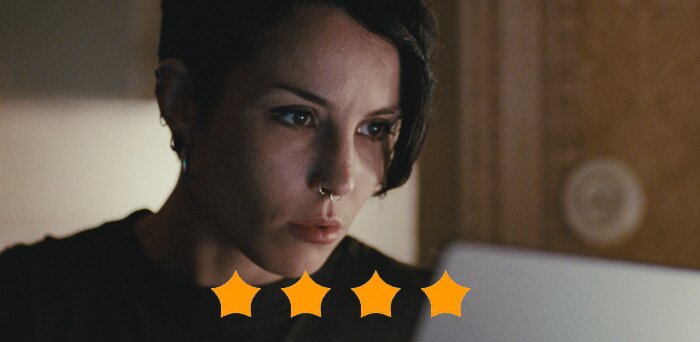 Director: Niels Arden Oplev
Cast: Noomi Rapace, Michael Nyqvist, Sven-Bertil Taube
Certificate: 18
Trailer
Thanks to Henning Mankell and Let the Right One In, Sweden is getting a reputation for its nasty sociopathic murders. What with its chequered nationalist past and wintry snow-filled regions, it seems more a fascinating tableau of literary horrors than a country. And now the first of the late Stieg Larsson's Milennium trilogy has reached our shores. And it's worked the same disturbing magic. The Girl with the Dragon Tattoo is a chilling plunge into Sweden's brutal climate.

Obviously, this is not the Sweden of the real world - its population would be vastly reduced by homicide if that were the case. This is a dark, brooding place where isolated landscapes and cold subway tunnels all add to the moody tension. There's no action-packed set pieces on show - this is a confident, old-fashioned thriller. One that moves slowly and deliberately, with a solid pace and strong rosta of characters.

Queen of them all is Lisbeth Salander (Rapace), computer hacker and security researcher, who soon finds herself helping disgraced journalist Mikael Blomkvist (Nyqvist) to investigate the murder of a wealthy businessman's niece decades before. Drawn into a web of family history and deceit, the hunt for the killer (whose victim disappeared in a locked-room scenario) feels almost like an Agatha Christie novel. But this is much harsher to take in.

Rape, misogyny and racism all come into play, taking the narrative away from its crime story and fleshing out its main female: as the Girl with the Dragon Tattoo, Noomi Rapace is enigmatic, assertive, and absolutely absorbing. And this is Larsson's triumph, so well translated to the screen: the compelling details of a young woman's life, cut through with horrific acts of sexual abuse.

Battling against her sadistic social worker, Lisbeth's shocking struggle is captivating to watch. And whenever she's in the frame, you won't want to look away. Even when she grabs a golf club. Or a dildo. Nyqvist is spot-on, too, as the wearied reporter trying to clear his name, leading a cast of excellent supporting actors. And with Niels Arden Oplev's strong eye behind the camera, this stylish thriller makes for a wonderful piece of cinema. You won't have seen anything quite like this before. The good news? There's two more on the way.

VERDICT

Elegantly adapted from Larsson's weighty work, The Girl with the Dragon Tattoo is gripping and unsettling stuff. A cold blast of Scandinavian class.
Your rating
( 2 Votes )