Star Ratings
| | |
| --- | --- |
| | Amazing |
| | Well good |
| | Fun |
| | Meh |
| | Rubbish |
| | | |
| --- | --- | --- |
| Invictus | | |
Written by Ivan Radford
Friday, 05 February 2010 13:27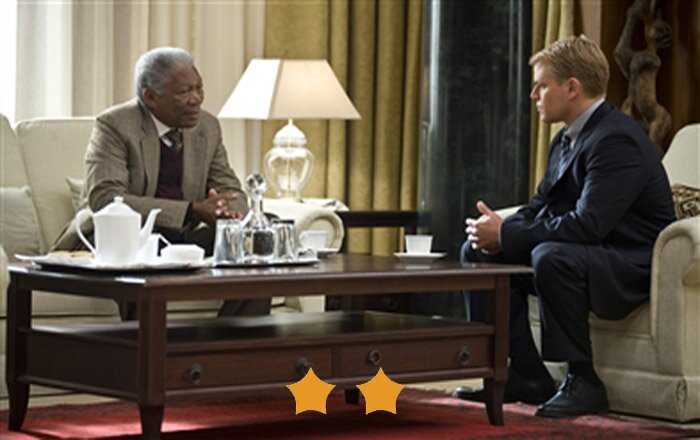 Director: Clint Eastwood
Cast: Morgan Freeman, Matt Damon, Adjoa Andoh
Certificate: 12A
Trailer
He's played God, the US President, and a countless number of doctors and detectives. It was only a matter of time before Morgan Freeman, a man of immense gravitas and presence, took on the role he was born to play: Nelson Mandela. Effortlessly adopting his mannerisms, physical poise and slow, studied speech, Morgan makes for a sound statesman. It's just his statesman doesn't sound like Nelson Mandela. So every time you look at Mandela, you think one thing: Morgan Freeman.

Invictus follows his first term in office as President of the now democratic South Africa, a country still torn apart by apartheid. With racial tensions unsettling the nation, Nelson's foresight seeks out a uniting symbol for the people: the country's failing Rugby Union team, the Springboks. Captained by Francois Pinnear (Damon), they're not just a white team who the black populace despise. They're terrible. There's no way they could ever win the 1995 Rugby World Cup. Not without the guiding inspiration of Robben Island's most famous inmate.

Going against the belief of his followers, Mandela endorses the team as an example of success and national pride. Shrewdly playing the political game, Mandela here is a cunning and wise man, unafraid to date controversy in the face of short-sighted prejudice. But for all the story's truth and fact, Invictus never quite pulls off its heart-warming tale of victory against the odds.

Faithfully adapted from John Carlin's Playing the Enemy, Anthony Peckham's screenplay is heavyweight stuff, weighed down by its own scale. It's strength comes from the inspired choice to stick with the sport in question - a pleasant alternative to a full-length biopic. But in such a closed context, attempts to introduce details of Mandela's life leads to some overly portentous dialogue: "How is your family, sir?" "I have a large family. Of 43 million". And so on. It doesn't always gel together.

The main problem is Freeman's performance. As nuanced and commanding as he is, he's too big a name and Mandela's too big a target for it ever to be pulled off. Matt Damon as Pinnear turns in an excellent accent in a subtle role which could easily have been a plot function. But his star status, too, clouds the real-life person he's meant to portray. It soon becomes less a conversation between a President and a celebrated sportsman, and more of a chat between two Hollywood A-Listers. And when his chief of staff Brenda (Andoh) turns up, you'll just get distracted by her being that woman out of Casualty.

Clint's casting isn't exactly wrong. The actors are most definitely the right choices. But that's the rub - they're too well-known, too perfect for their parts that they never truly inhabit them. And while Eastwood's assured direction is as classy as ever, Invictus lacks the inspiration it so clearly craves. Airbrushing over years of turbulence doesn't help much. The rugby is fluid, simplified, exciting stuff but the World Cup is not the solution to all of South Africa's issues: when the Springboks win, a group of white cops carry a black street kid around on their shoulders. Thankfully they didn't fade out on that image. They did, however, include a series of drab songs to underscore it all. Including one called Colorblind. Placing that alongside WE Henley's titular poem is just an insult to everyone in the audience.

VERDICT

With its glittering top-notch leading cast, Invictus never rings as true as it should. For all its potential and historical reach, it's a serviceable sports movie, but nothing more.
Your rating
( 2 Votes )
Tags:
apartheid
biopic
clint eastwood
invictus
matt damon
morgan freeman
nelson mandela
rugby
south africa
sports
world cup