Star Ratings
| | |
| --- | --- |
| | Amazing |
| | Well good |
| | Fun |
| | Meh |
| | Rubbish |
| | | |
| --- | --- | --- |
| The Boys are Back | | |
Written by Ivan Radford
Friday, 22 January 2010 07:49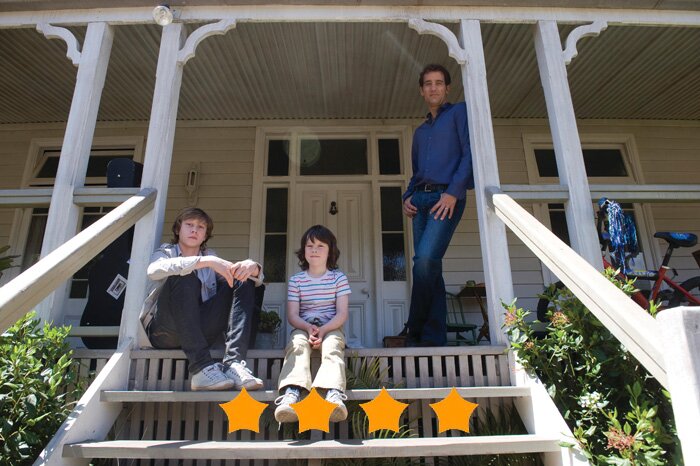 Director: Scott Hicks
Cast: Clive Owen, Laura Fraser, George McKay, Emma Booth, Julia Blake, Nicholas McAnulty
Certificate: 12A
It's a man's world. Except for the sad family dramas about death and grief. Those are female territory. At least, they were. Scott Hicks' sorrowful, uplifting drama is all about men and mourning. When Katy (Fraser) passes away, Joe (Owen) is left to raise their son Artie (McAnulty) on his own. A workaholic jounalist with barely any home time, he's still got to get to know his boy, let alone comfort him. Then along comes Harry (McKay), an English teenager from Joe's previous marriage, to shack up with them Down Under for a few weeks. The Boys are Back, and they're storming the emotional fort.

At the head of the testerone-fuelled trio is Joe. Vulnerable, stroppy, angry and distant, the boys can't help but follow his example. Matters aren't helped by Joe's parenting style: he embraces a house with no boundaries (the few that are there are soon broken) and no housework. As the mess climbs the walls - to the shock of formiddable mother-in-law Barbara (Blake) - it's clear his life is lacking a woman's touch. Enter Laura (Booth), mother of one. Just what the house needed to build up the tension.

It's not all painful sniping, though. Constructing a subtle narrative from Simon Warr's memoirs, Alan Cubitt's script plays things soft and slow. Unafraid to lift the mood, Cubbitt's creation jumps from driving through large puddles to dive-bombing a bathtub without the weight of a sentimental core; everything feels natural and fluent, not at all scripted. Even when Katy haunts Joe, it's in a brilliantly unstagey way. There's no smoke or mirrors here. Just beautiful Aussie sunshine.

Shot across wide open landscapes, the location is gorgeous to look at. And that's when Clive Owen's off screen. His good looks hiding his talent for character acting, Owen impresses no end: at one point, he wells up on the phone, the silent contortion of his face speaking volumes of pain. Just lying next to his sick wife, waiting for her to stop breathing, he effortlessly inhabits this tender hulk of a man. Even his hair looks sad. Conveying his shabby emotional state from his scalp to his shoes, he's a sensitive bloke, but still a shit father. Shirking responsibilities for an easy, unstructured life, he avoids communicating with his children, instead buying them crisps and leaving them home alone.

The two younger actors are also incredible: awkward, silent and seething with resentment, they slowly do away with the discord as their dad begins to improve his act. The link between them all feels very real. Lensed in an open, naturalistic way, Scott Hicks shoots their blokey bonding without a trace of trite sentiment - helped along by a gentle guitar score and the odd song from Sigur Ros. Balancing the schmaltz with the sincere, Hicks guides his graceful cast to form a family unit who seem as close to us as they are to each other. Like real life, there's no happy ending, but with a drama this decent, who needs one?

VERDICT

An honest perspective on the loss of a partner, The Boys are Back is elegant and realistic. Expertly done stuff.
Your rating
( 0 Votes )
Tags:
alan cubitt
clive owen
drama
george mckay
laura fraser
memoir
nicholas mcanulty
scott hicks
simon warr
the boys are back
true story
widower