Star Ratings
| | |
| --- | --- |
| | Amazing |
| | Well good |
| | Fun |
| | Meh |
| | Rubbish |
| | | |
| --- | --- | --- |
| The Book of Eli | | |
Written by Selina Pearson
Friday, 15 January 2010 18:28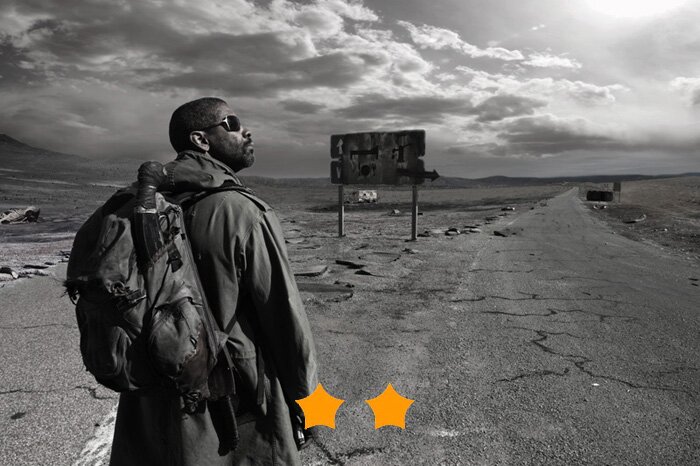 Directors: The Hughes Brothers
Cast: Denzel Washington, Gary Oldman, Mila Kunis
Certificate: 15
A man walks alone down a deserted road, through a bleak landscape. Oh look, it's another film about life post-apocalypse. A week after The Road is released, the Hughes Brothers bring us The Book of Eli. The titular Eli (Washington) has a pack on his back, a bit of water, some cat oil, an iPod and a book that he reads daily. On his road west, he has to deal with the brutal thieves, murderers and cannibals you'd expect to find following a catastrophic event that bleaches all colour from the scenery.

Gary Oldman's Carnegie also likes reading for, you see, words have power. And most of the survivors of the great planet-bleaching are illiterate. But he's after one book in particular. You'll never guess which book. Or who has it. Well, I'm not telling you. Psychotic old Carnegie is desperate for Eli's Book Of Power, and will stop at nothing to get it. Along the way, Eli is also joined by Solara (Kunis), Carnegie's sort-of daughter. They continue walking west. Why west? Faith. Or something.

The film is really well shot, the scenery excellent, the action sequences are smooth and all the actors are on good form. Unfortunately, though, there isn't that much to the film. It's long and tiresome. Thank The Book for the inspired cameos from Michael Gambon and Frances de la Tour. They briefly relieve the tedium.

VERDICT

Dull as its palette, The Book of Eli benefits from some nice turns by its cast, slick set pieces and a laughable ending. But it's oh-so-boring. Watch The Road instead.
Your rating
( 1 Vote )
Tags:
apocalypse
bible
book of eli
denzel washington
hughes brothers
religion