Star Ratings
| | |
| --- | --- |
| | Amazing |
| | Well good |
| | Fun |
| | Meh |
| | Rubbish |
| | | |
| --- | --- | --- |
| Film review: Casa de Mi Padre | | |
Written by Ivan Radford
Thursday, 07 June 2012 17:18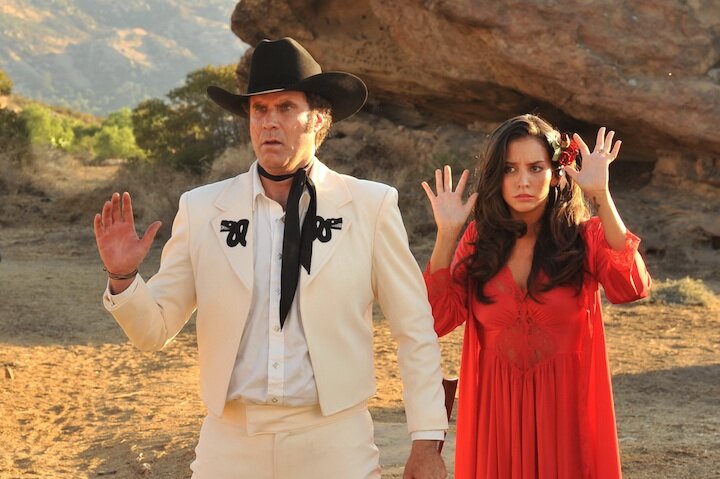 Director: Matt Piedmont
Cast: Will Ferrell, Gael Garcia Bernal, Diego Luna, Genesis Rodriguez
Certificate: 15
UK Trailer
Will Ferrell no puede hablar Español. Pero, ¡mira! ¡En esta película esta hablando en Español! ¿Es un hombre loco, no? Que tonto.
Pero Casa de Mi Padre utiliza exactamente esta cosa para hacer reir. Armando Alvarez (Ferrell) es lo mas pequeno de su familia. Un hombre que su padre no toma en serio, Armando lucha contra esta percepcion – hasta el punto que se debe matar narcotraficantes y joder los mujeres. Pero no puede, porque es inútil en todo. ¡Pobrecillo Armando!
Para muchos de los criticos ingleses, Casa de Mi Padre es divertido porque tampoco no pueden hablar Español. Pero las risas llega gracia al dialogo, no a la lengua. En películas ingleses, Ferrell dice muchas tonterías. En Español, es lo mismo.
"Nuestra cancion seria un gran cancion," Armando dice de su mujer ideal, "y esta cancion seria verdad." Despues, hablando de los Americanos con su hermano, Raul (Diego Luna, claramente disfrutando): "Los americanos son bebés que comen hamburguesas de la mierda!" Raul responde: "No son bebés. Son monstruos locos." "Si," dice Armando. "Y hemos hecho avaros gracias a los monstruos de bebe locos que comen la mierda."
No tiene sentido. Nada tiene sentido. Es ridículo.
Lo más importante es que al lado de los disparates, todo los actors mantienen la compostura. Gael Garcia Bernal's narcotraficante principal, Onza, por ejemplo, fume dos cigarillos al mismo tiempo, sobreactuando con alegria. Gael trata su papel en serio, como un melodrama de los 1980s - una parodia precise de una telenovella mala.
Para mantener este alto nivel de calidad, el resto de la produccion no utiliza mucho dinero. Los caballos son fasificaciones, el paisaje está compuesto de papel, los coches no corren. Las unicas cosas que funcionan es las pistolas – ¡y que violencia! Como una película dirigido por Sam Peckinpah, Matt Piedmont asegura que los actors morien de muertes violentas en una culminante de caos y sangre. Una escena, en la que figura una pantera de peluche, cuenta la más feroz lucha entre el hombre y la bestia desde Monty Python y el Santo Grial.
Una comedia en que todo es en exceso, Casa de Mi Padre es mas divertido que Tarantino's Grindhouse o Robert Rodriguez's Machete. Desde la musica (por Cristina Aguilera) a los sueños surrealistas, es siempre gracioso. No porque es en Español; porque es brillante en cualquier idioma.
VEREDICTO
Casa de Mi Padre es como un gato mágico descendió del cielo, y me dio un huevo lleno de chocolate. Y este chocolate me dijo todos las secretos de la vida. ¿Tiene sentido? No. ¿Divertido? Absolutamente.

Disclaimer: I haven't studied Spanish in many years, so this is probably a load of gibberish. Obviously, this is a wry comment on the film itself.
Tags:
casa de mi padre
diego luna
gael garcia bernal
genesis rodriguez
matt piedmont
will ferrell