| | | |
| --- | --- | --- |
| London Film Festival Interview: Martin McDonagh (Seven Psychopaths) | | |
Written by Ivan Radford
Saturday, 20 October 2012 11:21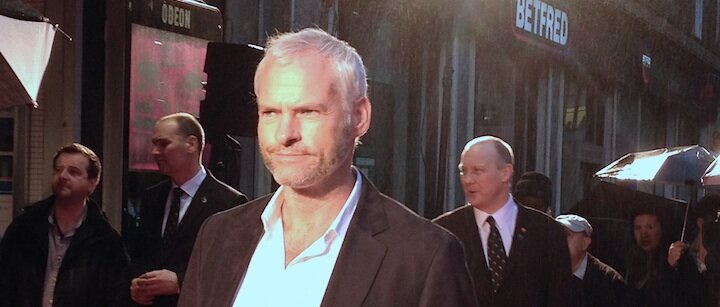 What do you do after making In Bruges? Write a movie about yourself trying to write a movie, if Seven Psychopaths is anything to go by. A mental mesh of dog kidnapping, guns, more dog kidnapping and struggling screenwriters, Martin McDonagh's bizarre comedy crime caper is crazy, confused and very, very funny.
I accosted him before the film's London Film Festival premiere and, undeterred by the fact that he looks like a henchman from a Bond film, asked him about getting Colin Farrell, Sam Rockwell, Christopher Walken and the rest of his gang together.
Here's what Martin McDonagh had to say:
Be honest. Is this basically what happens in your head every time you make a movie?
(Laughs) Yes! Pretty much. It's kind of like that third or fourth scene where Colin's telling Sam's character he's got a title, Seven Psychopaths, and he wants it to be about love and peace but he's only got one psycho! That's how I was at that point in this script – then it kind of evolved into this… craziness!
Which psycho did you start off with?
I had the Harry Dean Stanton as a short story before the script and I had the Tom Waits back-story before the script as well. Then I guess everything else just naturally flowed from that. There had to be a Woody type for the good guys to fight against…
I love that you call them good guys.
Yeah! (Laughs) There are no real good guys! You're like who is the psycho and who isn't?
It's a colourful cast of characters in real life too. How hard is that to get it all together? You obviously know Colin from In Bruges and you've written for Christopher and Sam on stage before, but these are big names…
They're big names but they all want to do cool and interesting things – thankfully for me, because we don't have much money! It was… surprisingly easy! I just gave Sam the script while we were doing the play. I gave it to Christopher just after that and he came back the next day. Tom Waits, I emailed because I knew him from before… I've loved him since I was a kid. And Woody I've known for years. It was like working with seven friends on the first day of shooting! As long as they stick to the script, you let them do what they feel is right.
I think you should write and direct all of Colin Farrell's films from now on. You have this way of tapping into him that others don't…
Yeah, I think we work together well – he's a great friend and a lovely guy.
Is it simply because you're both dark, twisted and Irish?
I think that's it! It's the time when we're both allowed to be dark twisted and Irish! That should be allowed to happen ALL the time.
The Cripple of Iniishman is back in London next year with Daniel Radcliffe in the lead. Is it weird to see your plays come back round again with different productions? You don't get that with film…
You're hope when you write one that it lasts longer than the year it's first performed, so yeah, it's good. I've seen different productions over the years and I'm intrigued to see this one – I haven't met Daniel yet, but I'm hoping to soon. It's going to be really interesting to see.
You jump between stage and screen a lot. What's next?
I'm going to keep jumping between the two. Stage is a bit easier and relaxing, but they're both kind of fun! The thinking is the same – it's also about getting to the core of a character…