| | | |
| --- | --- | --- |
| 5 things I learned at the A Liar's Autobiography press conference | | |
Written by Ivan Radford
Friday, 19 October 2012 15:10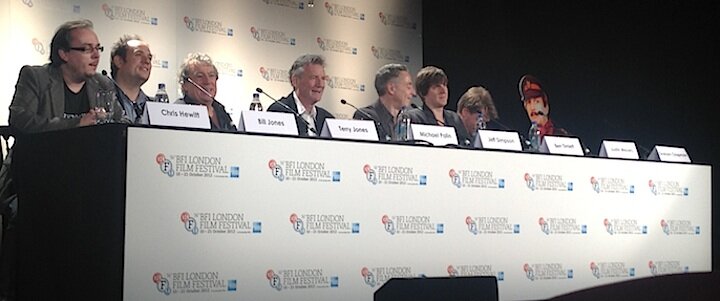 The last time I saw Graham Chapman is when he was being swept up off the stage by John Cleese in Live at Aspen. So it was an odd experience to see Graham Chapman outside of his urn, in person, at the London Film Festival.
A hologram? The latest in 3D technology? Oh no, explained the director of A Liar's Autobiography (the animated version of Chapman's bonkers memoirs). It's far more advanced than that – something I discovered for myself later when I held open the door for Graham Chapman as someone carried his cardboard cut-out from the room.
Non-cardboard Monty Pythons were there too, though; namely, Michael Palin and Terry Jones. Along with Terry's filmmaking son, Bill, and his co-director Jeff Simpson, they spoke at length about Graham, The Pythons and the film itself.
Here are five things I learned at the A Liar's Autobiography press conference:
1. Terry Jones is surprisingly unemotional about Graham Chapman
A Liar's Autobiography's secret weapon is the fact that they found Graham Chapman's recordings of himself reading the memoirs, which let them use his voice in the film. But did the discovery move the two Pythons? Surprisingly not. Terry Jones was wistful, but matter-of-fact: "It just felt natural to have Graham's presence in the studio. It didn't tug at the heart strings, but it felt very natural. Almost like it used to be."
2. Michael Palin is still surprised by Python's ongoing success
"I'm bemused," Palin said of the Python's legacy. "We didn't expect Python to last longer than 2 or 3 years. The very fact that it still exists... Silliness has just sort of survived. There's always a need for it in the world."
But their first sign of overseas success was still a big mistake. "Our first foreign sale of Monty Python was to Pakistan - because they thought it was an actual circus..."
3. No one really understood Graham
A man of many moods and habits, Graham Chapman is a fascinating subject for a biography. Did Terry ever really understand him? "I didn't really. I think he didn't understand himself either. He was always looking for himself - he found himself as a homosexual... he found himself as an alcoholic… then gave up alcohol just like that."
4. Graham was hypnotic
Graham Chapman was always a hypnotic presence for the Pythons. Can Michael Palin remember his first impression of him? "I first saw him at the Wyndham's Theatre. Bill Oddie and Tim Brooke-Taylor and John Cleese were all acting and being funny but Graham was just standing there like he walked off the streets. I couldn't take my eyes off him! That's why we cast him as our lead. He was a natural straight man." That continued in the writing room too. "He seemed a serious man but he had a way of going to the silliest ideas. He would sit there silently for ages while writing than suddenly say something like: 'It could be a Norwegian Blue!'"
5. The Pythons once smuggled tapes from the BBC
"The BBC announced at one point they were going to wipe the tapes [of Monty Python's Flying Circus] and so we smuggled out the tapes and recorded them onto a Phillips VCR..."