| | | |
| --- | --- | --- |
| London Film Festival: 5 things I learned from the Frankenweenie press conference | | |
Written by Ivan Radford
Friday, 12 October 2012 06:39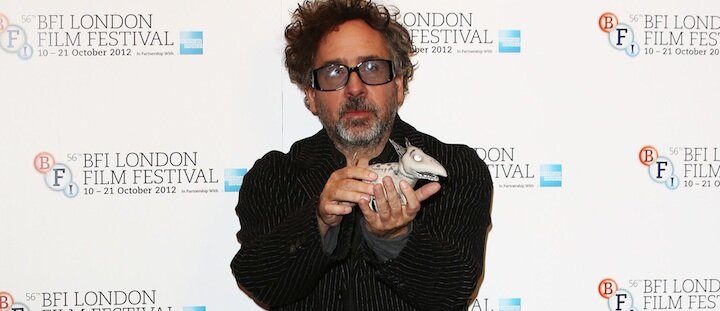 There's no two ways about it. Press conferences can be a bit dull if people aren't in the right mood – the same old questions get asked, the same old answers are recited and no one comes out surprised.
But I was hoping for something interesting from Frankenweenie, Tim Burton's lovely little stop-motion flick. Partly because the film is such an unusual choice to open the London Film Festival, partly because Catherine O'Hara (aka. Mrs McCallister from Home Alone) would be there, and partly because Tim Burton is, well, weird. Thankfully, I wasn't disappointed.
Here are five things I learned from the Frankeweenie press conference:
1. Frankenweenie took longer than the Olympics to make
Frankenweenie took even longer to make than it took London to build the Olympic Park – that's a flipping long time. As Tim put it: "When we started the film, there was no Olympic Stadium, but by the time we finished it was all done! It shows you just how long a film like this takes…"
Although, of course, the work pays off in the film's attention to detail; the costumes, the sets, the little nods to classic horror movies. "It's not a reference film," Tim pointed out. "We tried to make a film that feels like old horror films but without you having to know all the references."


2. Tim Burton wanted to be a mad scientist when he was younger
This one is no surprise, but it's nice to hear it from the horse's mouth. Especially when that horse is spluttering, twitching, saying 'you know' every 10 seconds and generally looking like a mad genius.
"When I was a kid I wanted to grow up to be a mad scientist. Normal scientists were boring! It's not so much bringing dead back to life, it's more about creation and making things... And that's what filmmaking is and what stop-motion is."
Yep. That's one crazy kid right there. It's hard not to love him for it – especially when he dismisses questions about his dark tones or the goth-gone-mainstream moden cinema trend. "All of my films have been labelled dark since the beginning," he replied simply, "but I've never felt that way."


3. Martin Landau does a fantastic Hitchcock impression
After working with him on North by Northwest, Martin Landau does a surprisingly good Alfred Hitchcock impression. "I got along very well with him," he said of the filmmaking legend. When asked about the Tippi Hedren controversy, he said: "I never saw any sort of that behaviour. He was a practical joker." Then added cheekily: "And he certainly never made any advances towards me…"


4. Martin Landau takes his trousers off for Tim Burton
"Whenever Tim Burton asks me to work with him, I'll drop everything," admitted Landau. "Including my pants."
"I remember seeing Beetlejuice and thinking 'My God, who directed this? I'd love to work with this guy. He's got an imagination that's mind-boggling,'"
After starring both Ed Wood and Frankenweenie, the two have an almost telepathic bond, Martin revealed: "It was an amazing kind of experience. Burton creates a playground for the actors. It's a fun place to work. He would come up to me after a take and say 'You know…' and I'd go 'Yeah.' And that would be it."


5. Disney don't know what to do with Tim Burton
It's not often a studio admits having no clue what they're doing, but credit to Don Hahn for not beating around the bush when it came to Disney's dismissal of Tim Burton when he first made the short Frankenweenie back in 1984. "It was an odd time for the studio… Disney didn't know what to do with Tim. Or with his shorts. We didn't want to release them and we didn't want the Disney name on them. But to see it turn around, revisit that and celebrate what he's trying to do is really nice."
I bet that conversation was way more heated in private.
Watch the whole press conference here - or head this way to read our Frankenweenie review.