| | | |
| --- | --- | --- |
| Brief Encounters: Marc Webb | | |
Written by Ivan Radford
Wednesday, 02 September 2009 20:07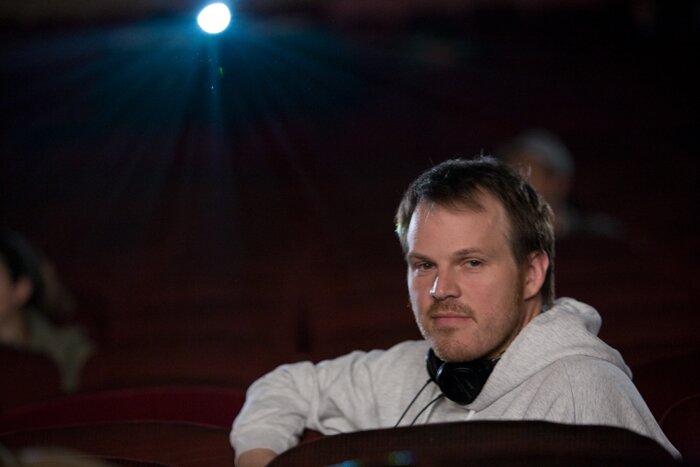 Marc Webb strolls into the room, jetlagged but enthusiastic about his directorial debut, (500) Days of Summer. And justifiably so - read the i-Flicks review over here. He asks for a Red Bull, which is provided in a wine glass. As he sips his shots of cultured caffeine, I try to think of questions that aren't about how awesome Zooey Deschanel is. For the most part, I succeed.
(500) Days is quite an unconventional movie. Is that what attracted you to the project?
I got the script from the producer about 2 years ago. He said it was sort of a romantic comedy, which didn't interest me that much. I left it in my backpack, then pulled it out one day and read it. And I just connected to it – it was honest and fun. Romantic comedies, a lot of time, just seem to have nothing to do with me. But this to me felt engaging. It was real; it wasn't full of shit. I really liked that.
(From @sephfromabove) The story's told from Tom's perspective. It's a very male thing. Do you think it appeals to both genders?
People often think of it as a gender role reversal, but I didn't really think of it that way. It was only in the bar scene when McKenzie (one of Tom's friends) is like "She's a dude!" that someone on set suggested it. For me, it's more about youth. Even though there's probably some subconscious connection there because he's a guy, it's about a time in your life as opposed to a certain gender – women identify with Tom as much as guys do. But I do think it's more accessible to guys than other films in this sort of genre. It's more of a coming-of-age story masquerading as a romantic comedy on some level. 
As you say, it's honest. It seems a very precise dissection of a relationship. Are any of them your own experiences?
It was really all Scott's experiences. He wrote it with Michael Weber and then we developed it for a while. There's some of my personal vignettes in there, but it's mostly Scott's. A lot of these situations were plucked from his own life – it is a very personal thing. And for me too. I think we're trained to believe love works in a certain way based on films and music, and a lot of it's a lie. That's not to say it doesn't exist, it's just more complicated than we think it is. When we first met, we went through our relationship horror stories and we had a lot of common reference points. It's pretty cool to see how a lot of young men react to it. It did emanate from something autobiographical.
So who's Jenny Beckman?
Whatever you do, don't Facebook Jenny Beckman! (Laughs) I can't go too deep into it, suffice to say, it is based on a real experience and we had to get the OK from certain people in our past...
Zooey and Joe seem the perfect match for each other. Were they your first choices for the role?
No, they were 6th of 7th choice! (Laughs) No, of course they were. We cast Zooey first, actually, but I had met Joe before I met her. We were trying to find Summer first and I had sat down with Joe to discuss who could play her. We talked aobut the obvious names, but Joe pointed out that, really, the perfect person to play her was Zooey. And he had this look in his eyes - his expression was just so Tom. But then he deflated and I asked what was wrong. He was like "no-one's ever going make a movie with us, we're not big enough stars." Then I met Zooey, who signed on, and I had the leverage to go and bring Joe on board. It was great. In a movie like this you have to cast the chemistry not the actors. They were in a film called Manic together and they knew each other, were familiar with each other, and had mutual respect, which was really important. 
The dance sequence is one of the stand-out bits of the movie. How did that come about?
The dance sequence is a way of expressing that hyperbolic feeling – when you're in love, everything's in extremes. We actually shot two sequences. The one in the film we called "the best morning ever", but we also did one for "the worst morning ever", where the cartoon bird took a cartoon shit on his shoulder! But we didn't need it in the end – we'd already described how much he was in the dumps afterwards. But the dance sequence was a way of expressing that emotion.
The soundtrack feels very integral to the film. Did you get all the songs you wanted?
Yeah, we were going to do Born to Run for the karaoke – we all love The Boss – but that was one song we couldn't get, hence the line in the film. Other than that, we got everything we wanted. There was a lot of letter writing and many personal appeals. We only got a lot of permissions after the movie was done, so we lucked out!

What was different with our soundtrack is that we chose the music beforehand, which allowed me to design the scenes with the music in mind; it's basic music video directing 101, but it doesn't happen all the time in movies. So Scott had already written in The Smiths and Halls & Oates, and I had done a couple of videos with Regina Spektor, so I introduced a couple which I felt described up the film perfectly, that hopeful yet biting tone. So the split-screen reality vs expectation sequence was all mapped out with that Regina song, which allowed me to dip the dialogue out and use the lyrics as the narration.
What with the split-screen and the foreign film pastiches, visually it's a very idiosyncratic film. Was that written into the screenplay by Scott or were they your touches?
Well, we developed the reality/expectation sequence together. We wanted to add a beat where it felt like they would get back together – the wedding scenario, etc. So that's how it came about. The foreign film sequence we only wrote about 5 days before we started filming! They replaced a bit involving self-help books, which Joe didn't like it – Tom wouldn't do that – and so we figured he would watch movies instead to console himself. We developed it later, but it came from an organic place; the spirit of it came from Scott and Michael.
The architecture in the movie has a lot of character to it. Did you have particular parts of LA in mind?
Well, that's downtown LA, which is often maligned and forgotten about. It doubles for New York a lot of the time, but what I like about it is a lot was built in the earlier part of the 20th Century. It was built in an era of great optimism, with this classical architecture, which is really vivid and consistent. Our production designer pointed out that if you walk down the street the ground floor looks crappy but if you look up, it's extraordinary. We ended up using that line in the film; it's exactly what Tom is about, an optimist trying to find something beautiful.
The shoot was done in just a month - did you have a certain strategy to approach the structure of the film?
It was a shoot of 29 days. It was pretty rapid. Because of our budget we had to shoot by location – there was no linear way to approach it. We were trying to achieve a certain look, which restricted us to filming in a particular order. Joe and Zooey were complete pros, they weren't at all phased by the non-linear structure. The tricky thing was trying to achieve the seasonal shift; we have a bench scene in both Spring and the Fall, but there is a difference in the look and we had to try and get little changes in hues to match that.
Alongside the film, you've also done some other stuff with Joe and Zooey. Where did the Sid and Nancy sketch come from?
Someone from Mean Magazine called up and said they were doing this Sid and Nancy thing, and I thought it sounded like fun, but only if Joe could be Nancy and Zooey could play Sid. Once the idea was out there, we had to do it and they thought it was cool, so we just spent an afternoon messing around with it.
You also shot that wonderful music video for a song by She&Him. How did that happen?
Well, Zooey has done a fair amnount of dance training, but was feeling a bit left out because she didn't get to do the dance sequence in the film. So we tried to get some sponsors and ended up just pulling some stuff out our ass and doing it. We had such a good time. There's something about dance that's just so primal. It's just fun. It was a really good day that day.
Still smiling and sipping his Red Bull, he stands up and shakes hands. I leave, safe in the knowledge that I can go back to daydreaming of Zooey Deschanel. (500) Days of Summer is out today in the UK, and reviewed here.