| | | |
| --- | --- | --- |
| Brief Encounters: Sam Raimi | | |
Friday, 29 May 2009 09:19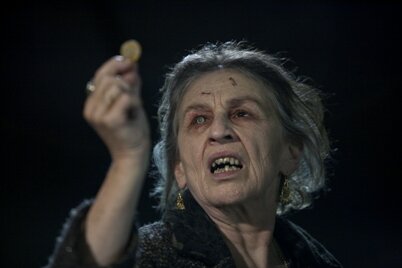 The maestro of messy horror, Sam Raimi, talks about his return to the genre that made his name with his latest, Drag Me To Hell. A gross, hilarious and terrifying ride, it tells of Christine Brown (Alison Lohman), a loans officer whose life becomes a living hell when she's placed under an evil curse by a gypsy (who else?) and has three days before her soul is dragged down to the fiery depths. It's a long time since 1981's Evil Dead, so what's with the sharp turn from Spidey? Sam spills the beans. 
Why did you decide to return to the horror genre? 
Freedom. That was one of the main reasons. On this picture I could have complete creative control and final cut, which I actually had for the first time since my first film, The Evil Dead. I could just do what I believed in. I didn't have to negotiate creatively with anyone. So it was refreshing in that way. I also liked working under a smaller budget for a change. Although I had done that for twenty years, for the last seven or eight years I'd been working with the luxury of Spider-Man type budgets, big studio productions. This was much more hands-on. No department heads to deal with - just the actors, and the technicians. And it's much more rewarding I think.
How did Drag me to Hell come about?

Just by chance. My brother, Ivan, and I had written this short story in 1989. Then just a few years ago, in 2002, we adapted it into a screenplay. I have a horror movie company called Ghost House Pictures, so I thought, why not make it into a full-fledged screenplay for the new company? We wrote it in mind with me to produce and for another director to come in and shoot it. Unfortunately, that meant cutting the script so it could be made on a smaller budget. And as I started cutting, I realized that's not why I was in it. I wasn't there just to make a movie. I wanted to make this movie.
It feels very distinctive from the current wave of horror films...

I wasn't really thinking about other films when I made this picture. I was just trying to make this story as dramatic and fun as I could. Our goal was never to follow any trends or even to try to give the audience what we thought they would want. We always tried to please ourselves - myself and my brother Ivan Raimi - when we were writing the script and in doing so, hoped that we would please the audience.
What about Alison Lohman? You put her through quite an ordeal!

Yes, I was worried that she - well, anybody - wouldn't put up with all the things that we had to do to her. I tried to be upfront about it, well, without telling her everything I would have to do to her, because I was afraid she wouldn't take the part (laughs). I just wanted to warn her a little bit, so to speak. But I had to do some pretty awful things to her. I mean, I choked her all the time with that old lady character played by Lorna Raver, grabbing her by the throat. I threw her out of a car, threw fake candy-glass at her, put her in a harness and whipped her around a room for hours on end, buried her alive under 800 pounds of mud. And that was just the first week! [Laughs]
No-one else seems capable of scaring us and making us laugh at the same time. Is it important to you to mix humour and horror?

It is for me, because I can't take it any other way. I think it's because I'm a coward at heart. When I see things, I can't even approach them without looking at the funny side of it. Maybe it's a defense mechanism. And for some reason, that's how I present my horror. I can't quite explain it, except to say I think I'm the most affected person by horror. The only way I can even attack it is by trying to see the humorous side at the same time.
Were you always a horror fan?

I've always liked ghost stories. As a kid, I liked sitting around the campfire or some dark room at night and having friends tell scary stories. There's a collective energy that goes through the people that are listening and a great sense of anticipation if you've got a good story teller. There's a giddiness you feel, like you want to scream, but you really shouldn't. Then there's a great release moment where the tension breaks and you, as a listener, scream in terror. Everybody is so in tune with the story and that's incredibly exciting. You all feel the chill together. You all feel the anticipation. You all scream together. It's great to connect with people on that level.
What was the first horror film you saw?

The first horror film that had a tremendous impact on me was George Romero's Night of The Living Dead. I was probably about ten years old and my sister snuck me into the theater under her coat, if you can believe that. It was a crime that was committed against me, watching that film! [Laughs]. I was too young. And it blew my mind - the terror. I could not believe it. I was so terrified watching that film! [Laughs]
Many young filmmakers look up to you. Who did you look up to?

I admire the work of Stanley Kubrick and Fellini and Bergman who I studied briefly in school. And I love Hitchcock. I think he is the master of storytelling in general, not even suspense. He really knows what information the audience needs to communicate a story point. No more, no less. His brevity is still refreshing and brilliant. You can learn a lot by watching Hitchcock.
What did you learn from the Spiderman films that you brought to Drag Me To Hell?

They taught me a lot about digital effects. I mean, the main character in those films, often times, is a digital effect himself. So the level of expertise has to be excellent. I've spent many hours on each of those films working with some of the most talented people in the business. I was able to take that and apply it in different ways than perhaps had been applied before - for instance, we were able to do some of the makeup effects digitally, which is quite an uncommon situation to have in a horror film. In essence, we were able to composite the different technologies and have digital effects augment the physical makeup effects which, I think, brings it to a new threshold.