| | | |
| --- | --- | --- |
| Where did you get that dress? | | |
Written by Selina Pearson
Wednesday, 25 February 2009 09:35
To paraphrase someone or other, I may not know about fashion but I know what I like, and there was some weird sh*t at this year's Oscars. But the weird stuff was a welcome relief from the mediocre and downright dull. And there were some good dresses too…
Five of the best: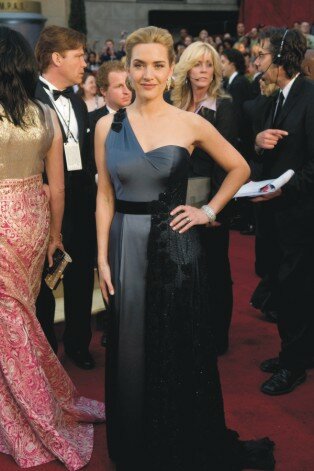 Kate Winslet, what a star! It may be grey, but it's not boring. Made by Yves Saint Laurent; the satin fading from black to grey and the silk tulle from the waist makes it elegant, imaginative and very flattering. Her daughter may be horrified by it, but for me it's a definite hit. It is elegant and interesting.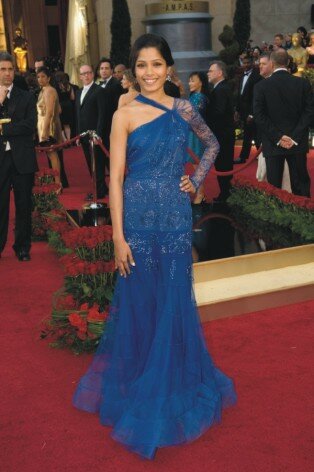 Freida Pinto showed up in this blue, one-armed dress by John Galliano and was just stunning. Some people don't like it - I think it's fab and is absolutely perfect for her.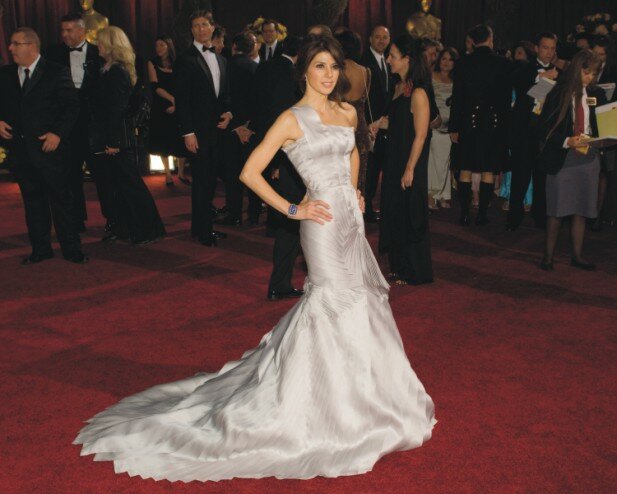 Marisa Tomei proves that even the worst dressers occasionally get it right, Tomei has worn some dodgy stuff in the past (this year's Globes for a start), but this Versace dress is a stunner. It's busy, it's weird and it's FAB - perfect Oscar dress.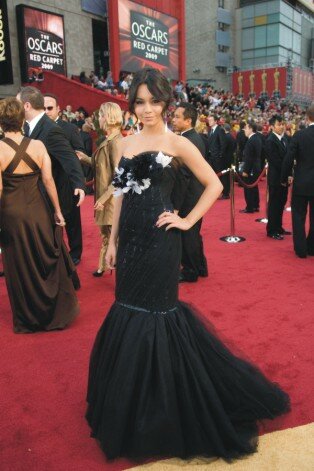 Venessa Hudgens looks very stylish in this lovely Marchesa fishtale dress. Altogether now: what team? Wildcats!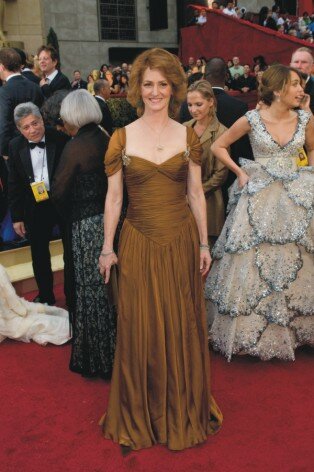 Melissa Leo has done what Streep, and many others over 45 have failed to do, and look Darling, not Dowdy, in her copper Badgley Mischka dress. It's an unusual colour but is suits her perfectly. The cut is glamorous and flattering. Watch and learn Meryl.
Five of the worst: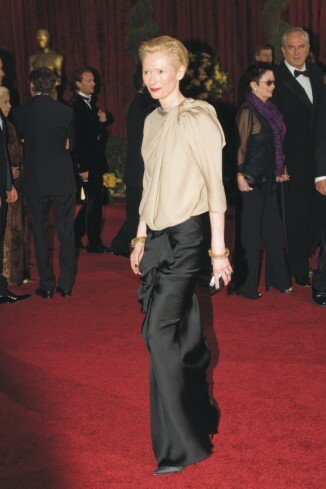 This year's winner of worst dressed by a country mile is Tilda Swinton. Last year's bin bag has been matched with a bin bag skirt and a paper bag top. I'm not sure exactly who is responsible for this - one can only presume she is happy with her appearance. Still, it gives everyone something to talk about, and at least she's not boring.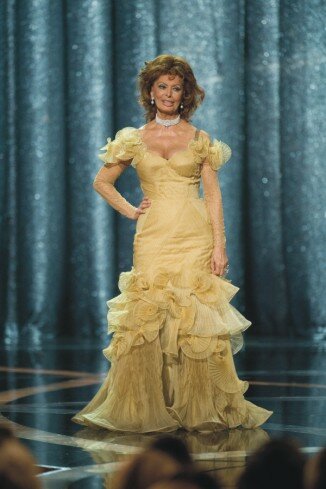 Sophia Loren appeared in this pale yellow ruffled monstrosity - too many ruffles - made by Giorgio Armani. It looks like the gown worn by Belle in Beauty and the Beast. In fact, what happened to it after the film…?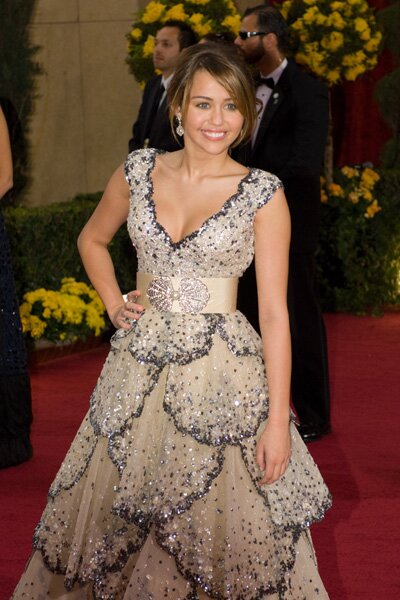 This dress worn by Miley Cyrus was best described by the Guardian as "a mountain of doilies", I can't improve on that. Shocking by our standards, but I imagine it appeals to the "High School Musical generation" of Hannah Montana devotees.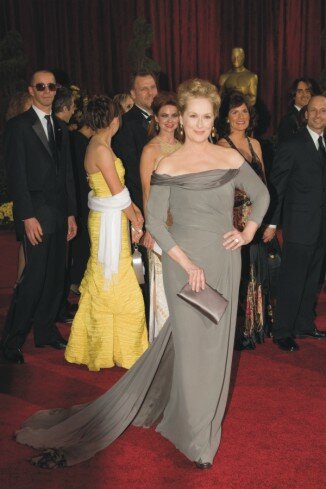 Meryl Streep in grey and grim Alberta Ferretti. Meryl! What have you DONE?! Grey? Kate got away with it because of the fabric and cut, this just looks dowdy. Just because you're over forty, doesn't mean you can't look glam…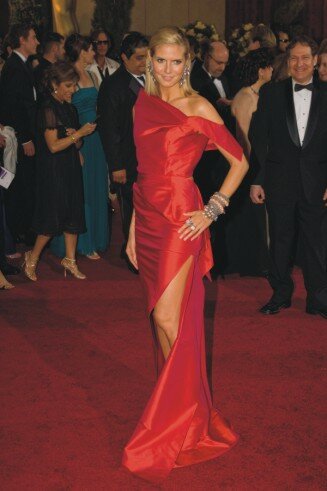 Heidi Klum. I loathe this dress. Created by Roland Mouret, it seems to lack shape and has bits and pieces everywhere. The leg split is eye-wateringly high. Her red Galliano dress from last year was a much better cut. In fact, it looks like she took last year's dress and took a pair of scissors to it, like Marge Simpson's Chanel suit. However, it's red for a reason, it's being auctioned off and the proceeds are going to support Women's Heart Health. So that's nice then.
And the rest...
There are those that play it safe and those who fall between the oustanding and awful - good-but-could-do-better, I'm-not-sure-that-quite-works and just plain dull.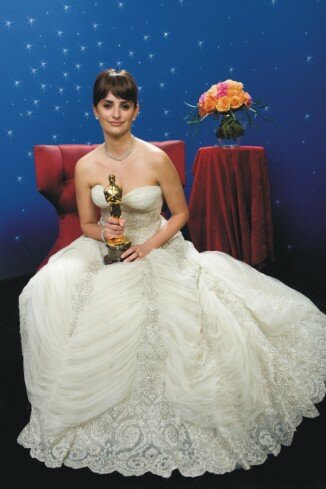 Penelope Cruz doesn't seem to look bad in anything. This is a vintage Balmain gown. She seems to get away with stuff that would look awful on other people, but I can't recall her ever looking bad at an awards ceremony. Even the one with the ostrich attached two years ago. Although I get the impression she knows what she likes and plays it safe. I love you Penelope…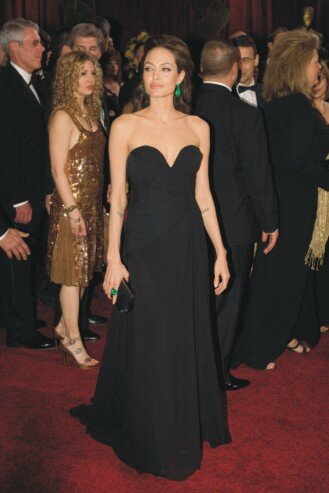 Angelina Jolie wore a plain strapless black Elie Saab dress, there's not much more to say about it. This minimalist style makes Ange look a little severe. I'd like to see a bit more effort for the biggest night in film.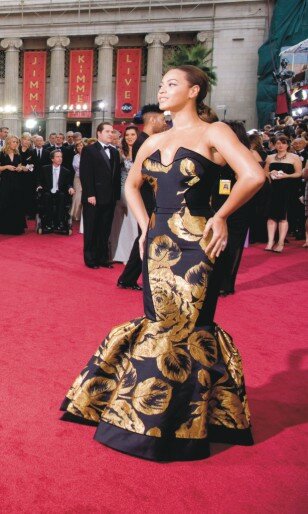 Beyonce Knowles wore a strapless black and gold creation made by her mum. Note: Her mum runs House of Deréon. It's not like my mum making my summer dresses when I was 5. It's a bit odd and I'm not sure I like it. The gold bothers me, yet if it were plain black, it would be boring. I'm just picky. However, the cut is very nice and it shows off those wonderful curves.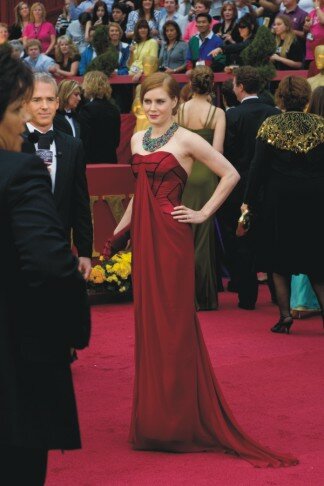 I am in two minds over this Carolina Herrera dress worn by Amy Adams it's really nice from some angles, but I wonder if it has been ruined by the black piping. A moot point really, as the M&M necklace does much more damage - it just doesn't match anything.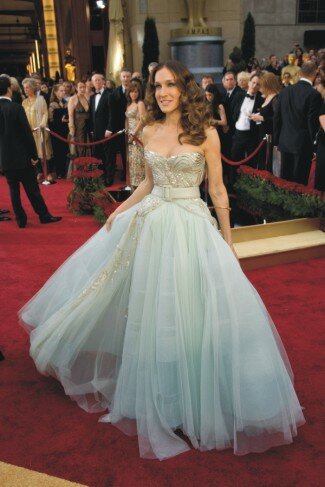 Sarah Jessica Parker really likes her meringues. This Dior Hint-of-mint suits her to the ground, but it does bear a passing resemblance to the dress Carrie wears in the SatC intro. Interesting…
Last Updated on Saturday, 28 February 2009 10:57