| | | |
| --- | --- | --- |
| Interview: Toby Kebbell | | |
Written by Ivan Radford
Monday, 09 August 2010 18:09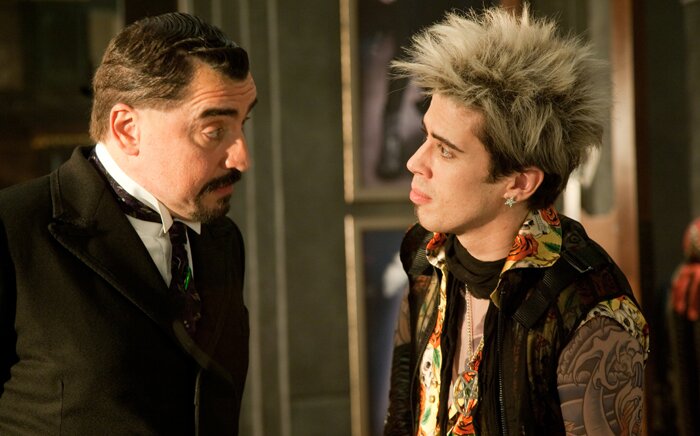 There's nothing like a warm London hotel to show you what a man's truly like. Most of us are just sweaty. But in a room full of underarm moisture, Toby Kebbell is the kind of man who pours you a glass of water. He's also the kind of man who has a rather strong love for platform shoes.

Kebbell plays Drake Stone in Disney's The Sorcerer's Apprentice, the evil pad-wan to Alfred Molina's villainous sorcerer. Sporting designer clothes, large heels and very vertical hair, it's a role that he makes the most of, channeling Russell Brand and David Blaine into a stylish, arrogant supporting part.

Previously appearing in Guy Ritchie's RocknRolla, Shane Meadows' Dead Man Shoes and Anton Corbijn's Control, Kebbell's had a varied movie past. So naturally he was an interesting guy to talk to about magic, his second Jerry Bruckheimer film (Sorcerer's Apprentice follows Prince of Persia), and his rather fetching footwear...
How did you get involved in The Sorcerer's Apprentice? Was it the Bruckheimer link after Prince of Persia?
It was a bit of that, via Chad Omam – one of Jerry's right-hand men – but I got a call for the audition, and found out it was with the Bruckheimer camp. I actually went for Alfred Molina's part, but they wanted someone more his level, so they offered me the smaller role of Drake Stone. I was happy to work with them again – I'm not sure I got to do everything I wanted on Prince of Persia [as Jake Gyllenhaal's evil brother], but that was a very stringent project on a high budget. Here they allowed me some creativity and gave me a free reign on what Drake was going to look like.
So the magical hair, platform shoes - that was all you?
Yeah, me and Michael Kaplan. We put our heads together and came up with all kinds of ridiculous and repulsive traits and at the end, Michael brought out these four-inch heels. I loved them, and wore them to show Jon Turteltaub my vision for the character, and they were comfortable, but 12 hours in them? I'm never having a go at a woman in heels again!
I've never worn them - am I missing out then?
You are, dude! [Laughs] If they support your weight, there's no problem with a pair of high heels!
You're reunited here with Alfred Molina after Prince of Persia. He plays your tutor in the film - have you learned anything from him?
He taught me a great lesson, which is how not to act! [Laughs] It's an honour to support a man of that calibre. He's very appreciative and supportive – he would never be so presumptuous to offer tips or advice.
After Johnny Quid, Prince of Persia's Garsiv, and now Drake Stone, do you prefer playing villains and rogues?
I do love them – they're very useful as a way of solving yourself, if you know what I mean. Sort of a way to expel a lot of your own nonsense. Plus it's a lot of fun, especially in a kids film, because no-one can call you ham!  Gammon gets a bit heavy at some points, but it's necessary. It also helps with versatility when you switch to play someone sweeter, stronger or kinder.
You've gone from some low key projects to two Jerry Bruckheimer films in a row - do you feel this is a turning point in your career? Is it intentional?
Yeah, the thing is you've got to prove you're worth paying to get into a film. There are some great indie films being made in America right now but you won't get a sniff of them if you don't have a name – that's how it works. Unfortunately, it is show business and you have to have a business mind about it. At some point you have to be wise. It was a definite move, I did want to work with Mike Newell when that opportunity arose, and to be asked back again was a privilege. Jon Turteltaub's also a favourite director of mine ever since Cool Runnings.
A classic film.
Yeah, it's a great film! But then also I like going to where the art is. And there is a massive amount of art in Jerry Bruckheimer films and that's why it's a privilege to be called back.
What are you working on at the moment?
Well, I've just done The Conspirator with Robert Redford, which was a huge privilege for me and a massive honour – a great experience.
And there's also The Veteran with Brian Cox, which you're shooting now?
Yes - I also wanted to work with Matthew Rope, the director, who's great. And Robert Henry Craft, too, the technical adviser. He's a phenomenal human being – he taught me how to handle weapons, but he also was the co-writer, so he had all the details necessary. It's a nice story, and I'm always happy to be working. I've no interest in just being famous, and that's why acting's difficult.
So the plan wasn't to be the unofficial blockbuster king of 2010?
[Laughs] Could I claim that?
You could try. Make a t-shirt or something. Now you've done both of these big action movies, how have you found the stunt work on Sorcerer's Apprentice?
Easy - I'm actually a sorcerer! I'm 3,000 years old. Yeah, it was physically challenging, but then I'm driven to the set and taken back at night, so 12 hours in front of a camera in those conditions isn't that bad.
Magic aside, then, could you take Nic Cage in a fight?
Nic Cage? He's hardcore, you know. A mixed martial arts specialist. But I could take him easy. Because I'm from Newark. And you never mess with one of us.
The Sorcerer's Apprentice is in cinemas on Wednesday 11th August. 
Tags:
alfred molina
brian cox
conspirators
disney
drake stone
jay baruchel
jerry bruckheimer
johnny quid
nicolas cage
platform shoes
prince of persia
Last Updated on Monday, 11 July 2011 18:07