| | | |
| --- | --- | --- |
| Brief Encounters: Steve Carell | | |
Written by Ivan Radford
Friday, 23 April 2010 13:12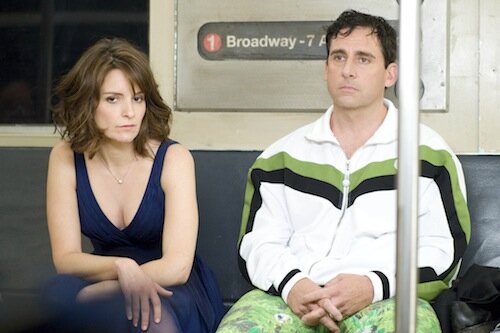 He's perhaps better known for being the American version of Ricky Gervais in the wonderful Stateside take on The Office, but Steve Carell also goes by the name of Phil Foster.

Married to Claire Foster, he's a husband whose life is a tiny bit stale. But when he tries to mix things up with a visit to a fancy restaurant, The Fosters get mixed up with a different world. A world of dodgy criminals, pole dancing, and a topless Mark Wahlberg.

What was it like leaving Scranton and shacking up with Tina Fey? Steve tells us all about making Date Night.
What appealed to you about the script?
I like the idea of a comedy revolving around a married couple; it's something you do not see very often. To take two very ordinary people and put them in extraordinary circumstances is very funny I think. Then on top of that, these two develop a greater understanding of each other in the process, so it is both funny and moving and with any luck, it will also be relatable.
Can you talk about the chemistry between you and Tina?
Tina is the one of those people who I believe makes anyone a better actor. She is an incredibly smart person and I think so much of her humor stems from that intelligence. She is very aware of being part of an ensemble cast and since we have both had experience on 'Second City' in Chicago, I think our training essentially comes from the same place. I hope there is good chemistry between Tina and me because I think we feel it in real life. I have admired her for a while and was very excited to get the chance to work with her. She is enormously talented.
How natural was it for you and Tina to play a married couple?
I felt married the day we walked onto the set. I know that is such a cliché but it is true. It was very comfortable and we had an instant rapport in all of the domestic scenes. It felt very easy right off the bat. Actually, a lot of these situations were a bit closer to my personal life than I was really comfortable with, frankly! When Shawn started speaking to us about the script, he wanted us to expand on our natural and organic situations and relationships. Shawn is married too - these are situations that people might potentially respond to, because they will see themselves and relate to them.
What's it like working with Shawn?
Shawn is a man of boundless energy. He is incredibly quick and smart and intuitive. It is easy to put your faith and trust in him because you have a real sense that he has a handle on everything and knows what he is looking for. He wants to have fun, to experiment and improvise, and he is keen for us to bring what we can to the script. I think he is just great.
And how was Mark Wahlberg with his top off?
He was incredibly funny. I had never met him before, and I honestly did not know what to expect because he seems to be a very quiet, introspective person and I think he brought that to the movie. He is actually quite fun guy; he had a great sense of humor about himself and about the character. It is interesting, sometimes when people are not necessarily known for doing comedy, they tend to try to act funny, but Mark wasn't like that. He understood that the funniest thing he could do was to play it straight.  I think he has drawn a very amusing character. And he is not too hard on the ladies' eyes either...
After The Office, Date Night, Evan Almighty, The 40-Year Old Virgin, how are you finding this mainstream success you have?
It is great and I think that having it a little older when you have a little more maturity is a good thing because you just take it for what it is. My life is much the same as it was before. It is about my wife and my kids, and that's what is important to me and what defines me as opposed to my work.
What do you find funny?
I am an enormous Peter Sellers fan. I also love Steve Martin and Alan Arkin. I love the early Mel Brooks movies. I don't have a specific genre that I like most, but I love watching more broad physical comedians like Buster Keaton and Jim Carrey. There is no rhyme or reason to comedy; it is just whatever makes someone laugh. I hate talking about what makes people laugh really, because it is such a personal thing and it is something that is impossible to explain. I just know that I like certain comedians. I do know that the more you analyze and break down comedy, the less funny it becomes. I grew up listening to Bill Cosby and George Carlin records and I love Bob Newhart. They are all different stylistically but all incredibly funny and insightful in their own ways, and they are all revolutionary.
Date Night is released today in UK cinemas. Our review's over here.