| | | |
| --- | --- | --- |
| Brief Encounters: Colin Firth | | |
Written by Ivan Radford
Monday, 01 February 2010 10:52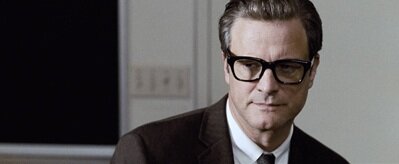 It's hard not to love Colin Firth. Whether you remember him as an obsessed Arsenal fan, Bridget Jones' perfect man, or good old Mr Darcy, he's a hard man to not love. But flocks of female fans will be blown away by his new performance as a bereaved gay college professor in Tom Ford's A Single Man. Set in the 60s, during the Cuban Missile Crisis, it's adapted from Christopher Isherwood's novel of the same title. Mr Darcy - sorry, Firth - chats about his BAFTA-nominated role and fashion legend (and first-time director) Tom Ford.

Do you see A Single Man as a period movie, in its view of a gay man in society?
I don't feel, frankly, that all that much has changed. Obviously it's on a state by state basis in America but the whole business of gay rights are shifting there all the time. Interestingly, we were actually filming on the day when Proposition 8 was passed in California, which essentially rescinded gay marriage rights. And this was the same day actually that Barack Obama won the election.

Could Isherwood's story have been updated and put in a contemporary setting?
That's a very difficult one to answer. I don't think LA's changed that much, really. This character happens to be gay, but although George is struggling with a lot he's certainly not struggling with his sexuality. Isherwood's characters don't seem to. So I don't know what it would have done to the film if you'd have set it in the present. You take the Cuban Missile Crisis out and put something else there, like the fear of terrorism, it's actually rather an interesting question. I think there's something about the characters of George and Charley that just feels right in 1962, there's something about their whole cultural reference points that feel of that generation. But I think you could have updated it quite easily, frankly. I just wouldn't have looked as good!

Talking of the style of the piece, Tom Ford – with his fashion experience at Gucci – makes the film look great, but also delivers strong characters within the story, doesn't he?
He used all the skills that I think he'd developed as a designer. As he'll tell you in his other job he has to have a vision and he has to be able to communicate that, he has to be able to marshal people and inspire them to share it and do what you want them to do. Those are very much the skills that are required to direct a film too. He also he has an extraordinary instinct for picking the right people to do the jobs he wants, whether it's a designer or a make-up person or his cast. If you have a look at him for a moment you realise it would be silly to bet against him on something like this. But I do think there was an emotional cost to him with this. He's not just proving that he can do it. I feel there's a lot of him in the story.

How did he relate to his actors on set?
He didn't give me any verbal instructions really, ever, it was just very clear what was required once we were up and running. When I read the script there was a lot of space to be filled in, there was a lot of stuff without words, but once we were doing it it seemed terribly clear what each moment should be about really. Tom didn't really need to fling instructions around. I could tell by the room that we were filming in what the mood was, I could see what was on the page. I could tell something by what I was wearing. People comment on the visual beauty of it, I didn't really notice it as beautiful particularly, it just seemed to be an inevitable part of this world really.

Were you aware of his reputation going in to the film?
Only very distantly. I'm not connected to that world, so I didn't know that much about him. I knew the name, I'd met him a couple of times, I think I knew he ran a big fashion house but I probably would have struggled to have told you which one. I knew he did glasses, but that was it. And I also knew there was supposed to be something rather extraordinary about him, that he had this ability to succeed at everything.

Judging by the notices he's been receiving - and his sexy pair of specs - it's an ability Colin Firth shares as well.
A Single Man is released in the UK on Friday 12th February. Head over here to watch the trailer. 
Tags:
award
bafta
colin firth
nomination
oscar
single man
tom ford