| | | |
| --- | --- | --- |
| Interview: James Watkins (The Woman in Black) | | |
Written by Ivan Radford
Monday, 15 August 2011 07:04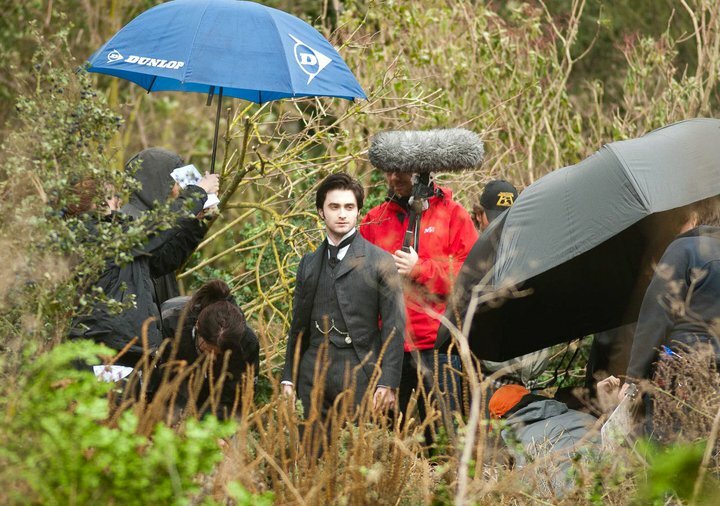 When I was 11, I was taken to see The Woman in Black at the theatre. By my parents, obviously, I wasn't kidnapped by some stranger in the street intent on traumatising a defenceless child.
It's safe to say that the play terrified the flipping life out of me - I've never had the courage since to go and read Susan Hill's original novel.
So it was great to hear that the upcoming Hammer Horror movie adaptation would be appearing at Empire's BigScreen over the weekend. After reliving my childhood trauma by reminding myself of the trailer, I managed to wander into the press conference for the film and interview James Watkins (director of Eden Lake and writer of My Little Eye) about making The Woman in Black.
Here's what James Watkins had to say to us about making a period horror, living up to the play and helping Daniel Radcliffe to grow up.
What's it like to have Daniel Radcliffe in the lead? It's obviously different to Harry Potter...
Having Dan is fantastic – he's got a massive fan base, people want to see him and he's so articulate when he gets out there and talks about the movie. It's his first proper grown-up role. It shows him in a real new light. He plays a father who's lost his wife. There's a real sense of loss that pervades his character. It's a really different register to anything he's done before.
Did you always have Dan in mind for the role?
Yeah, I did. We sent him the script and we made sure that we were seeing the film in the same way – it was very important to Dan to know that we were making a film that would be scary but also a film that was more than that, that had a certain classiness and emotion. I'm really proud of his performance in this film. He shows a different side to his acting. When you've done something as big as Harry Potter, it's hard for people to see beyond that. Hopefully people are willing to, and I think this film defines that. People will be really amazed – it's a totally different Daniel Radcliffe.
How suitable do you think it will be for the younger Harry Potter audience? 
Well, under a certain age it's not the right film because it's very scary and parents would be completely up in arms. But it's not a film with blood or guts or gore or violence. It's all psychological. I don't know what rating it will get, but I imagine 12 or 13 year olds could go and see it and have a fantastic time.
(If the film does to them what the play did to me at the age of 12, they're in for a life-changing experience...) 
Did you feel any pressure to make your film Hammer Horror-esque?
The legacy has never weighed on us, it's just a really great association. We never sat there and asked "How can we make a Hammer Horror film?" But I love having the logo at the beginning of the film. It does hark back to classic films like The Innocents, but what we've made is a very modern film, which plays to a modern audience. It doesn't feel like a period movie in that way. It's a ghost film, it's classic, but there's a modernity in terms of the camera, the music, the performances and the editing.
The Woman in Black was going to be in 3D in one point. What happened there?
That wasn't a route we were ever going down. The film would not have happened with my name on it in 3D.
Most people are familiar with the play - did that influence your approach to the story?
The film is actually based on the book, Susan Hill's novella, rather than the play. And that's what Jane Goldman's script is based on. In terms of a film, you need to open it out. Because a lot of the film is set in a house, you want to make sure the moments outside the house really breathe and have a sense of scale, so we worked very hard at that. What's gratifying is that when people talk about the play and the film, they say the film is scarier. And I understand that the play is very scary, so that's a good thing.
Are you setting out to scare people, or do something else?
It's a good question. If you buy a ticket for a comedy, it has to have laughs. If it's a ghost story, it has to scare you. But that's really not enough – this has got more to it than that, a real emotional depth. What's most satisfying is when you see people with tears in their eyes at the end of the film. That's gold dust.
What's next for you as a director?
I don't know what's going to be next. Methuselah is a project I have with David Hayman and Warner Bros, but it's a very big, very expensive movie so we need to get it right to make it happen, but it's a film I'm very excited about.
The Woman in Black is out in UK cinemas on Friday 10th February 2012. Head this way to watch The Woman in Black teaser trailer.
Tags:
ciaran hinds
hammer horror
james watkins
susan hill
the woman in black