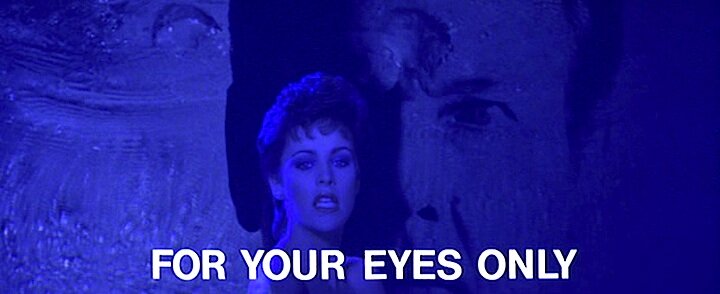 BlogalongaBond. One Bond film a month until Bond 23 turns up.
I make a point of always trying to watch a film to the end, even Horrid Henry: The Movie. But with For Your Eyes Only, I did something rare: I stopped watching. Out of sheer boredom. For the rest of Christmas, Roger Moore's smug face taunted me from his DVD over the top of my turkey with a reproachful wink. (Timothy Dalton would never do that.)
A casual jog after Moonraker's sprint through fountains of spraying crap, For Your Eyes Only tried to scale things back and give 007 something more down-to-earth to deal with. It begins this grounded approach by killing off Blofeld with a remote-controlled helicopter while 007 makes jokes about his hair. 
A fresh start for the franchise? Not quite. Instead, the 12th entry in the series is the one thing worse than laughable: it's completely forgettable. There's a lost encryption device, a woman wanting revenge, a young girl ice skating... Even with impressive stunts, a bobsleigh set piece and a neat Citroen car chase, it couldn't be more boring if you recited the plot in the middle of a lecture about the Eurozone crisis hosted by Orlando Bloom.
Returning to the DVD a few days later, I discovered I couldn't remember what was going on. I was sure that at some point in the last 30 years someone had made a film called For Your Eyes Only - and that I had definitely watched it - but for the life of me couldn't remember a single thing about it. A lot like Quantum of Solace.
Ok, that's a lie. I can remember one thing: the theme song. Beginning with Bill Conti's titular five-note fanfare of gentle synth pop, it buried into my brain like an advert for Lenor fabric softener, quietly calling out at 3am: "You must keep watching…"
Clearly someone out there thought it was a good song – alongside Live and Let Die and Nobody Does It Better, it's one of the few Bond songs to be nominated for an Academy Award (allowing the film to be called "the Oscar-nominated For Your Eyes Only"). Conti did a decent job, then, of rousing the awards voters. How did he replace John Barry to successfully create such a crucial element in the Bond formula? Well, it turns out he had this informational pamphlet in his pocket – an up-to-date version of which I coincidentally found in my DVD box.
Here's a guide to writing a Bond song...