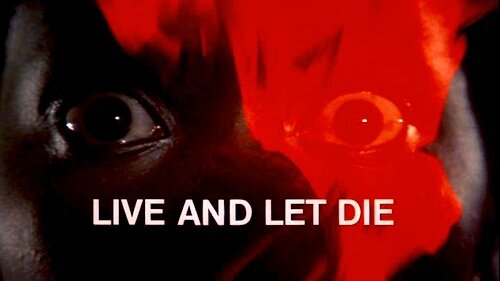 BlogalongaBond. One Bond film a month until Bond 23 turns up in November next year.
Not content with cheesifying James Bond in Diamonds Are Forever, director Guy Hamilton returned once again to take the formula established by Goldfinger to unnatural extremes with one of the worst films in the entire Bond canon: The Man with the Golden Gun.
Before that, however, he made Live and Let Die. And it was quite a lot of run really. If by fun, you mean camp, silly and obviously made in the 1970s.
How can you deduce its 1973 vintage? Well, aside from the clothes, the Paul McCartney & Wings theme song and the fact that it stars Roger Moore as 007 (before his one-liners completely took over the scripts), Live and Let Die is marked out as a product of its time by the number of Afros wandering around on set.
Of course, these Afros are attached to people. And these people are, more often than not, black. It was clearly a great step up in equality for black actors to be seen playing parts that weren't just Henchman#3 or Man who Sails Boat. With its entertaining use (or perpetuation) of blaxploitation stereotypes, you could almost say Live and Let Die was the first truly politically correct film of the decade. Which is why I wasn't surprised to find this empowering pamphlet in my special edition 007 DVD box.