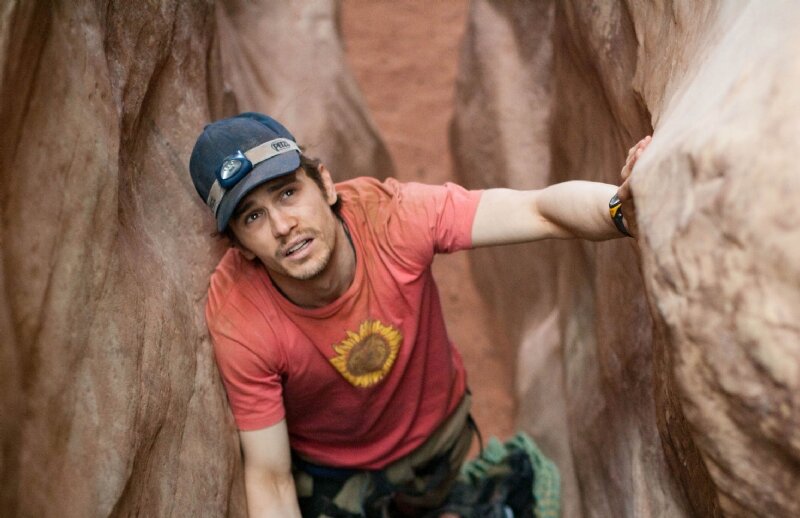 James Franco. Boulder. Arm. Trapped. Danny Boyle. 127 Hours. New trailer!

That's pretty much the thought process you go through when you discover that Fox Searchlight have released a new trailer for Danny Boyle's latest. The excruciating true tale of climber Aaron Ralston, who gets stuck down a canyon in Utah for the specified amount of time, already has one incredible trailer. And this one, well, doesn't quite live up to the first.

It gives us a better flavour of the film's tone, consisting heavily of straight-to-handheld recordings made by Ralston as he counts down the hours to the moment he hacks his own arm off. That, in itself, is an interesting way to present the prisoner's dilemma, and Simon Beaufoy's script relies heavily on Franco's ability as an actor, something that noone has brought in question. It's just a shame about the music and overly sentimental titles that keep getting thrown up on screen.

That said, this is still looking to be one of the best films of the year. Visceral, claustrophobic, unique and based in fact, 127 Hours will be getting at least a couple of Oscar noms next year. And when a film's got this amount of talent behind it, a slightly duff second trailer isn't about to ruin things.

127 Hours comes out on Friday 5th November and closes the London Film Festival on Thursday 28th October. Check out the trailer over at Apple, or read on for the full video.