Star Ratings
| | |
| --- | --- |
| | Amazing |
| | Well good |
| | Fun |
| | Meh |
| | Rubbish |
| | | |
| --- | --- | --- |
| London Film Festival Review: Chakravyuh | | |
Written by Ivan Radford
Saturday, 13 October 2012 21:04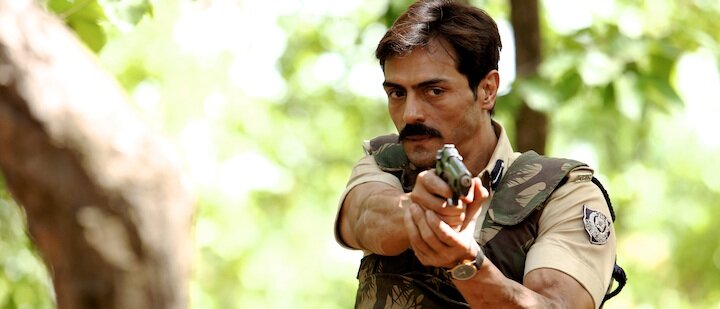 Director: Prakash Jha
Cast: Arjun Rampal, Abhay Deol, Esha Gupta, Manoj Bajpai, Kabir Bedi, Anjali Patil
Showtimes
One quarter of India's wealth belongs to 100 people, a newsreader tells us in Chakravyuh. No wonder the rest of the bulletin is filled with reports of the Naxal rebellion and the police's attempts to quell it. How can head officer Adil (Rampal) restore peace to the country? Send his best friend, Kabir (Deol), into the movement under cover and help to bump off their lead man. Obviously, things go wrong from there.
Torn loyalties, explosions, political upheaval, guns; Prakash Jha's socio-political thriller has it all. And it's not afraid to show it, going full Bollywood with a string of typically over-the-top shoot-outs, extravagant dance sequences and some seriously cheesy confrontations.
That doesn't always work in its favour, though. The overripe dialogue is laughable at times. "Why do you preach democracy but carry out war?" asks one policewoman while interrogating a radical leader. He starts to answer her question, only for her to shout: "We can talk about your politics another time!"
That faulty logic rears its end a few other times, from a disjointed narration at the end to conversations between the two leads that get a little repetitive. But while this isn't The Departed, nobody's told Deol and Rampal: the two male leads throw themselves into the fray with convinction and charisma. Their convincing friendship drives the film's tension, supported by an ensemble of actors who are all sensational. Even the most evil of henchmen gets a chance to bust some solid dance moves.
The slightly loose structure and 150-minute runtime may deter those not used to Bollywood blockbusters, but Salim-Sulaiman's music keeps energy levels high, while Jha's direction belts along like a firecracker. An intelligent, hugely topical and exciting ride, Chakravyuh is the first ever Bollywood film to premiere at the London Film Festival – and about time too. It's billed in the "Thrill" category. And boy, it certainly does that.