Star Ratings
| | |
| --- | --- |
| | Amazing |
| | Well good |
| | Fun |
| | Meh |
| | Rubbish |
| | | |
| --- | --- | --- |
| Sundance London Review: Mud | | |
Written by Ivan Radford
Sunday, 28 April 2013 07:28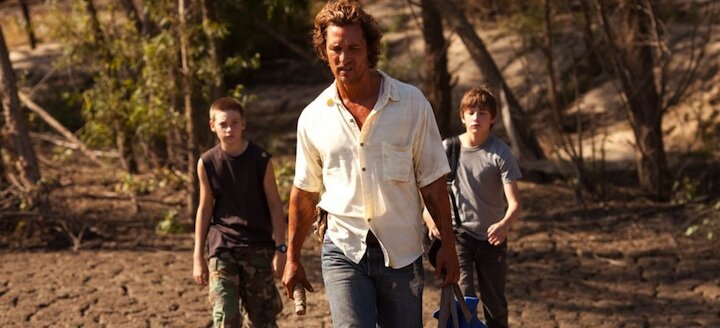 Director: Jeff Nichols
Cast: Michael Shannon, Matthew McConaughey, Tye Sheridan, Jacob Lofland
Showtimes
When young Ellis (Sheridan) and Neckbone (Lofland) discover a boat up a tree on a remote island, they stumble across a boy's greatest American dream of all: not ownership of property, but adventure. The only problem? Both belong to another man, Mud (McConaughey). They do a deal with the grubby stranger; they bring him food, he gives them the boat. And, more importantly, an exciting journey. 
There are shades of Huckleberry Finn and Stand By Me in Jeff Nichols' wonderful drama, charting the coming-of-age of two backwater kids. Like us, they are won over by McConaughey's roughly-hewn charm; impressed by his quiet physicality; scared by the pistol in his jeans; amazed by reports of a man he killed before going on the run; and, most of all, moved by his story of love. Mud, you see, is only in town to find the woman he loves.
It's exactly the kind of tale that appeals to the naive Ellis, who punches boys 10 years his senior when he sees them mistreating a girl. But when Mud's woman finally appears - a wonderful turn from Reese, who puts the "wither" in her spoon - she swiftly dispatches any notion of fairy tale romance.
It's this revelation of crushed ideals that really hits home - Nichols has crafted a world where men and boys alike find their possessions and promises dashed to bits, a cycle of disappointment and (ultimately) violence that repeats across generations. "It's all lies!" cries Ellis in one scene, Tye Sheridan's tough face crumpling with an astonishing vulnerability. Jacob Lofland's equally natural as his sidekick - both a fresh contrast to the believably weary adult supporting cast around them. 
Nichols' cast, understated dialogue and wasteland locations add to the storybook vibe; a boys' own world where the pull of the unknown and the thrill of new relationships have their wings clipped, but are never completely shot down. It's a charming, colourfully drawn adventure that makes you want to hop in a boat right alongside them. What a delight.
Tags: