Star Ratings
| | |
| --- | --- |
| | Amazing |
| | Well good |
| | Fun |
| | Meh |
| | Rubbish |
| | | |
| --- | --- | --- |
| Sundance London Review: Running from Crazy | | |
Written by Ivan Radford
Sunday, 28 April 2013 07:12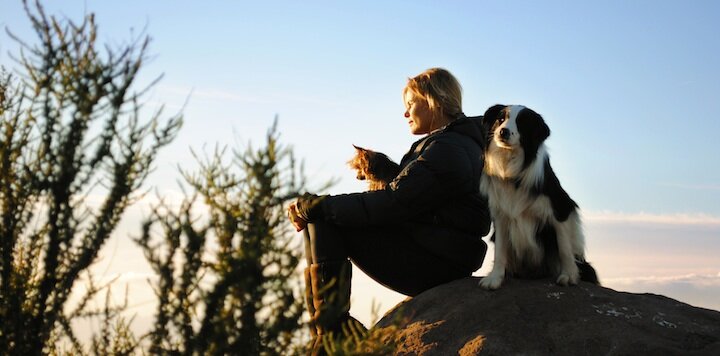 Director: Barbara Kopple
Cast: Mariel Hemingway, Margaux Hemingway
Showtimes
Running from Crazy is a documentary about suicide, mental illness and the Hemingway family. You can tell this because it spends half the time looking at bullfights, rock-climbing and other unrelated things.
In the 30 years since her Oscar-nominated turn in Woody Allen's Manhattan, Mariel Hemingway has spent her life running from the stigma associated with the death of her grandfather, Ernest, who killed himself three months before she was born. Now, she's determined to clear the air.
But while Barbara Kopple's documentary may set out to do just that, it's hard to know what it does end up doing. A haphazard structure combines archive footage, interviews and fly-on-the-wall observation to potentially interesting effect, but never seems to choose a subject.
There's a large gallery of troubled people to choose from. There's Ernest Hemingway himself, one of the greatest writers of all time. His son, Jack, who enjoyed fly fishing. Mariel's sister, actress and model Margaux, who took her own life almost 35 years to the day after Ernest's suicide. Mariel's mum, who spent her nights drinking bottles of wine while sitting on the kitchen counter.
Kopple tries to hop between all of them, ostensibly building up a portrait of a family's attempt to live with that legacy, but the scattershot approach winds up covering almost none of them at all. "I've never read my grandfather's books," several descendants admit. It's one of the few surprising facts in the film. The rest is spent following Mariel as she travels with her husband, Billie, raising awareness and talking about self-help schemes. At one point, their car breaks down. Is the film's insistence on following Mariel's current escapades rather than looking back representative of her resilient, admirable approach to life? If so, the point is lost; this merely feels like a car has broken down.
Amid the shallow vox pops and scenes about rock-climbing, we catch snippets of a TV interview with Margaux that discusses Hemingway in detail. These are the most insightful and engaging bits of the movie, but never get to see the whole thing. Instead, we are treated to shots of Mariel sitting on a cliff with her dog. To compound the tragedy of Margaux's death further, we discover that she was making her own documentary in 1983 following in her granddad's footsteps. That looks like a fascinating project: an investigation into the mind of a man who lived hard, shot through with poignant, personal memories. This is not that film.
What's the Sundance-O-Meter? Find out more here.
Tags: