Star Ratings
| | |
| --- | --- |
| | Amazing |
| | Well good |
| | Fun |
| | Meh |
| | Rubbish |
| | | |
| --- | --- | --- |
| Film review: Despicable Me 2 | | |
Written by Ivan Radford
Friday, 28 June 2013 16:24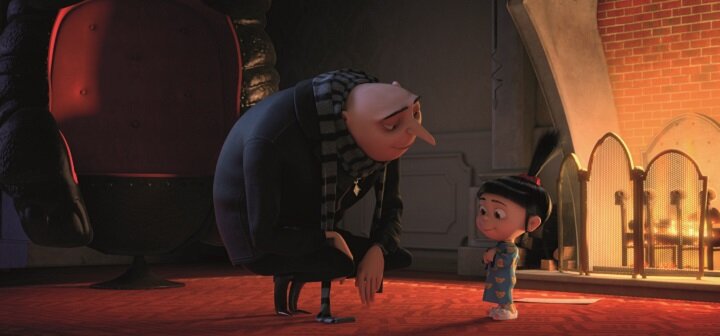 Directors: Pierre Coffin, Chris Renaud
Cast: Steve Carell, Kristen Wiig, Benjamin Bratt, Miranda Cosgrove, Elsie Fisher
Certificate: U
My Neighbour Totoro. Mrs. Doubtfire. Free Willy. There aren't many films that really understand children - and even rarer, know how to put that understanding on screen. Without overselling it, Despicable Me 2 is one of them.
"I'm so HAPPY!" yells Agnes (Fisher) at one point. It might be because it's her birthday soon. It might be because her dad, Gru (Carell) is a super villain who announces his weapons before he shoots them. It  might be because she's surrounded by tiny yellow minions that make silly noises and fight all the time. Whatever the reason, she knows - as all kids do - that the important thing to do is to shout about it as loudly as possible. Then sing a song about unicorns.
Ken Daurio and Cinco Paul's writing won us over with Agnes' outbursts in Gru's first outing, a tale that saw him grow a conscience and raise three little girls as his own. Now, he's decided to go straight but soon finds himself kidnapped by Lucy Wilde (Wiig), an agent with the Anti-Villain League. They want him to spy on a possible villain in the local shopping mall who has a dangerous new chemical compound, explains their chief, Silas Ramsbottom.
"Hee hee, bottom," babbles a Minion in the background. Another one giggles. A lot of Despicable Me 2's success will ride on whether you find the Minions funny, but Pierre Coffin and Chris Renaud know full well that kids love that bizarre blend of jibberish and slapstick. Chainsaws. Explosions. Bottoms. What's not to love?
In the first film, the Minions were used as filler (like Ice Age's Scrat) to keep children laughing in between plot points, but Despicable Me 2 cleverly weaves them into the plot; they're still padding, but now they're relevant padding. The laughs may occasionally wear thin, but it's that kind of smart inventiveness (and warped, manic violence) that comes from appreciating a kids' perspective - and it's all too rare in modern films.
Often, kids are reduced to the squeaky comic relief, saying rude words at inappropriate times in a high-pitched voice. That never happens in the Despicable Me universe. Here, the children are fully-fledged characters. When Gru dresses up as a fairy for Agnes' birthday party, she shrieks with glee - then, when all the guests walk away, she whispers: "I knew it was you, Gru. I was just pretending for the other kids."
That candid honesty is used hilariously in TV series Outnumbered to highlight the adults' suffering as parents. For Despicable Me, it's a way to present the same dynamic through younger eyes. (The fact that Agnes is voiced by 10 year old Elsie Fisher has a lot to do with how genuine it feels.) Carrell and Wiig are brilliant together as an undercover couple, but their potential romance isn't what moves us - the film's heart stems from the possibility of Agnes finally getting a mum.
Of course, there's no getting round the rest of it. Despicable Me 2's script is far from perfect (it has an unmemorable villain, some unnecessary damsel-in-distress moments and a mildly unfunny middle) but one second of seeing Agnes smile makes you forgive its flaws. To adults, she's irresistible; to kids, she's relatable. Between her pretend mummy, love of fluffy things and innocent kindness, she's one of the most realistic on-screen children since Satsuki and Mei in My Neighbour Totoro. And no matter what's wrong with a movie, it's impossible not to respond to that kind of sincerity.
Despicable Me 2's end credits remind us that Universal are currently working on a Minions spin-off for 2014, but the studio execs are looking in the wrong place. Yes, the Minions are good for a giggle, but Agnes is the unannounced weapon behind this series' success: she holds the slapstick and the rest of the movie together. Without her singing about unicorns and feeling happy, what's the point?