Star Ratings
| | |
| --- | --- |
| | Amazing |
| | Well good |
| | Fun |
| | Meh |
| | Rubbish |
| | | |
| --- | --- | --- |
| Film Review: Headhunters | | |
Written by Ivan Radford
Wednesday, 04 April 2012 07:41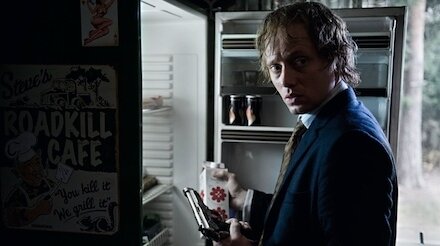 Director: Morten Tyldum
Cast: Aksel Hennie, Nikolaj Coster-Waldau, Synnøve Macody Lund
Certificate: 15 
Trailer
Come to Sweden. We have vampires, racists and serial killers. And Kenneth Branagh. That's the message we get from most Scandinavian fiction. But after Troll Hunter and King Curling, Norway looks like an equally promising place to visit. There are monsters, barmy locals and, judging by this film version of Jo Nesbo's Headhunters, some very ambitious art thieves.
Roger Brown (Hennie) is a recruitment expert. A headhunter. By day, he spoils his wife and splashes about cash like a rich, tall person. By night, he steals paintings to pay for it all and worries about being only 5' 6". Then, along comes Clas Greve (Game of Throne's Coster-Waldau). A former army man with the looks of David Beckham and the brains of someone who isn't David Beckham, he's the perfect fit for the CEO position Roger's trying to fill - not least because he's got a long-lost Rubens hanging in his flat.
Of course, things don't pan out that way. One thing leads to another, and soon Roger is up to his neck in shit. Literally. Hiding in a remote outhouse, submerged in poo and breathing through a tube, Roger's head is now the thing being hunted. And so he runs for his life as Clas tries to kill him with his perfectly formed sideburns. Or a gun. Whichever's easiest.
You can tell from the slick opening credits (cool voiceover, flashy heist montage) that Headhunters is either going to be terrible or amazing. Fortunately, Nesbo's silly story and director Morten Tyldum's breakneck pacing make for an entertaining match. Everything whizzes by with a cool finish, never waiting for you to catch up. People talk about micro-transmitters and the importance of reputation, while tractors get stolen, bodies are dumped in lakes and everything is smothered in a huge heap of bloody violence.
By the end of the first act, Headhunters is ridiculous. By the closing credits, it's borderline mental. Yet while the filmmakers are clearly having fun, the cast play it admirably straight, stretching logic just enough to keep things believable. Hennie is calm and ruthless as the diminutive lead, looking for the most part like Steve Buscemi had sex with a Bond villain; Lund's concerned wife adds a large dollop of tension; and it's great to see Jaime Lannister take time out from bonking his sister to shoot some people in the face. 
Inevitably, when you think about the film the following day, none of it makes any sense. But somewhere between the Russian prostitutes and Roger's portaloo peek-a-boo, you stop noticing. Only after the 100 exhilarating minutes are up do you realise that you've already gone online and booked a flight to Norway. If Nesbo's Headhunters is anything to go by, you'll have one hell of a fun trip.
VERDICT
Nesbo-rilliant.

Tags:
aksel hennie
headhunters
jo nesbo
morten tyldum
nikolaj coster-waldau
synnøve macody lund