Star Ratings
| | |
| --- | --- |
| | Amazing |
| | Well good |
| | Fun |
| | Meh |
| | Rubbish |
| | | |
| --- | --- | --- |
| Review: The Awakening | | |
Written by Ivan Radford
Monday, 07 November 2011 07:37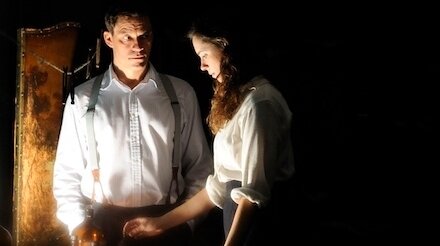 Director: Nick Murphy
Cast: Rebecca Hall, Dominic West, Imelda Staunton, Isaac Hempstead Wright
Certificate: 15
Trailer
We all thought the same thing when we saw Pride and Prejudice: Pemberley is terrifying. Well, now we've been proved right, because Nick Murphy's made a horror movie there. And it's even scarier than Mr. Darcy's manners.
Florence Cathcart (Hall) is a woman who believes in science over spirits. She runs around period England disproving paranormal acitivity, using nothing more than a bag of mechanical contraptions and her brain. She's like the new Jonathan Creek. A ghostbuster, 1920s style.
Inevitably, she's called away to a boarding school where some real life ghosts have been spotted. Tradition dictates that it all turns out to be true and Stephen Volk's script doesn't disappoint. There's Tom (Hempstead Wright), the only boy left after the other pupils go home for half-term. There's the suspicious caretaker. There's even a tight-lipped old maid (Staunton) and a sinister schoolteacher (West) to boot. But Murphy's spooky story brings some depth to these stock characters, absorbing you in Cathcart's quiet investigations. And that's when he really brings out the shocks.
It's all standard stuff, from the blurry-faced child to the flashbacky finale, but the contrived conclusion carries some emotional weight thanks to Hall's performance. At first intelligent and controlled then believably distraught, her character is a great creation - it's oddly appropriate, given the BBC Films funding, that she feels like the smart protoganist of a brand new TV series. But movie conventions soon takeover, and she sadly ends up conforming to the genre's hysterical female stereotype. It's a massive mistake, but Murphy's production distracts from the disappointment. Mostly by making you pee your pants.
The usual tricks are deployed, including an effective string of eerie arpeggios in the background, and Imelda Staunton's prim expressions and Dominic West's eyebrows both add to the atmosphere. Murphy's direction is astute - he smartly sets most scenes during the day, letting the building's cold personality turn Pemberley into an foreign, unsettling place. If only the plotting were equally unfamiliar.
VERDICT
Even with its scuppered premise, The Awakening is a classic haunted house tale that packs emotion and chills aplenty into 107 tense minutes. If only there were another 6 episodes.

Tags:
dominic west
imelda staunton
isaac hampstead wright
nick murphy
rebecca hall
the awakening