Star Ratings
| | |
| --- | --- |
| | Amazing |
| | Well good |
| | Fun |
| | Meh |
| | Rubbish |
| | | |
| --- | --- | --- |
| Wake Wood | | |
Written by Ivan Radford
Wednesday, 23 March 2011 09:15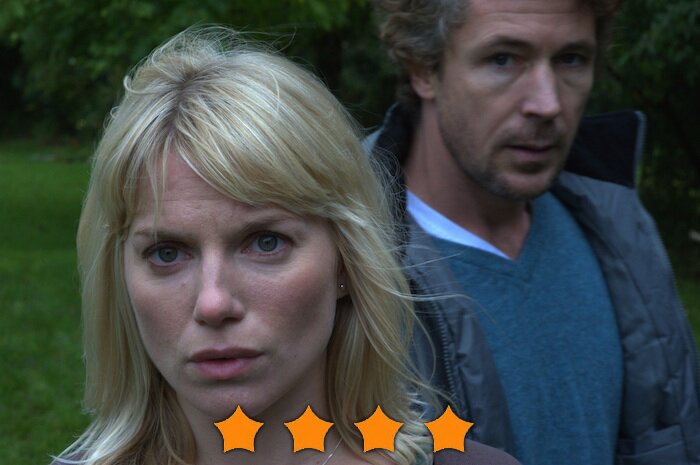 Director: David Keating
Cast: Aidan Gillen, Eva Birthistle, Timothy Spall, Ella Connolly
Certificate: 18
Trailer
There's nowt like raising people back from the dead, to be sure. it's what the residents of Wake Wood do with their evenings. There's a bit of singing, a bonfire, Timothy Spall turns up and says a few words, and then out pops another body from the ground. All in all, a nice night out. Wake Wood would wake dead people every day if they could. Oh yes, Wake Wood would. It goes without saying that they have no local cinema.

When outsider vet Patrick (Gillen) and his wife Louise (Birthistle) move to Wake Wood to get over their dead daughter (Connolly), it's only a matter of time before they join in with the nightlife. They're both haunted by grief, they live near a creepy forest - what could possibly go wrong?

It helps, of course, that Timothy Spall is the ringleader of their little community project. Wandering around with a walking stick and tweed hat, he's the expert on corpse-related matters. He glowers his way through the part, adding real menace to Wake Wood, just in case the Wicker Man vibe wasn't enough to freak you out.

Set squarely in the modern day, director David Keating ramps up the eerie vibe of the supernatural goings-on. Playing out next to some well-placed wind turbines, this Hammer Horror is a low budget affair that juggles character emotions with the deadly use of farmyard tools. And yet you won't jump for most of the movie - if at all.

Keating shirks easy shocks for a slow build up of colossal dread. It's very effective, even though the first Dutch tilt doesn't occur until 65 minutes in. For a whole two-thirds of the runtime, nothing goes wrong. But as Ella Connolly swans about as innocent as a schoolgirl, you know it will. (Spoiler: it does.)

Cashing in on the tension with some old-school blood-splattering, Wake Wood benefits from Aidan Gillen and Eva Birthistle's believable couple. Like a cross between The Orphanage and Christopher Lee's seminal folk horror, everything is powered by their strong sense of loss, as well as the creepy villager shizzle. 

Thanks to the excellent (and vulnerable) performances - and the fact that it isn't another Exorcist rip-off - Wake Wood is a wonderfully chilling tale. It's rough around the edges and brilliantly short, plus it reminds us all not to let Irish people near corpses. What more could you possibly want?

VERDICT

Rooted in folk horror traditions, Wake Wood is ex-tree-mely good stuff. Stump up the cash to see it now.
Your rating
( 3 Votes )
Tags:
aidan gillen
david keating
ella connolly
eva birthistle
the wicker man
timothy spall
wake wood