Star Ratings
| | |
| --- | --- |
| | Amazing |
| | Well good |
| | Fun |
| | Meh |
| | Rubbish |
| | | |
| --- | --- | --- |
| Chalet Girl | | |
Written by Ivan Radford
Monday, 14 March 2011 13:54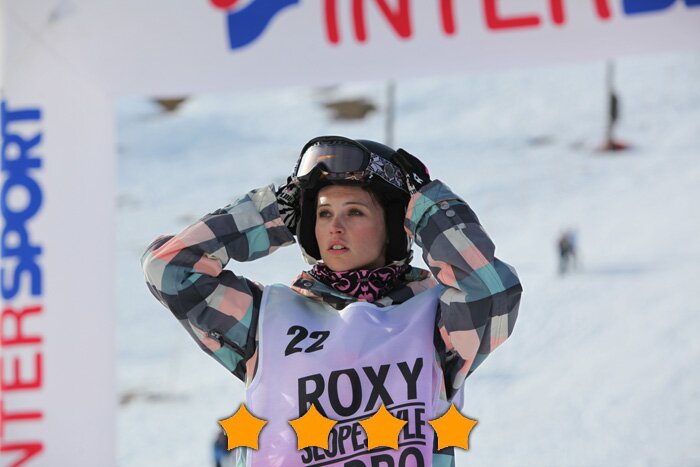 Director: Phil Traill
Cast: Felicity Jones, Ed Westwick, Tamsin Egerton, Bill Nighy, Bill Bailey
Certificate: 12A
Trailer
Working class girl goes up the Alps to meet her dream man. It sounds dreadful but ignore the pink sparkly posters for a minute: Chalet Girl is genuinely great. It's not about a hapless female chasing after some bloke, it's about a girl leaving home and finding her own feet. On a snowboard. It's Bridget Jones on ice. Brrridget Jones, if you will.

We first meet Kim (Jones) in a dead-end fast-food joint, surrounded by stripy shirts and discounted onion rings. A former skateboarding prodigy, she's trying to support her cash-strapped dad (Bailey). Then, after impressing a posh lady with her working class balls, she gets a job in Switzerland, the land of rich people and housekeeping.

Hoping to earn enough to pay the overdue rent, she adopts the life of a chalet girl, cleaning up after a wonky-specced Bill Nighy, upper-class heart-throb Jonny (Westwick) and snooty workmate Georgie (Egerton). It's all par for the course as Kim's fish-up-a-ski-lift tries to fit in, but Tom Williams' script is smart: Ed Westwick's snub-nosed sex bomb is never Kim's end goal.

Instead, Chalet Girl has a snowboarding competition to think of, and we spend as much time on the slopes as we do swooning by log fires with Mr. Monopoly. Like Whip It, it's closer to a sports movie than Bridget Jones, which makes it more rounded than most rom-coms these days. Poor Bridget wouldn't know a 50-50 grind from a 180 frontflip, but our Kim isn't fazed - even after sliding down the snow on her backside several times.

Leading the likeable cast, Felicity Jones is clearly the star of the show. After being really good in Cemetery Junction and really good in The Tempest, she's really good here yet again. Balancing flashbacks of her dead mum with the film's feel-good formula, Jones is a natural screen presence. She does quips, pratfalls and emotion without breaking into sweat. Although if she did sweat, you can bet she'd be really good at that too.

Most importantly, the laughs keep coming - even Tamsin Egerton manages to make funnies in a role that could have been Mean Girls lite. It's all either proof that Phil Traill can actually direct, or proof that even the guy who made All About Steve can't screw up pictures of pretty mountains. And for those who don't like the cold, there's always Bill Bailey running around the kitchen with an aubergine.

VERDICT

With sassy performances and solid on-slope action, Chalet Girl is gnarly stuff. Brrridget Jones? Brrrilliant.
Your rating
( 1 Vote )
Tags:
all about steve
bill bailey
bill nighy
bridget jones
cemetery junction
ed westwick
felicity jones
phil traill
tamsin egerton
the tempest
whip it