Star Ratings
| | |
| --- | --- |
| | Amazing |
| | Well good |
| | Fun |
| | Meh |
| | Rubbish |
| | | |
| --- | --- | --- |
| Raindance Film Review: Portrait of a Zombie | | |
Written by Ivan Radford
Saturday, 06 October 2012 17:27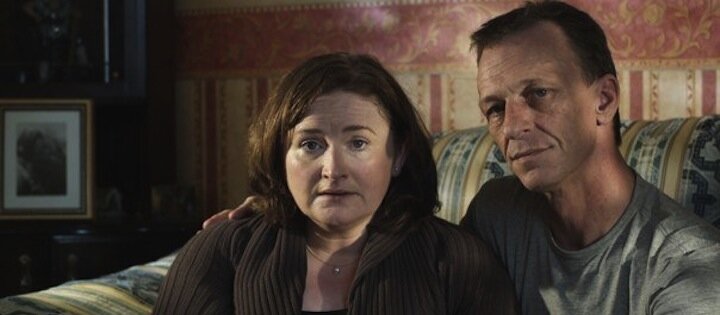 Director: Bing Bailey
Cast: Patrick Murphy, Geraldine McAlinden, Rory Mullen
Showtimes
"How would you feel if every new person you met screamed, fainted or threw up?" asks Billy's mum. "No wonder he lashes out." Billy (Murphy), you see, has been living in his parents' home for an unnaturally long time. He lies on the bed all day, groaning, sleeping, and waiting for his mum to bring him food. A typical young fella, then. Except for the fact that he's a zombie.
Chained up to the wall with a muzzle on his face, The Murphys have kept their son alive (or not, depending on how you look at it) way past his bedtime – a decision that has angered the entire village.
Into this conflict wades a documentary crew, hoping to capture the whole thing on film. The result is an amiably amusing take on the current zombie craze. The visual effects are excellent, as you'd expect from a low-budget creature feature, but despite its innovative premise, Portrait of a Zombie suffers from the same weakness as a lot of modern horrors: the found footage problem.
When we're seeing vox pops with the locals, the handheld style is a perfect match, but Bailey has a multi-camera setup going on. At times, that makes sense (the new crew are shooting a second documentary about the first documentary) but there are occasional slip-ups. "Thank goodness there are no cameras here!" says our fictional director (Todd Fletcher) at one point, while hitting on a young girl, completely oblivious to the fact that we're watching.
The shifting perspective breaks down some of the atmosphere that Bailey and DoP Clayton Haskell work so hard to build up. It falls to the cast to cover the shortfall, led by the excellent McAlinden as Billy's protective mum and Mullen as his fierce father. Some supporting characters are sadly two-dimensional but others are wonderfully witty creations.
"Jesus wasn't a zombie," explains the exasperated Catholic priest, when faced with the prospect of marrying the undead boy to his old girlfriend, "And Billy isn't Jesus." Another rant about trying to convert zombies into vegetarians is equally sublime.
The result is a flawed yet funny zombie mockumentary (a zockumentary?), which paints the paranoid sniping of smalltown life with a novel brush. Unlike so many low-budget horrors, Portrait of a Zombie adds a splash of colour to a fading genre - it just comes out a bit smudged.

Tags:
bing bailey
clayton haskell
geraldine mcalinden
mockumentary
patrick murphy
portrait of a zombie
rory mullen
todd fletcher