Star Ratings
| | |
| --- | --- |
| | Amazing |
| | Well good |
| | Fun |
| | Meh |
| | Rubbish |
| | | |
| --- | --- | --- |
| Film review: The Falling | | |
Written by Ivan Radford
Wednesday, 22 April 2015 12:45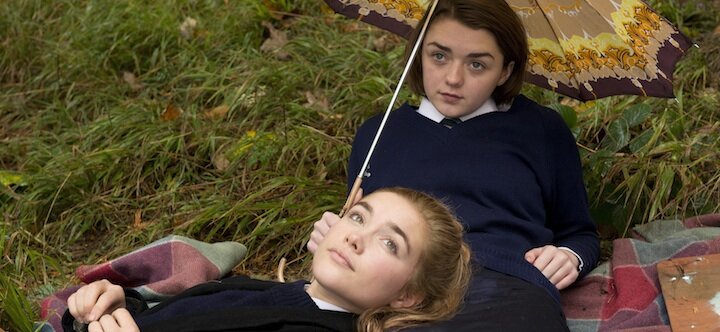 Director: Carol Morley
Cast: Maisie Williams, Florence Pugh
Certificate: 12A
The Falling is a paranormal mystery, a coming-of-age drama, a black comedy and a school musical all in one. If that makes Carol Morley's film seem difficult to pin down, it's intentional. It's also exceptionally good.
Games of Thrones' Maisie Williams stars as Lydia, a young girl besotted with her best friend, Abbie (a superb Florence Pugh). Bewitched is perhaps a better word; telling the innocent Lydia about her sexual encounters, the enchanting blonde drifts through the school - and Lydia's home - like a supernaturally perfect being, one whom everyone is in thrall to, including Lydia's brother and mum.
But when the two friends part ways, after Abbie gets into trouble, a void is left in Lydia's long days at school. She starts to faint, seemingly at random - blacking out, as though her body is consumed by the petite mort her best friend once swooningly described. The stern head teacher insists it's just her seeking attention, but other girls soon suffer the same symptoms, interrupting art lessons and poetry readings with physical outbursts of overwhelming emotion.
Is it mass hysteria? A practical joke? Maisie Williams' turn is wonderfully unnerving, never letting you make up your mind either way; falling to the floor with an almost happy expression, she gets back up, dazed, her left eye twitching. Is it a conspiratorial wink? Or a manifestation of a deeper problem?
Morley fills the corridors and woodland with a creepily ambiguous air, which places the mysterious events somewhere between Picnic at Hanging Rock and The Crucible. One striking scene sees an assembly - where an aghast middle-aged woman delivers a lecture on household safety - descend into a platonic orgy of writhing bodies, awakened by some unseen force. Throughout, the hypnotic montages (all flowing camera movements and sudden, rapid edits) are accompanied by the rising and falling of a xylophone, which haunts every scene following a performance by Abbie and the school band.
That otherworldly tone is only accentuated by Lydia's home life, from her odd brother, who claims to dabble in the occult, to her near-catatonic mother, who ignores the outside world and her daughter with equal silence. It's perhaps no wonder that our protagonist has taken such a turn for the weird.
Examinations by adults all reach the same conclusion: that there appears to be nothing wrong. But Lydia remains stubbornly affected. "If it's real to me, that's what matters," she decides. This funny, shocking, entrancing coming-of-age paranormal musical is equally difficult to pin down. But through The Falling's haze of hormones slip moments of artistic clarity. You never quite know where you're at - but it all feels utterly real.