Star Ratings
| | |
| --- | --- |
| | Amazing |
| | Well good |
| | Fun |
| | Meh |
| | Rubbish |
| | | |
| --- | --- | --- |
| Review: The Veteran | | |
Written by Ivan Radford
Wednesday, 27 April 2011 12:45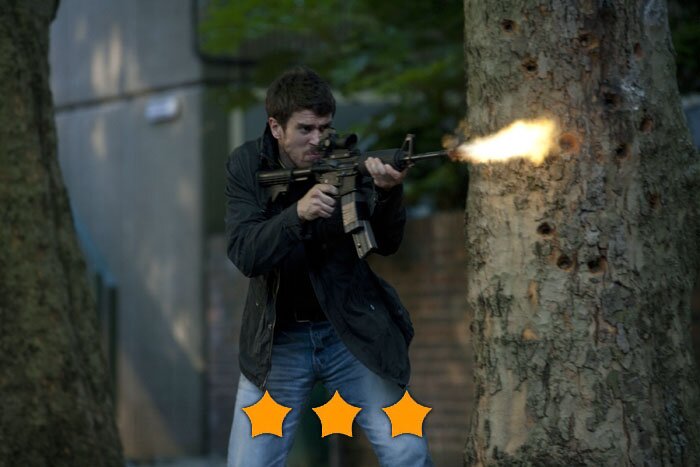 Director: Matthew Hope
Cast: Toby Kebbell, Brian Cox, Adi Bielski
Certificate: 15
Ever since Anton Corbijn's Control, Toby Kebbell has been an actor worth watching. Supporting turns in Prince of Persia and The Sorcerer's Apprentice marked his arrival on the Hollywood scene. Now, he's back on London's grimy streets for a low budget post-war thriller. It's no Route Irish, but Toby Kebbell is still worth watching - which means The Veteran is too. Just.

Miller (Kebbell) is back home after a tour in Afghanistan and is helping to track down terrorist cells in South London. But all is not quiet on the council estate front: hoodies and drug dealers are taking over. Christ, it's like a war zone out there. It's a good job Miller has his post-traumatic stress disorder stubble on or he'd be in real trouble.

Yes, this is one of those films where a bloke with a beard is battling his inner war demons, while shady men in suits stand around in car parks looking all shady and suited. The kind of thing you'd expect to see on TV on a Monday night. Matthew Hope's second feature has none of Spooks' style or adrenaline, but the bits where bullets do show up fire along nicely. And there's a good line in grim London locations, if empty warehouses, sunset-washed rooftops and abandoned docklands are your thing.

It's just a shame that the script is full of the same old stuff about terrorism, corporate corruption and other oh-so-radical ideas. We're never more than one step away from the actors standing on street corners holding signs saying: "Governments are bad" and "We care about the issues".

Fortunately, the familiar dialogue is spoken by a convincing cast. Brian Cox is on standard Brian Cox duty, all sunglasses and frowning expression, while Toby Kebbell's self-hating soldier walks around like a landmine waiting to blow his own head off. His quietly intense performance can't make the improbable romance with extremist mole Alayna (Bielski) work, but he stops the warzone flashbacks from becoming too heavy-handed.

After 90 minutes of laboured conflict, Kebbell's struggle against the script ends with a much-needed bang. It could do without the City of God moments in the second half, but as far as kitchen sink thrillers go, The Veteran is gripping enough.

VERDICT

War is bad, mmmkay. Get round that and The Veteran is quite good.
What did you think?
( 1 Vote )
Tags:
adi bielski
brian cox
ken loach
matthew hope
prince of persia
the veteran
toby kebbell