| | | |
| --- | --- | --- |
| 8 things we learned from the Wild press conference | | |
Written by Ivan Radford
Thursday, 16 October 2014 21:09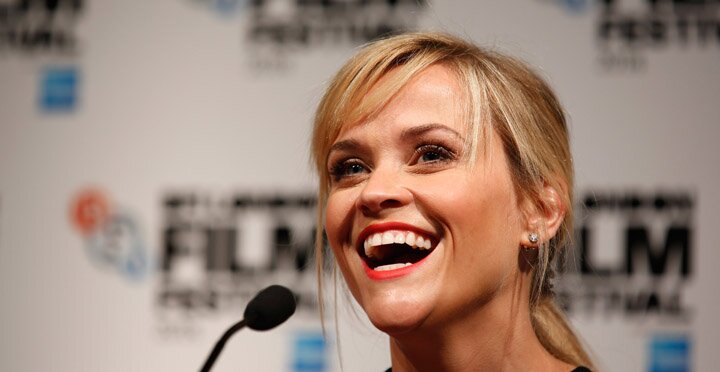 Wild is an uplifting tale of human endurance and survival, made even more so by its subject: Cheryl Strayed, who decided to hike the Pacific Central Trail to get her life straight. A determined, complex character, it's a treat to see a female actress given such a substantial role, not least one that celebrates a strong woman who actually exists.
So we went into the press conference for Wild, with writer Nick Hornby, star Reese Witherspoon, producer Bruna Papandrea and Cheryl Strayed herself hoping for some interesting things about women, the film industry and adapting someone's true life story into a film. We weren't disappointed. Here are eight things we learned:
1. Co-producers Reese and Bruna are keen to find complex female roles
Bruna Papandrea and Reese Witherspoon founded production banner Pacific Standard a couple of years ago and Wild fell right into their aim. "We definitely had a remit," says Bruna. "We both shared the common aim of developing roles for women... strong, complex roles.
"When do you get to see a good mum, who's not idealised, who's human?" added Cheryl, later, when talking about Laura Dern playing her mum. "It wasn't hard. The word I would use is "lucky". Laura Dern and my mother share optimism... sunshine in a human."
2. Wild is not a "chick flick"
"It's about grief and heroin addiction and being really tough physically and mentally, so it's not like any chick flick I've ever seen!" joked Reese.
Nick Hornby added: "It's a chick flick like the Robert Redford film All Is Lost is a chick flick."
3. Reese actually carried around a heavy backpack
Reese actually carried around a heavy backpack while filming Wild. She tried it without, but director Jean-Marc Vallée decided it didn't look realistic enough. "Actually, I think it would be better to have the heaviness on the shoulders," he told her. Then he just walked off.
"I had some back problems!" jokes Reese. "There were no fucks in the script."
The same applies to the rest of the camping equipment in the film too. "I had no experience with props before filming," explains Reese. So when we see her trying to put up the tent? "I literally couldn't figure out the fucking tent," she confirms. It took her two hours.
4. The "Hobo Times" is a genuine thing
One scene in the film sees Cheryl approached by a reporter for the "Hobo Times", while she's hitch-hiking. The reporter's name? Jimmy Carter.
"That actually happened," laughs Cheryl, who says that she had been trying to contact all the people she met since her hike. "The one person I couldn't track down is Jimmy Carter of the Hobo Times!"
5. Cheryl's daughter played the young her
Cheryl's daughter, Bobbi, played the young Cheryl in the movie, because she "looks like a young Reese".
"She said no, right away, so we left it," says Cheryl, "but some time went by and she heard me and my husband talking about it and she said from the back seat 'I wanna audition!'"
Cheryl says it was "really emotional" to watch her daughter play her "with this man playing my father, saying these horrible things".
"If writing heals wounds, then witnessing the making of this film healed too."
As a result of the film, Cheryl's daughter now wants to be actress. Why? "Donuts."
6. Wild is the hardest film Reese Witherspoon has ever done
Wild is the hardest film Reese Witherspoon has "ever done in [her] whole life", she tells us - and not just because of the physical stamina required.
"After the physicality was the part I was dreading the most - the emotional. the grief, the divorce," she admits.
"You have to be brave enough to tell your truth to tell a story ... that gets to the universal truths. Lot of the work was just opening up to yourself," she adds.
She goes on to say the sex scenes were very hard, in particular.
"I had to have sex with strangers in an alley…" she recounts, "Cheryl came to set. She came up to me and said 'I'm so sorry I was such a slut in the 90s'."
7. Wild is radical
Wild is a radical movie in so many small ways.
"It's bigger than a movie", said Cheryl at one point.
Reese notes that it brought her and her mum together: "The conversation I had with my mother after watching this film was probably one of the most important conversations in my life... about being a mother... to contemplate who they are with the people you love."
But it's radical in its sexual politics too: "We're told as little girls be afraid, don't go out in that skirt... one of the great things about the film and the book is that she forgives herself o her sexual experiences," says Reese. "So much of the time we're told as a women to be ashamed... We've got a female character saying 'what if I was supposed to have sex with those people?'"
8. The most radical thing about Wild, though, is it ending.
"Wild might be the first time that a woman's in a film and it ends with no man, no job, no money…" says Reese, "and it's a happy ending."