LFF 2014
| | | |
| --- | --- | --- |
| 5 things we learned from Fury's press conference | | |
Written by Ivan Radford
Friday, 24 October 2014 06:39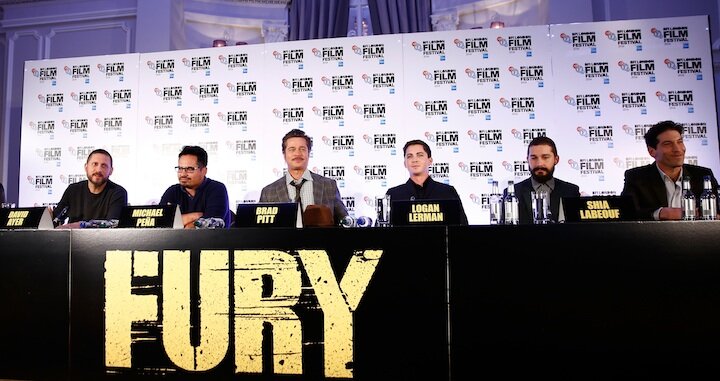 David Ayer's Fury, is out now in UK cinemas. It's a thrilling, horrifying war movie that strips conflict down to the bare bones of adrenaline, a race to survive reinforced by the relative naivety of Logan Lerman's newcomer to the group piloting a Sherman tank (played by Brad Pitt, Shia LaBeouf, Michael Peña and Jon Bernthal).
The director and cast gathered to talk about the film at the London Film Festival. Here are five things we learned from the Fury press conference:
1. Working with David Ayer is tough
David Ayer has always had a thing for action and chaos: in End of Watch, he covered Michael Peña and Jake Gyllenhaal in cameras to get a handheld sense of urgency. It's a tough gig, says Michael: "Working with David is like getting a root canal. It sucks."
But the pair continue to work together, despite the dental pain. "I wrote the role of Gordo with Michael in mind," admits David.
2. Each character had a detailed back-story
Each character had a detailed back-story, says Logan: "We all had very specific back stories. we worked for months before shooting." Lerman know where he came from, what his is father did, his education…
But David chose not to include any of those scenes where the group's backstories were mentioned. "It ultimately became a directorial choice to cut out the now-I'm-going-to-tell-the-audience-who-they-are-stuff," says Ayer. "It's testament to how good the cast are that we didn't need the standard issue stuff."
3. Fury is not a film about sides
Fury is "not a film about sides", says Brad Pitt. "It's a film about acute psychological trauma."
Indeed, the claustrophobic experience of the soldiers facing the horror of conflict is all the more effective for its visceral, apolitical focus.
For the director, the bond between the cast was central to communicating that.
"It's about a family. This family happens to drive around a tank and kill people," comments David.
"Talking to vets, even vets who have recently come home, one said war is ludicrous. You can't look at it," adds Pitt. "We constantly slip into conflict no matter how much we evolve... always."
One journalist asks another question along those lines. Pitt looks at him and says he has nothing more to add. Well, quite.
4. Shia LaBeouf found the project extremely rewarding
Shia LaBeouf's preparation to play the role of Bible-reading Boyd has been widely covered in the media, from reportedly not washing to cutting himself on the cheek to make his scars look real.
Shia looks into the distance as inane questions about what it's like to be at the London Film Festival, but lights up when asked about what he got from the film.
"This has been the most rewarding project for me in my life," he says. "Extremely rewarding."
This is also the most dedicated film Logan Lerman has ever been a part of: "After reading the script, it was this or nothing."
"We emulated out relationship in the movie - so I guess there was a lot of conflict on set," the actors joke.
"I was the new kid," laughs Lerman, "so that's how I was treated!"
Staying in the mindset was tough, says Jon Bernthal, who plays ammunitions man Coon-ass.
"It's our job to be in the mindset as dark and dangerous as possible. You wrap, you fight, you work out, you sleep. Any outside influence, computers, etc, were the enemy."
"Going home after that, it is tough," he continues, but points out how their job is nothing compared to actual soldiers. "I came out of it with respect for the guys who do go to battle and have battle ringing between their ears. I'm just a monkey wearing make-up."
5. David Ayer doesn't like digital
"Either you're making a film or you're making videos," says David Ayer on the choice between digital and celluloid.
"We tested various platforms. There's such a subtle palette and patina to the world we designed that in digital you ended up with blacks and muddy greens…"
Pitt, though, reckons there's "no difference".
"I'm game for either," he says. "I love film, but digital is now… finding its own aesthetic."
6. Brad Pitt spent most of the time on set in the tank
The cast actually used a Sherman tank - and filmed in a slightly larger replica.
"The turret turned, the gun loaded, the radio transmitter received…" says David. "it was utterly maddening to film it for me. I like a lot of coverage. I would just go in a corner and cry while it took hours to light this thing."
For the cast, it was essential to getting into the right mindset.
"There's nothing ergonomic all about a tank," says Pitt. "It's not made for habitation in any way!"
"As we got to know the tank, we got to know the comfort spots, where you could put your coffee. We became quite proprietary over our home!" he jokes.
Ayer notes, though, that between takes, "Brad would stay inside of the tank on set".
"It was like his eagle's nest!" he adds.
| | | |
| --- | --- | --- |
| 8 things we learned from the Wild press conference | | |
Written by Ivan Radford
Thursday, 16 October 2014 21:09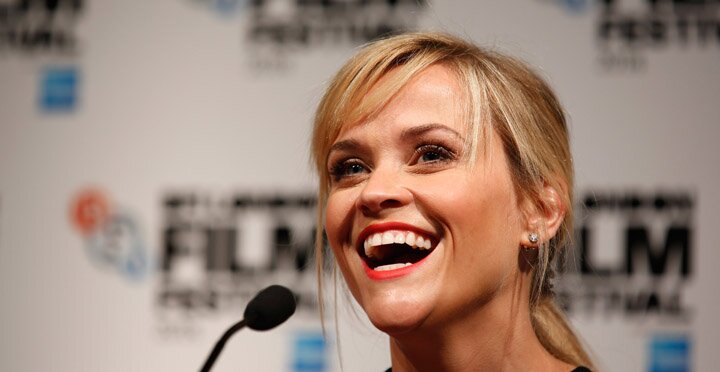 Wild is an uplifting tale of human endurance and survival, made even more so by its subject: Cheryl Strayed, who decided to hike the Pacific Central Trail to get her life straight. A determined, complex character, it's a treat to see a female actress given such a substantial role, not least one that celebrates a strong woman who actually exists.
So we went into the press conference for Wild, with writer Nick Hornby, star Reese Witherspoon, producer Bruna Papandrea and Cheryl Strayed herself hoping for some interesting things about women, the film industry and adapting someone's true life story into a film. We weren't disappointed. Here are eight things we learned:
1. Co-producers Reese and Bruna are keen to find complex female roles
Bruna Papandrea and Reese Witherspoon founded production banner Pacific Standard a couple of years ago and Wild fell right into their aim. "We definitely had a remit," says Bruna. "We both shared the common aim of developing roles for women... strong, complex roles.
"When do you get to see a good mum, who's not idealised, who's human?" added Cheryl, later, when talking about Laura Dern playing her mum. "It wasn't hard. The word I would use is "lucky". Laura Dern and my mother share optimism... sunshine in a human."
2. Wild is not a "chick flick"
"It's about grief and heroin addiction and being really tough physically and mentally, so it's not like any chick flick I've ever seen!" joked Reese.
Nick Hornby added: "It's a chick flick like the Robert Redford film All Is Lost is a chick flick."
3. Reese actually carried around a heavy backpack
Reese actually carried around a heavy backpack while filming Wild. She tried it without, but director Jean-Marc Vallée decided it didn't look realistic enough. "Actually, I think it would be better to have the heaviness on the shoulders," he told her. Then he just walked off.
"I had some back problems!" jokes Reese. "There were no fucks in the script."
The same applies to the rest of the camping equipment in the film too. "I had no experience with props before filming," explains Reese. So when we see her trying to put up the tent? "I literally couldn't figure out the fucking tent," she confirms. It took her two hours.
4. The "Hobo Times" is a genuine thing
One scene in the film sees Cheryl approached by a reporter for the "Hobo Times", while she's hitch-hiking. The reporter's name? Jimmy Carter.
"That actually happened," laughs Cheryl, who says that she had been trying to contact all the people she met since her hike. "The one person I couldn't track down is Jimmy Carter of the Hobo Times!"
5. Cheryl's daughter played the young her
Cheryl's daughter, Bobbi, played the young Cheryl in the movie, because she "looks like a young Reese".
"She said no, right away, so we left it," says Cheryl, "but some time went by and she heard me and my husband talking about it and she said from the back seat 'I wanna audition!'"
Cheryl says it was "really emotional" to watch her daughter play her "with this man playing my father, saying these horrible things".
"If writing heals wounds, then witnessing the making of this film healed too."
As a result of the film, Cheryl's daughter now wants to be actress. Why? "Donuts."
6. Wild is the hardest film Reese Witherspoon has ever done
Wild is the hardest film Reese Witherspoon has "ever done in [her] whole life", she tells us - and not just because of the physical stamina required.
"After the physicality was the part I was dreading the most - the emotional. the grief, the divorce," she admits.
"You have to be brave enough to tell your truth to tell a story ... that gets to the universal truths. Lot of the work was just opening up to yourself," she adds.
She goes on to say the sex scenes were very hard, in particular.
"I had to have sex with strangers in an alley…" she recounts, "Cheryl came to set. She came up to me and said 'I'm so sorry I was such a slut in the 90s'."
7. Wild is radical
Wild is a radical movie in so many small ways.
"It's bigger than a movie", said Cheryl at one point.
Reese notes that it brought her and her mum together: "The conversation I had with my mother after watching this film was probably one of the most important conversations in my life... about being a mother... to contemplate who they are with the people you love."
But it's radical in its sexual politics too: "We're told as little girls be afraid, don't go out in that skirt... one of the great things about the film and the book is that she forgives herself o her sexual experiences," says Reese. "So much of the time we're told as a women to be ashamed... We've got a female character saying 'what if I was supposed to have sex with those people?'"
8. The most radical thing about Wild, though, is it ending.
"Wild might be the first time that a woman's in a film and it ends with no man, no job, no money…" says Reese, "and it's a happy ending."
| | | |
| --- | --- | --- |
| 7 things we learned at The Imitation Game LFF press conference | | |
Written by Ivan Radford
Wednesday, 08 October 2014 18:02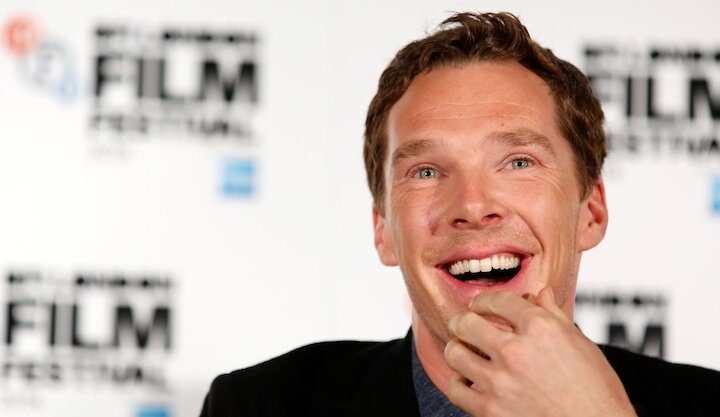 The 2014 London Film Festival kicks off today with The Imitation Game. Telling the true story of how mathematician Alan Turing and a team of cryptographers broke the Nazi Enigma code and helped to win World War II, the movie stars Benedict Cumberbatch and Keira Knightley and was directed by Headhunters' helmer Morten Tyldum and written by Graham Moore. They sat down for a press conference today to chat about history, being clever and not being like Sherlock.
Here are seven things that we learned:
Read more...