| | | |
| --- | --- | --- |
| 7 things we learned at The Imitation Game LFF press conference | | |
Written by Ivan Radford
Wednesday, 08 October 2014 18:02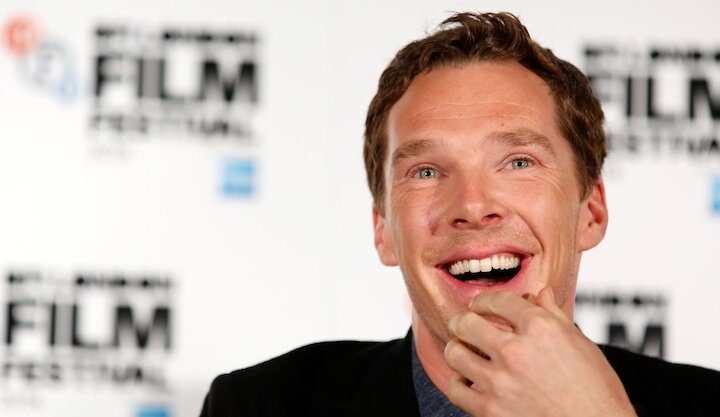 The 2014 London Film Festival kicks off today with The Imitation Game. Telling the true story of how mathematician Alan Turing and a team of cryptographers broke the Nazi Enigma code and helped to win World War II, the movie stars Benedict Cumberbatch and Keira Knightley and was directed by Headhunters' helmer Morten Tyldum and written by Graham Moore. They sat down for a press conference today to chat about history, being clever and not being like Sherlock.
Here are seven things that we learned:
1. Alan Turing is not Sherlock
Asked, inevitably, whether playing a socially abrasive genius in Sherlock was anything like playing a socially abrasive genius in The Imitation Game, Benedict Cumberbatch made quick work of distinguishing between the two roles: "I'm limited by what I look like but they're different people," he replied. "He doesn't swish around in a long coat with curly hair."
He added: "I didn't read the script and go 'Oh, this is Sherlock in tweed!'"
Host of the press conference, Time Out's Dave Calhoun, pressed Benedict on whether he found such comparisons frustrating: "I do find them frustrating," he said, "but they're understandable."
2. Keira Knightley is not Sherlock (and neither is Benedict Cumberbatch)
Turing may not be Sherlock, but neither is Keira Knightley - or the rest of the cast for that matter. Keira explains that, inspired by the intelligence shown on-screen, they brought in a quick crossword one day to the set. "There were five of us and it took us five days!" she laughed. "We're rubbish."
"Did you understand it?" she asks Benedict, adding: "Don't say you did."
She described the sensation of being faced with understanding the maths behind the Turing machine as like being back in school. "You sort of feel like you've died…"
"I can understand the broad concepts," offered Benedict. "Those things excite me… I like that my eyelash has carbon in it… but I don't know how to make an eyelash."
Director Morten Tyldum said they tried to have a mathematician to explain it all to everyone: "We had a guy come in to explain the machines and we just saw this panic in everyone's eyes…"
3. Benedict says awareness is the priority, not Oscars
"If i gets people talking about the film or gets people to see the film that's fantastic," said Benedict, diplomatically, about the Oscar buzz surrounding the movie. "Our film is a launching point for more awareness of Turing and celebration of Turing."
He added that the idea of getting a broad picture of Turing's work to a broader audience is "important", that Turing "lived an uncompromising life in a time of disgusting discrimination" and that between exhibitions and a centenary, it has been an "extraordinary decade" for the mathematician.
4. Nobody used the word "autism" on set
Nobody used the word "autism" on set to talk about Alan Turing's social awkwardness. "Diagnosing people 50 years after the fact can get messy," said writer Graham Moore.
Tyldum agreed, adding that it was a film about outsiders, not autism.
"We didn't want to put him in a box. The whole mission of the movie is to celebrate uniqueness and individuality. To put a label on it becomes the opposite of what the movie is trying to do"
"This is a film about outsiders, about people who think differently from the norm," he commented later.
5. Keira says Joan Clarke was "breaking boundaries"
Keira Knightley said she had studied a video interview of cryptographer Joan Clarke from when she was in her 70s for research, adding that she liked "the idea that she was somebody breaking boundaries in her own right but without being a bull in a china shop".
6. The Imitation Game was shot in London and Bletchley Park
"In a way it's like a homecoming," offered the director, remarking that it was nice they filmed in some of the actual locations. "It's an important part of British heritage."
7. Benedict Cumberbatch would like to play stupid people
After the discussion of Turing vs Sherlock, Cumberbatch added that he was in no way only interested in playing smart characters. "I'd like to play more stupid characters!" he declared. "So if anyone has any stupid roles out there…"