| | | |
| --- | --- | --- |
| LFF surprise film review: Birdman (or The Unexpected Virtue of Ignorance) | | |
Written by Ivan Radford
Thursday, 16 October 2014 17:10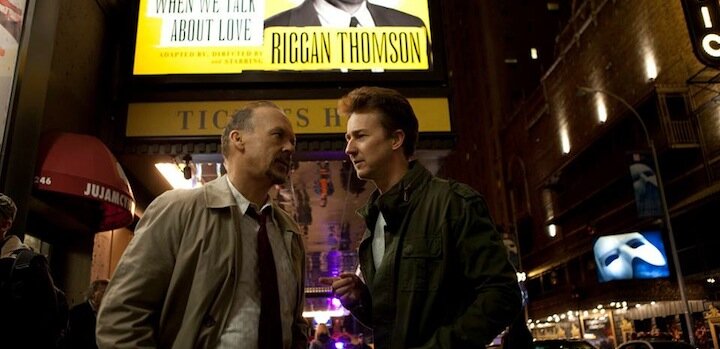 Director: Alejandro González Iñárritu
Cast: Michael Keaton, Emma Stone, Zach Galifianakis, Edward Norton, Naomi Watts, Andrea Riseborough
"You're doing this because you're scared to death, l ike the rest of us, that you don't matter! And you know what? You're right."
That's Sam (Emma Stone) to her dad, Riggan (Michael Keaton), a washed-up superhero movie star who is trying to prove his artistic relevance by adapting Raymond Carver's What We Talk About When We Talk About Love for the stage.
Riggan is surrounded by equally desperate creatives, from his concerned producer, Jake (Zach Galifianis), to his lover and supporting actress, Laura (Andrea Riseborough). As he rushes around backstage, things go disastrously wrong. So when an actor gets hit on the head by a falling stage light, that's the least of his worries.
Enter emergency replacement Mike Shiner (Edward Norton), partner of Riggan's leading lady, Lesley (Naomi Watts), and a performer obsessed with finding 'truth' in his work. "Popularity is the slutty little cousin of prestige," he declares smugly at the director, before swigging gin live on stage.
Norton is perfect as the pretentious ass. From his fondness of getting naked right down to his delicately coiffed hair, this is the kind of supporting role Oscars are made for. But while it could settle for being a funny theatrical farce, a la Noises Off or Bullets Over Broadway, Birdman sets its sights much higher.
The opening makes that clear: a long shot of Michael Keaton in his pants in his dressing room, hovering in mid-air. Remarkably, Batman floating in his undies is the least abnormal thing about it: that single take continues to unspool for the rest of the film, as Emannuel Lubezki's deceptively complex camera ricochet around the building, following every one and every thing in a seemingly improvised manner. All the while, Riggan hears a voice in his head from his costumed alter-ego (complete with feathers). "You're above them," Birdman bellows, in the gruff tone of a comic book icon. Then he makes things move around the dressing room with telekinesis.
The power of the mind soon becomes an overriding concern, as Alejandro González Iñárritu's script (co-written with Nicolás Giacobone, Alexander Dinelaris and Armando Bo) muddies the line separating fact and fiction, arrogance and delusion. The ensembles lives in that void between the two - not because they're unhinged, like Riggan, but because they're in showbiz. Which is pretty much the same thing. When one cast member reaches the end of their tether and clambers out on the roof of a building, the response from onlookers is cynicism not shock: "Is this for real or are you shooting a film?" shouts a half-bored neighbour.
Led by a soaring Michael Keaton, the cast are fantastic as sending themselves up, but there are hints throughout that the problem spreads outside the theatre: the celebrity-obsessed public are part of this hype-driven madness, whipped up by Facebook, Twitter and YouTube. So are stuffy critics, who have already made up their mind about what they're about to review. Iñárritu doesn't just stick his finger up at self-centred stars: he sticks his finger up at everyone in the entertainment industry. At a time where comic book blockbusters seem to be out every week, Birdman isn't the film Hollywood wants, but the film it deserves.
And yet it remains consistently hilarious, delivered with a lightness of touch and tone. Is this really the same filmmaker who brought us the heavy-handed Babel?
As the chaos unravels, leaving us increasingly uncertain of what's actually happening, events are accompanied by an ever-evolving drum score by Antonio Sanchez. It refuses to settle into a regular pattern, at times highlighting a dramatic crash or a funny joke. It's the perfect match for this bunch; indulgent, amusing, post-modern and thrillingly unpredictable. The barmy end product is scathingly sharp but bursting at the seams with uncontrolled ideas; a screenplay echoing the meltdown of its own middle-aged movie star. Your foot will be tapping, but your mind will be reeling. Birdman is a sublimely catchy riff on ego, reality and art in the age of superhero movies. The rhythm changes. The beat goes on.
| | | |
| --- | --- | --- |
| LFF film review: My Old Lady | | |
Written by Ivan Radford
Wednesday, 15 October 2014 23:20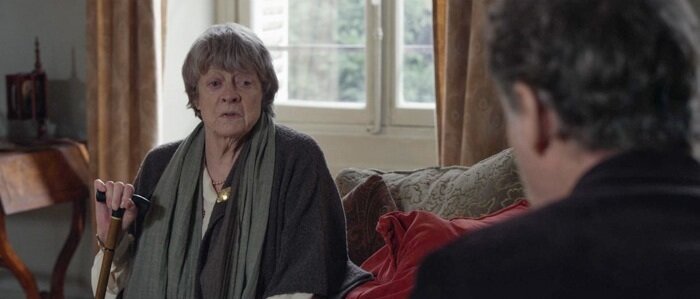 Director: Israel Horovitz Cast: Kevin Kline, Kristin Scott Thomas
Man goes to France. Man has no money. Man is white and privileged. Man inherits apartment from rich father. Man discovers old woman owns the apartment until she dies. Man meets old woman's daughter. Man learns life lessons from old woman and daughter.
It sounds hackneyed and Israel Horovitz's script is based on her own her theatre play - another warning sign - but My Old Lady is genuinely moving. That mostly stems from the cast, who deliver subtle, nuanced performances. Kevin Kline shines as Mathias Gold, grumpy, rude, selfish and depressed. Kristin Scott Thomas is equally accomplished as Chloe, unimpressed by Mathias, loyal to her mum and also very depressed. And, of course, Maggie Smith is genuinely funny as the stubborn old lady who speaks her mind no matter what. Let's call her Maggie Smith.
It's a pleasure to see Kline get an actual character to play after years of mediocre movies, but even more to see him interact with Scott Thomas; together, the odd couple elevate the angry-man-and-sweary-old-woman premise to something surprisingly deep, which tackles generational ties and inherited guilt with enough humour and pathos to keep you more than entertained for 100 minutes. Charming stuff.
| | | |
| --- | --- | --- |
| LFF film review: Testament of Youth | | |
Written by Ivan Radford
Tuesday, 14 October 2014 18:43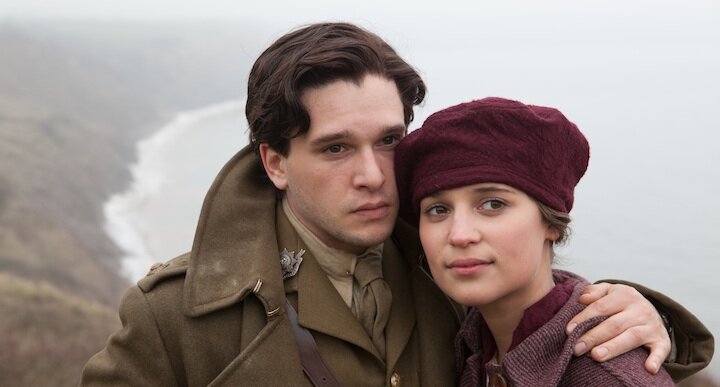 Director: James Kent
Cast: Alicia Vikander, Kit Harington, Colin Morgan
Showtimes: Oct 14th, Oct 16th, Oct 17th
Another British war movie marches on Leicester Square tonight, but Testament of Youth brings a rousing new side of WWI to the London Film Festival. Based on the memoir of Vera Brittain, it's an account of conflict that couldn't be more different to LFF opener, The Imitation Game; this is poetry to its maths; literature to its science; female to its male.
While it might sound reductive to associate romantic verse with women, it's indicative of the time in which Vera lived. When she tells her parents (an enjoyably uptight Emily Watson and Dominic West) that she wants to go to Oxford instead of marry a fine, rich fellow, they strongly disapprove. But go she does, only to fall for Roland (Kit Harington), a friend of her brother (Taron Egerton), who shares her ambitions of becoming a professional writer. Inevitably, war breaks out - and Roland is shipped overseas along with her brother and his friends.
Normally, at this point, we would follow the soldiers through the mud and blood of the trenches. But Testament of Youth lingers on British soil, as Vera struggles to cope with life - and a seemingly endless wave of loss. That oft-overlooked focus is what gives Testament of Youth, an otherwise tame movie, its emotional heft. Director James Kent shoots the period scenes solidly, but treats his subject with a timidity that borders on tasteful ITV drama. Nonetheless, the cast elevates the movie above its practical presentation.
It helps that it is compromised of so many excellent young actors. Colin Morgan, Taron Egerton, Kit Harington and Jonathan Bailey all play the central men and their fresh faces only emphasise the tragedy of conflict. In the middle of it all, Alicia Vikander is breathtaking as Vera; beautiful, sad and almost trembling with a passion kept beneath the surface. Quitting Oxford to volunteer as a nurse, she is determined to match the male sacrifice on the field with a female act at home. The fact that we spend more time with her than on the front gives the occasional intrusions of dirty browns and reds on the bright domestic palette an impact that could well have been lacking from a more familiar tale. Indeed, this is less a war film (or even a wartime romance) and more a film about a woman striving to overcome the war; even Harington, Morgan and Vikander's love triangle, complete with letter-writing (that most perilous feature of period drama), manages to move.
By the end of WWI, as society appears not to have learned from the past four years, Vera delivers a heartfelt speech about grief, reconciliation and those left behind. It's undeniably stirring stuff.
| | | |
| --- | --- | --- |
| LFF film review: The Salvation | | |
Written by Ivan Radford
Tuesday, 14 October 2014 00:04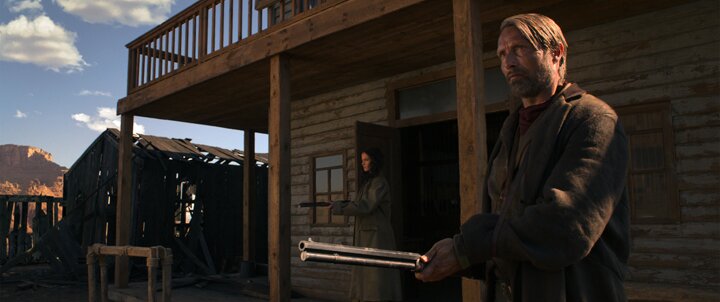 Director: Kristian Levring
Cast: Mads Mikkelsen, Jeffrey Dean Morgan, Eva Green, Eric Cantona
Showtimes:
The Salvation is a revenge Western starring Mads Mikkelsen. If that sentence has got your attention, you'll find a lot to enjoy. The problem is that you'll also find a lot to annoy.
Kristian Levring's movie ticks all the genre boxes you could wish for: Hats. Guns. Horses. People firing guns while wearing hats. People firing guns while wearing hats and riding horses. It also boasts one heck of a cast: finally, Mad Mikkelsen, Eva Green and Eric Cantona are together in the same film. Even Jonathan Pryce and Jeffrey Dean Morgan turn up for their share of the action.
It's so busy ticking the boxes you expect, though, it never ticks the one labelled "remarkable". Mads plays Jon, a Dane whose wife and son are raped and murdered after they arrive to join him in the fortune-seeking West. But after Jon shoots the perpetrators dead, it turns out one is the brother of local outlaw Delarue (Morgan), who terrorises the town until someone admits they pulled the trigger.
Naturally, things conspire so that Mads goes on a one-man quest for vengeance: a killing spree that Levring shoots with a beautiful eye, dialling up the saturation to picture book levels. But if the visuals are top-notch, the script is definitely from the bottom shelf. Co-written with Anders Thomas Jensen, the screenplay boasts some truly terrible dialogue - "We've been hoping and praying for a man like you," says the Sheriff to Jon, completely straight-faced - and some introductory titles that manage to be both pointless and clumsy. It's hard to believe that Jensen only just finished writing Susanne Bier's superb and subtle Love Is All You Need.
The script's problems are most obvious, though, when it comes to character. Sure, Mads gives good gruff as our hero and Dean Morgan is suitably squinty as the menacing villain, but what of the others? A young boy running the convenience store appears to be nothing but bullet fodder, while Eva Green is wasted as a mute, two-dimensional sidekick to Delarue, who is reduced to glaring at people to try and develop a character. She doesn't even get to wear a hat.
Things play out exactly as you'd expect: the other women are equally two-dimensional stereotypes, the corrupt mayor gets their comeuppance and blood splatters everywhere. It's a pleasure to see a Western in 2014, especially one that's 89 minutes in length, but The Salvation only just finds redemption come the ending. The Salvation is a revenge Western starring Mads Mikkelsen. On the plus side, it does exactly what it says on the tin. On the down side, it does exactly what it says on the tin.

| | | |
| --- | --- | --- |
| LFF film review: Wild | | |
Written by Ivan Radford
Monday, 13 October 2014 23:40
Director: Jean-Marc Vallée
Cast: Reese Witherspoon
Showtimes: Oct 13th, Oct 15th, Oct 16th
"Homeward bound, I wish I was… Home, where my thought's escaping. Home, where my music's playing…"
There's something about true stories of human endurance that we, as an audience, find rewarding. While those have often been tales of claustrophobic survival in extreme conditions - All Is Lost, 127 Hours - there have also been movies about personal journeys and self-imposed isolation: Into the Wild, Tracks and The Way. What's impressive about Wild is that it genuinely moves - and does so in its own way.
The film follows Cheryl Strayed, who decides to hike all the way up America's Pacific Crest Trail - effectively from Mexico to Canada - on her own. Her reason? To get away from it all.
It all, we discover through a series of flashbacks, consists of everything from unwanted pregnancies and deceased relatives to failed marriages. While this litany of mistakes could be cheesy or trite, though, Nick Hornby's script - based on Cheryl's own memoirs - ensures that Wild's tale become one not of self-penitence but self-appreciation. The decision to approach her sins of the past as something that makes her who she is in the present frames her journey as something hugely positive and uplifting.
Reese Witherspoon delivers a career-best performance as Cheryl. She manages the physical ordeal with convincing stamina, from losing toenails right down to her ungraceful, backpack-laden walk. But it's the emotional honesty that she brings to the role that really strikes you, managing to act half her age for flashbacks featuring sexual encounters and tragic loss - supported excellently by Strayed's own daughter as a even younger Cheryl.
Jean-Marc Vallée stitches together the gentle revelations and geographical progression seamlessly, balancing between stubborn independence and habitual reliance upon convenience stores. The widescreen lensing captures the shifting snowy, sandy and woodland landscapes, but the editing is powered by a fantastic use of sound and music; each time a tune is hummed by the people Cheryl meets mid-walk, it triggers memories of other times when the song was playing. That understanding of how a tune can get stuck in your head, not only as a temporary ear-worm but also as an accompaniment to one's life story, stops the narrative structure from becoming fragmented, reinforcing the catharsis of each step Cheryl takes. Homeward bound, she wishes she was. Home, where her music's playing.
The result is a moving drama that shirks corny regret for an oddly positive exploration of isolation. In a sea of mostly male stories about human endurance - and a time when strong female roles are rare in Hollywood - Wild feels uniquely empowering; a film about a woman who finishes her story without a job, money or a bloke and still has a happy ending. Along the way, every small success is a triumph. "Now I can eat hot mush instead of cold mush!" she yells, after getting her gas stove working, to no one but herself.

| | | |
| --- | --- | --- |
| LFF film review: Goodbye to Language | | |
Written by Ivan Radford
Monday, 13 October 2014 19:38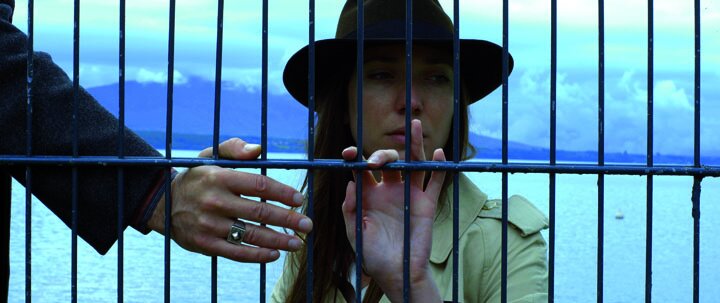 When Avatar first arrived in 2009, it was hailed as the groundbreaking movie that would change everything: the definitive 3D film, created by James Cameron, the king of this new, uncharted realm. Whoever thought that, in 2014, an 83 year old French man would break into the kingdom's back door and reveal himself to be the rightful ruler?
It may be telling that Goodbye to Language closes with the sound of a baby crying: while plastic glasses have been a part of the cinema-going experience for a while now, this feels like the actual birth of the new technology. Jean-Luc Godard revolutionised cinema when he first made Breathless, jump cutting ahead of the crowd. Now, he may have done the same thing for 3D.
It's hard to imagine a movie less like Avatar. Where that was an undemanding, formulaic, two-hour action-packed popcorn flick, this is a challeng, 70-minute experimental art piece. Avatar had mechanised warriors and flying CGI monsters. Goodbye to Language has a dog.
In fact, it's Godard's own dog, who pops up every few minutes to wander through autumnal forests. It's par for the course for Jean-Luc, who loads the screen with tiny details and absurd contradictions. People discuss economics, chat philosophy, debate Nazism. Meanwhile, a man and a woman continually argue, sometimes with no clothes on. It's an assault that makes no compromises, daring the viewer to interpret what they're seeing. To say it's not for everyone is an understatement. But when was the last time you left a cinema with your brain racing to keep up?
What's so mind-boggling is the way he presents his collage of… stuff. 3D requires the project of two images, one for each eye, which your brain then places on top of each other to create the illusion of depth. Godard responds accordingly: by layering the heck out of everything. Immediately, you're greeted by the word ADIEU in bright, red letters, sitting over the top of smaller text in white. That's only the start of it. Every shot is pointedly composed to showcase the foreground and background. And so we don't just see a house. We see a house with a wall in front of it, with cars passing by in front of them, all of those placed behind a bollard, cheekily poking out of the corner of the screen. Sometimes, this intricate positioning seems to be central to the message at hand: one repeated clip sees a bunch of people on their phones, swiping, texting, tapping, while a table of classic literature under our noses goes unnoticed.
"Soon people will need an interpreter to understand the words coming out of their mouths," the film argues. Is it decrying the deterioration - or, as the title suggests, the departure - of language in a modern civilisation? Is it mocking the very idea that 3D can add realism to the language of cinema? Goodness knows. Everything is assembled with a low-fi aesthetic that makes it like an old-fashioned video. Or is it a new video filmed on a smartphone? The structure, meanwhile, is divided into two chapters - Nature and Metaphor - perhaps framing human existence as a constant act of trying to reconcile these fractured juxtapositions. Foreground vs background, Nature vs metaphor. Humans vs dogs.
The most bravura moment, though, arrives when the bickering partners walk away from each other - and the picture does the same. Not through split-screen, but split-eyes: two different images are projected to each retina, the woman in your left, the man in your right. The result is a disorienting experience that leaves you winking in disbelief, struggling to assemble the couple; a divorce literally captured on camera. It's such a simple device that it's hard to believe no one has done it before, the kind of lateral thinking that conventional Hollywood directors apparently don't consider. It's a stunning reminder that 3D is a tool, not a genre or prescriptive format. If the future of cinema arrived five years ago, what exactly have filmmakers been doing this time? All the while, Godard's dog runs around, free of language, happily understanding what's going on - or just laughing at the whole thing.
| | | |
| --- | --- | --- |
| LFF film review: Blind | | |
Written by Ivan Radford
Sunday, 12 October 2014 07:42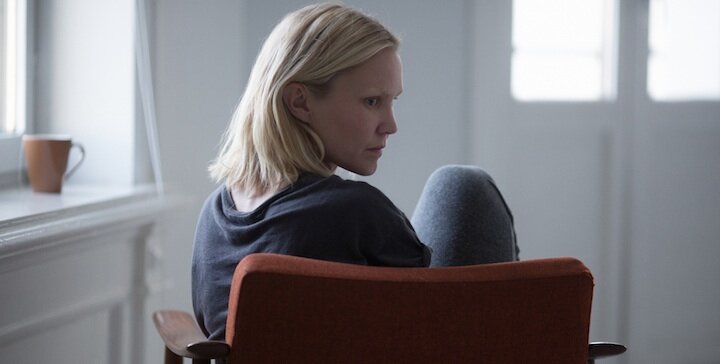 Director: Eskil Vog
Cast: Ellen Dorrit Petersen
Showtimes: Oct 10th, Oct 12th, Oct 13th
Perception is everything. When Ingrid (Ellen Dorrit Petersen) loses her sight, it changes the way she sees things: from her apartment and her relationship with her husband to that strange-looking guy sitting on the bus.
She spends her days alone in the apartment, writing on her laptop. Or does she? Creaking floorboards make her suspect that her husband is actually loitering in their flat, quietly observing her behaviour. She starts knocking things over near his chair, groping for his feet or legs.
Director Eskil Vogt is in her element in moments like these, which toy with how she - and, more importantly, we - see her story. The film cuts repeatedly between what is and what isn't there, leaving us unsure of what's real and what's imagined. When Ingrid later covers her eyes, only to cause the screen to black out, her seeming control over the narration has an arresting physical impact, but it carries an emotional weight too: one of the movie's most devastating scenes sees her lying in bed while her husband replies to emails on his laptop. Or is he secretly instant messaging the cute, bumbling girl who lives across the road?
Read more...
| | | |
| --- | --- | --- |
| LFF film review: Mr. Turner | | |
Written by Ivan Radford
Sunday, 12 October 2014 07:41
Director: Mike Leigh
Cast: Timothy Spall
Showtimes: Oct 10th, Oct 11th
It's not easy to communicate in grunts. Are you angry? Aroused? Suffering indigestion? Timothy Spall's all of them and more in Mr. Turner, Mike Leigh's biopic of the artist. He totters around the streets of Victorian London, waving his umbrella and harrumphing at the people he meets. It's as un-period drama as period drama gets.
Read more...
| | | |
| --- | --- | --- |
| LFF film review: 10,000km | | |
Written by Ivan Radford
Sunday, 12 October 2014 06:52
Director: Carlos Marques-Marcet
Cast: Friday 10th, Sunday 12th October
Showtimes: Oct 9th, Oct 10th, Oct 12th
We live in a world where electronic communication is normal. But with that technology comes the ability to do something crucial: edit our responses. Emails can be typed and re-typed before hitting "send". What once would have been blurted out in the heat of the moment is now edited to soften the blow or to elicit a certain response.
Which, of course, isn't something that photographer Alex (Natalia Tena) and teacher Sergi (David Verdaguer) consider when she decides to leave Barcelona and take up a job in Los Angeles. That conversation provides the opening of 10,000km. In fact, it provides the opening 20 minutes: director Carlos Marques-Marcet makes his modus operandi clear with the quietly breathtaking scene, shot seamlessly to appear as natural as possible.
Are Tena and Verdaguer improvising? Reading from a very well memorised script? Either way, their relationship is instantly believable. What follows rings just as true, as the couple Skype and instant message across the titular distance. We get the usual parade of phone sex and instant messaging - but everything goes slightly off-kilter, as the romance turns sour.
The couple are fantastically good, Tena's frustrated female hopping between Spanish and English depending on her mood, but for all the handheld realism of the visuals, Marques-Marcet's most striking sequence arrives halfway through: a static shot of a white screen, as Sergi writes an email to Alex. Anguished paragraphs asking "Why do you need space? Why am I always outside of this space?" is slowly deleted, edited down to one sentence: "Where are you?"
Watching someone compose an email has never been more gripping. Every tap of the keyboard tugs at your heartstrings.

| | | |
| --- | --- | --- |
| LFF film review: The Falling | | |
Written by Ivan Radford
Sunday, 12 October 2014 06:51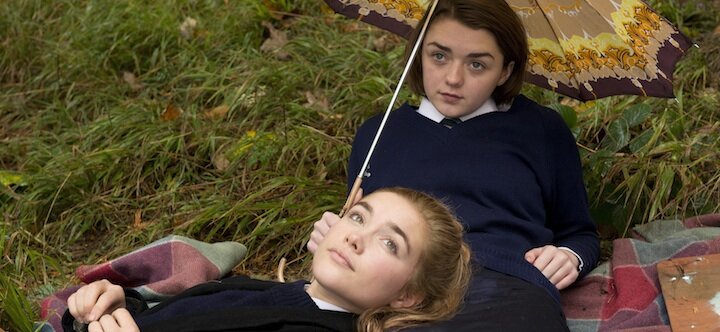 Director: Carol Morley
Cast: Maisie Williams, Florence Pugh Showtimes: Oct 13th, Oct 19th
The Falling is a paranormal mystery, a coming-of-age drama, a black comedy and a school musical all in one. If that makes Carol Morley's film seem difficult to pin down, it's intentional. It's also exceptionally good.
Read more...
| | | |
| --- | --- | --- |
| LFF film review: A Second Chance | | |
Written by Ivan Radford
Sunday, 12 October 2014 06:50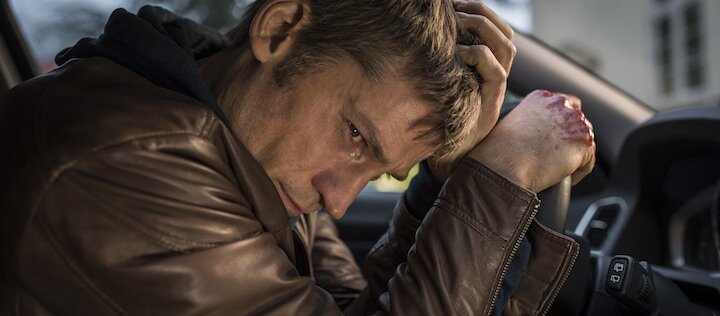 Director: Susanne Bier
Cast: Nikolaj Coster-Waldau, Ulrich Thomsen, Maria Bonnevie Showtimes: Oct 12th, Oct 14th, Oct 15th
When it comes to getting natural performances out of actors, Susanne Bier is one of the best directors in the business. A Second Chance is no exception.
Nikolaj Coster-Waldau stars as married cop Andreas, who recently became a father. When he raids the flat of junkie low-life Tristan, also a recently new dad, the contrast couldn't be clearer: where Andreas' child, Alexander, is happy in the arms of his wife, Anne (Maria Bonnevie), Tristan's son, Sofus, is lying on the bathroom floor, crying and covered in faeces.
Andreas' sense of justice soon sees him planning to remove the child from their custody - but Bier doesn't stop there. It would be all too easy to think of these two pairs as opposites, but Anders Thomas Jensen's script blurs the parallels between them, as each couple comes face to face with the prospect of losing their baby. Would it ever be possible to replace a lost child with an adopted one? Is it right to take revenge if someone took your baby from you? And how far would you go to get it? As the quartet react differently - or not - to their emotional - and criminal - dilemmas, Bier teases out engaging turns from each. Nikolaj Lie Kaas is hot-headed yet sympathetic as bull-headed Tristan; May Andersen is devastating as his distraught partner, Sanne; and Maria Bonnevie puts your heart in your mouth several times as the increasingly unstable Anne. And at the heart of it all, Nikolaj Coster-Waldau is fantastic as the conflicted cop, punching through glass windows while still lecturing his alcoholic friend, Simon, on the importance of reform.
The result is a moving morality tale dressed up as a Danish crime thriller; a simple tale told with all the complexity you expect from Bier and her cast. Halfway through, we gaze at Andreas and his littlun curled up on the carpet. The boy yawns - the Danish director can even get a natural performance out of a baby.
Start Prev

11

12 13 14 15 16 17 18 19 20 Next > End >>


Page 11 of 255